The Best Type Of Brow Tint To Use If You're New To The At-Home Process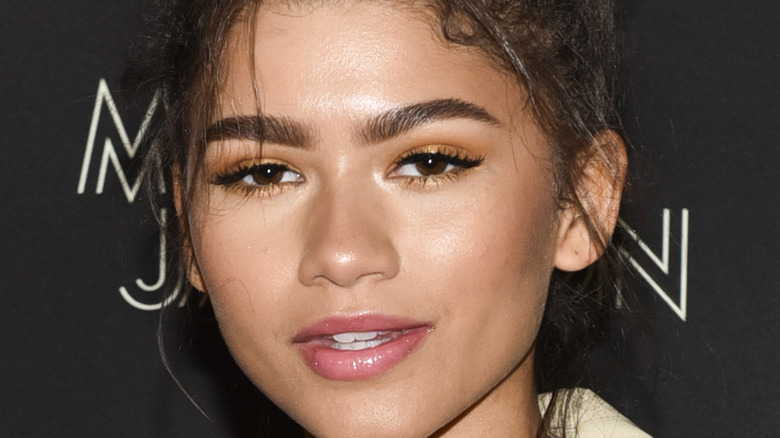 Rodin Eckenroth/ Getty Images
Despite the emergence of the bleached eyebrow trend, most of us yearn for full, defined eyebrows. Celebrities like Lily Collins, Cara Delevinge, and Zendaya boast bold eyebrows that people constantly try to recreate. This is not an easy task for those of us who were not born with naturally bushy, full brows. When your everyday makeup routine involves penciling in the sparse space above your eyelids, the process can get old quickly. You want them to look dense but not unnatural, feathered but defined.
It's an exhausting task. Because of this, the beauty industry has been quick to create alternatives. There are now several temporary ways to fill in your eyebrows and avoid the laborious task of painting them daily. You might have heard of eyebrow tattooing and microblading (yes, there's a difference). It's recommended professionals carry out these methods. If you want to do it yourself, brow tinting is a great option. But if you decide to give it a go and play brow esthetician, you'll want to make sure you select the right kind of tint.
How to chose the right color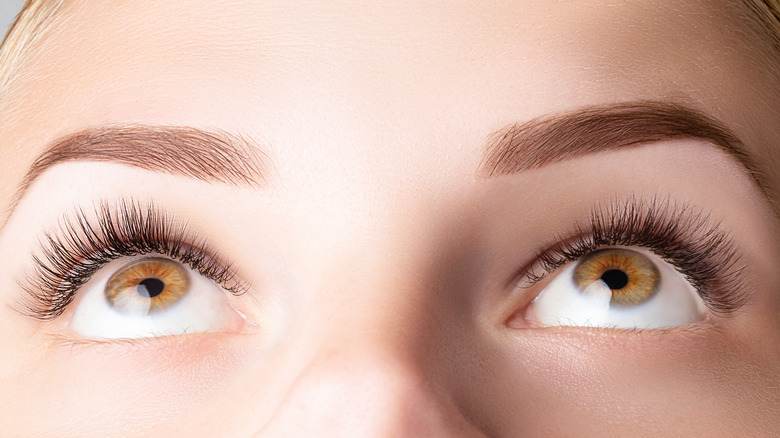 Studio_May/ Shutterstock
It can be intimidating to change your look when you know it will last more than a week or two. But do not fear, celebrity makeup artist and brow expert Ramy Gafni told Byrdie "Tinting your brows at home is surprisingly easy." The main aspect you need to focus on is the color you chose. Gafni emphasized this to Bydrie. "The key is to select the correct color and formula," he said.
According to celebrity brow expert Joey Healy, one color that is relatively off-limits is black. Healy warned in an interview with Refinery 29 that this shade can lead to a look he calls the "sharpie marker." As you can guess, this would not exactly scream natural if that's what you're going for. Healy recommended, " ... buying more than one color so you can create a custom blend." Gafni suggested to Bydrie, "Choose a shade that is two to three shades lighter than your eyebrow hair color (unless your brows are completely gray or pale blonde, then go two to three shades darker)."
What kind of formula you should select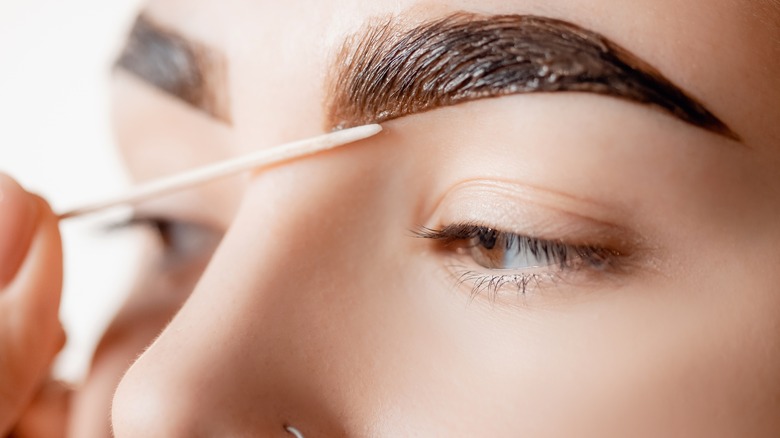 Parilov/ Shutterstock
Before you purchase your eyebrow tint, it's essential to know that not all dyes are created equal. This is especially true for dyes that are intended for different parts of the body. Brow expert and founder of Kimiko, Dani Kimiko Vincent, explained to Marie Claire, "All tints made for brows are semi-permanent. You should never use hair dye on eyebrows, as they are much stronger and not deemed safe for use around the eyes." However, when choosing a brow-specific formula, there is still a variety of products to choose from.
Vincent informed Marie Claire, "At-home kits are meant to be safe and easy to use, but they do require trial and error to get right ... The different types include encapsulated powders with activators, cream with developer, and silver nitrate versions." Beauty practitioner specializing in hair coloring and eyebrows, Valerie Schaubroeck, wrote with TrueBrow that silver nitrate " ... is extremely staining ... " Schaubroeck also mentions that "Tint removers are sometimes ineffective to clean up the brows when using a silver nitrate base." So, if you are new to eyebrow tinting, you'll likely want to stick to powders with activators and cream with developer as they are more mistake-friendly.