People Are Wearing Tinsel As Clothes — How To Style The Sparkly, Festive Trend All Year Round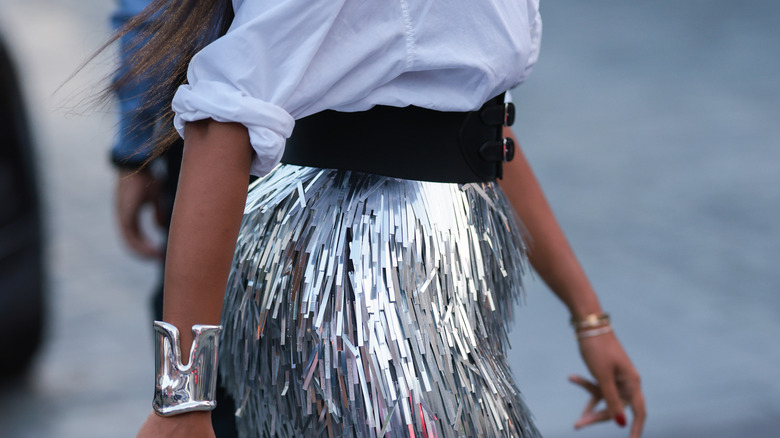 Jeremy Moeller/Getty Images
Yes, tinsel outfits have popped up on social media, and no, it is not to bring in the Christmas season. Festive tinsel hair is already a trend, but now the glimmer is coming to your wardrobe. Tinsel was a star in Molly Goddard's AW22 runway collection. The shiny fringe was also featured in Chopova Lowena's SS23 fashion show. And Rodarte's FW23 catwalk had magical tinsel pieces with a goth fairy twist.
The showy garland has made its way to high-end fashion. Replicating these luxury designs is not as easy as it seems. Without the proper styling, you risk looking like a Christmas tree or being too over-the-top. Wearing tinsel is much like dressing in glitter or sequins, but more grandiose. Every string catches the light and dances while you move. It is truly a show-stopper. Whether you DIY your tinsel piece or buy from professionals, our styling tips will come in handy. Break out the tinsel in any season and embrace the dazzle with taste.
Let the tinsel speak for itself
If you're going to rock tinsel, fully commit. There's no greater commitment than a tinsel dress. You'll be covered in glittery fringe and look fabulous. Metallic boots are stylish footwear to accompany a tinsel dress; they make just as much of a statement but also flow cohesively with your glittering one-piece. If your tinsel garment is multicolored, only pick one of its shades to carry out into your accessories. A busy dress with overpowering jewelry can get tacky. Although with a dress shining so bright, accessories aren't necessary.
On your way out? Don't forget your tinsel jacket
A tinsel jacket is the most popular way to style this festive fabric. Kim Kardashian wore her oversized silver tinsel coat, and all the fashionistas followed suit. A jacket is less glittering coverage than a dress, but it will captivate audiences all the same. Pair your shimmery outerwear with an all-black ensemble. This style will make the jacket the center of attention without your outfit looking too crowded. Keep it classy with a blouse and heels, or go comfortable with a sweater and sneakers.
The miniskirt just got a huge upgrade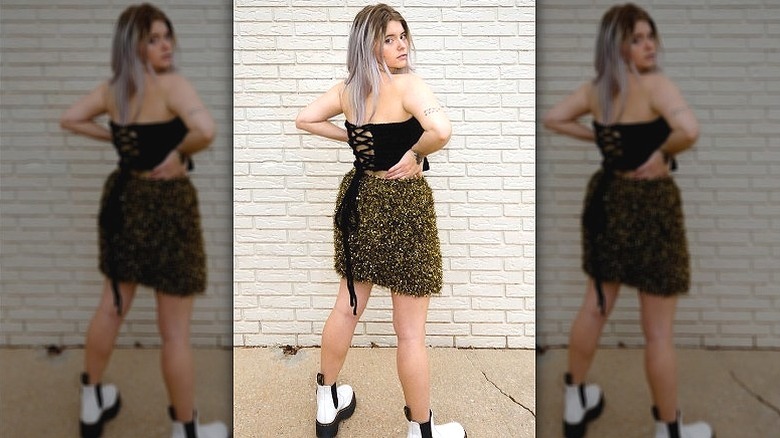 Short, sweet, and shiny — that pretty much sums up a tinsel skirt. Black is a favorite to match with tinsel wear. However, if your skirt is one color, why not put some flair into the accompanying pieces? Brown, white, and gray are other neutrals that play well with the shiny bottoms. Earth tones like green and blue are a lovely match, too. Hues that contrast with your shimmering skirt will help highlight the tinsel, while items similar in shade tone down the shiny fringe. This miniskirt moment makes the perfect outfit for concerts, festivals, and date nights.
You'll dance with every step wearing tinsel pants
Imagine you are walking down the sidewalk, and your legs are shining like a diamond. With a pair of tinsel pants, this will be your reality. These fun trousers dance with every step. To complete the look, any plain shirt will complement the fringe flawlessly. A button-down and beret will elevate the casual look. Simply tuck your shirt in to avoid dimming your pant's light. Or if you dare, match these bottoms with a tinsel jacket. You'll be glittering from head to toe.
Sleeves are optional when it comes to tinsel
A vest is a layer of clothing that adds dimension to your outfit. A tinsel vest takes your ensemble out of this world. Since it isn't as dominating as a tinsel jacket, the sleeveless item is a great way to put together a balanced ensemble featuring the fringe. Match your vest to your pants for a monochrome feel, but break up the pieces with neutral clothing. A white top and sneakers will let the tinsel breathe and keep the colorful matching pieces from getting clunky.
Top it off with a tinsel top
We mentioned a tinsel jacket and vest, so of course, we have a tinsel shirt on the list. When in doubt about what to wear with your tinsel, go with neutral colors. Denim jeans are a closet staple you can pair with anything. And clear heels are your chance to be Cinderella, but with comfortable footwear. Keep your accessories one color, and boom, the paparazzi will be running you down. Plus, your entire shirt doesn't have to be swimming in streamers. Tinsel strands on one sleeve can make a big impact.
Tinsel rompers are fun and flirty
Tinsel clothing can add flair to your look for day or night. Rompers, skorts, and shorts with this shimmering detail are comfortable and chic. You can't go wrong styling tinsel shorts with a matching top and sandals. Embrace the full tinsel design with a romper covered in shine, or opt for simple tinsel detailing. Hilary Duff's 2021 collaboration with Smash + Tess included a playful tinsel romper, proving that the holiday garland isn't just for trees anymore. However you rock the tinsel trend, be prepared to draw attention.