Chanel Released Their New 2023 Bags - And They're All Over $5K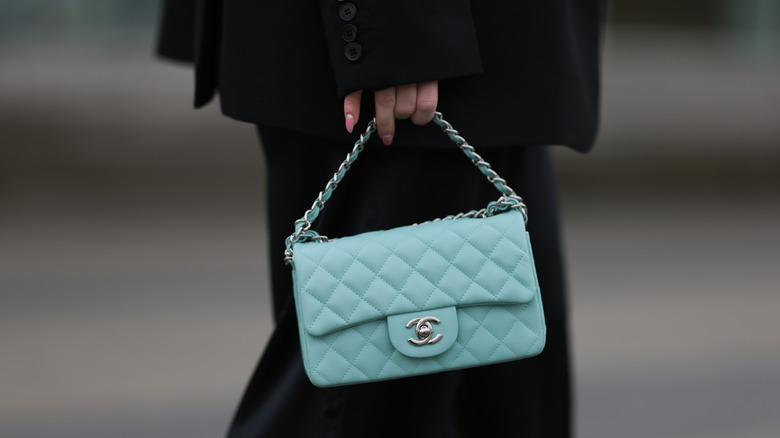 Jeremy Moeller/Getty Images
Coco Chanel changed the world of fashion, and her brand, Chanel, is one of the most well-known luxury designer brands all these years later. However, just because it's up there with giants like Dior and Gucci, the brand isn't above criticism. In 2021, the Chanel advent calendar was heavily criticized for being priced at $825 and yet offering very little in the way of products beyond samples and a dust bag. Moreover, at the 2022 Paris Fashion Week show, Chanel's decision to send a real horse down the runway was met with immediate backlash from PETA.
Alongside these controversies, Chanel's prices have spiked to a new level in recent years. The brand's price hike isn't necessarily a new thing — Chanel prices have actually been slowly increasing since 2008. Still, despite it all, the thriving resale market proves that interest in Chanel has not gone down.
Now, their latest handbag collection has ruffled a few feathers due to their price tags — here's everything you should know about their cost, styles, and why people are annoyed.
The brand's Spring/Summer 2023 handbag collection is causing some controversy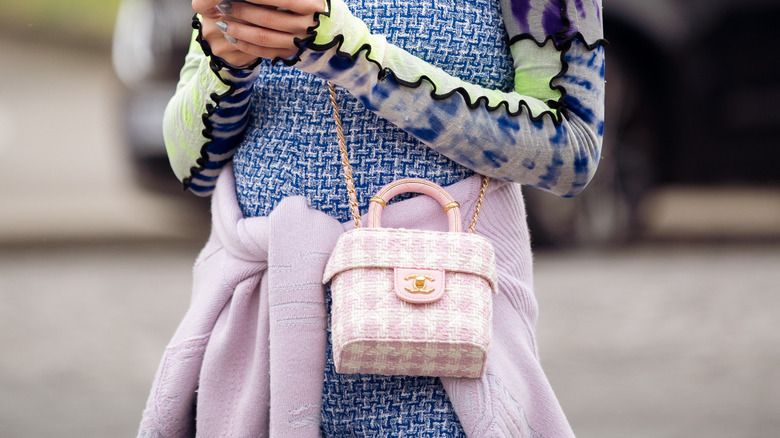 Raimonda Kulikauskiene/Getty Images
The luxury brand's latest bag collection is just that — luxury. As shared by @heygranty, not a single bag in the latest release costs under $5000. Some of the controversy surrounding these new prices stem from the fact several of the bags are not made from leather, with materials like sequins, raffia, and gold-tone metal being used instead. TikToker @nellllllll_commented, "5K for non-leather is wild," and many others in the comment section agreed with her about the inflated prices.
The Mini Flap Bag, which is crafted from braided tweed and gold-tone metal, is priced at exactly $5000. The Classic Handbag, one of the more expensive bags in the collection, is made from cotton tweed and gold-tone metal despite being priced at almost $10,000. Even the smallest bags aren't spared from the price hike — the Mini Evening Bag is made from imitation pearls and still costs $7,300. Some purses, like the Heart Minaudiere Bag, don't even have visible prices, and are instead accompanied by "price upon request."
The collection includes several key trends for 2023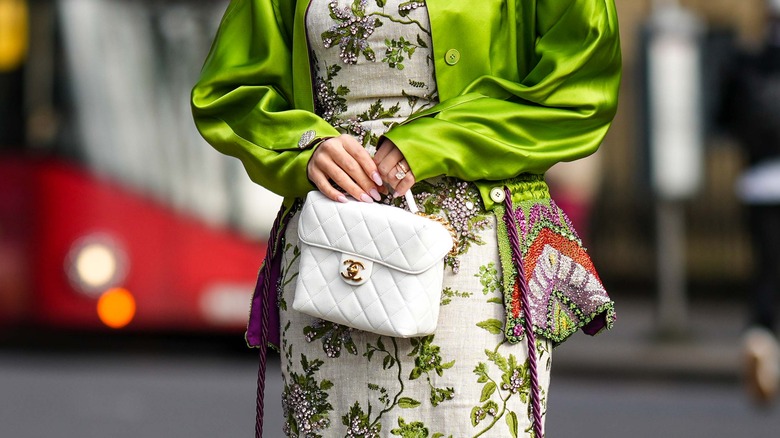 Edward Berthelot/Getty Images
The prices may be high, but the Chanel Spring/Summer 2023 handbag collection ties in with some of the key spring trends. One of these trends is rattan, or raffia, which gives us all of the sunny day beach vibes. Raffia accessories will be everywhere in summer 2023, and Chanel is clearly hopping on the trend with their raffia look Shopping Bag, available in the two classic Chanel color palettes of black/white or white/black.
Another trend that's forecast for 2023 is quilted handbags. Already a Chanel staple, the brand's take on quilted bags for 2023 includes classics like the Boy Bag as well as fresh takes on the trend. The Mini Flap Bag, which comes in a summer-ready hot pink shade, features a chic quilted design and an adorable heart clasp. 
It's unclear yet whether the new prices are an attempt by Chanel to increase exclusivity or have been made in response to rising manufacturing costs. Either way, many will feel that paying $5000 and upwards for a non-leather bag is a step they aren't willing to take.