Here's Why The Stars Of HGTV's Fixer To Fabulous Were Sued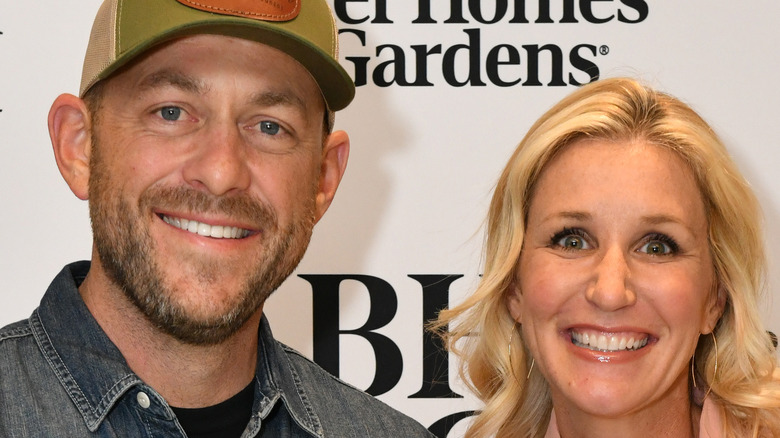 Craig Barritt/Getty Images
Dave and Jenny Marrs were practically born to have their own HGTV show. The stars of "Fixer to Fabulous" are an attractive married couple with a passion for turning run-down historic Arkansas homes into gorgeous showpieces. They paired with Better Homes & Gardens to launch their own home goods line at Walmart, and turned one of their properties into a gorgeous $745/night Airbnb. On April 1, 2023, they'll open their latest venture, a home store called Marrs Mercantile. "My prayer for this place is that is a space where old and new friends can gather and be inspired by beautiful things," Jenny recently wrote on Instagram. "May this place be a respite from the rushed pace of the world. May it be a reminder to slow down and seek beauty in all things and in all people."
Oh, yes — and in addition to all this, the Marrs are parents to five children (including a set of twins), and they live on a working farm with livestock, dogs, and rabbits. How do they do it all? In their new interview with Better Homes & Gardens, they explain that they keep a tight weekday schedule that begins before dawn and includes lunch on the go. But by 5:00 PM, they're free to enjoy a family dinner and relax before starting all over again. It seems like an ideal and organized life — which is why it comes as a shock to learn that the Marrs are being sued for dropping the ball on quality.
Former Fixer clients say their home is now unlivable
Dave and Jenny Marrs always manage to make homes look great on TV, yet they're among the HGTV stars who were sued after working on a renovation. According to documents shared by WJHI, Marrs Construction and Marrs Developing LLC were sued in May 2021 by Dana and Tyler Craddock, who had their home featured on "Fixer to Fabulous" in 2018. The suit alleged that Marrs acted negligently by "not maintain[ing] an Arkansas Contractor's License" during the work period, not obtaining the required construction permits, and not consulting with a professional contractor. 
As a result, the Craddocks claim that the "Fixer" team knowingly performed shoddy — and potentially hazardous — work on areas such as wiring, plumbing, installation of a new stove, and replacement of iron balconies. The inadequate renovations "have caused those affected portions of the Home to be unusable," says the suit. Because the homeowners on "Fixer to Fabulous" aren't allowed to see the construction in progress, the Craddocks say they didn't realize how bad the job was until after the TV reveal. They add that their requests for fixes went unanswered while "the Defendants have basked in the glory of publicity," the suit accuses. The Craddocks are seeking $75,000 in damages. 
As of this writing, the Marrs haven't publicly commented on the lawsuit, nor has there been any news about the outcome. Knowing their client's allegations could hurt their rep, the couple may have quietly settled the case out of court so they can get back to their busy lives.