Hair Growth Is A Process - Here's What We Know About Each Phase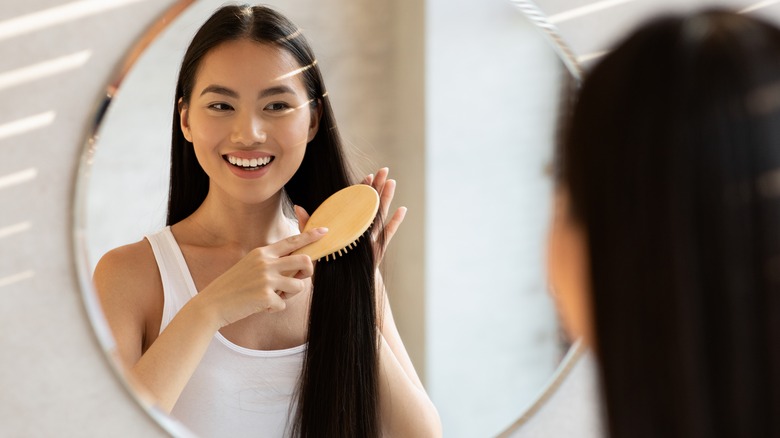 Prostock-studio/Shutterstock
Chances are, you've wished your hair would grow more quickly. Learning how hair grows can help alleviate some of the frustration you might feel when you feel it's growing more slowly than you'd like, especially after getting a haircut that turned out shorter than you wanted. While you can take steps to make your hair healthier, it is constantly going through a four-step process of hair growth. 
While each stage of hair growth is the same for everyone, they won't look exactly the same from person to person. The timeline of the cycle depends on a number of factors including your age, overall health, and scalp health. If your hair isn't growing as quickly or as healthily as you'd like, you can give it some help. It won't be a quick fix, however. Board-certified dermatologist Mamina Turegano tells Harpers Bazaar, "The commitment to having healthy hair is like a marathon." Once you know about the phases of hair growth, you can learn how to better help out your hair along the way.
The first phase is all about hair growth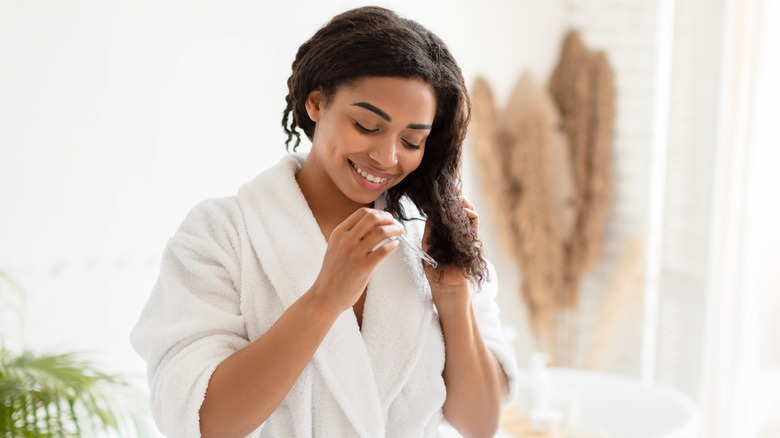 Prostock-studio/Getty Images
There are four scientific steps for hair growth, and though they are distinct, they're all constantly taking place because hair growth is a cycle. According to WebMD, the first step is the anagen phase. This is when your hair is actively growing, though the length of the phase varies. Most people's hair grows a little over a centimeter per month or around six inches per year. During this first phase, the hair begins growing by being pushed up through the follicle. The majority of your hair is in this phase at any given moment.
The second phase is called the catagen phase, and it lasts around 14 to 21 days in which your hair stops growing. The next phase, the telogen phase, is when your hair stops growing but has yet to shed from your scalp. The final phase of hair growth is the exogen stage, which is also known as shedding. This is when the hairs that have finished the process are pushed out by new hairs, and this phase can last up to five months.  
Keep your hair healthy throughout the growth process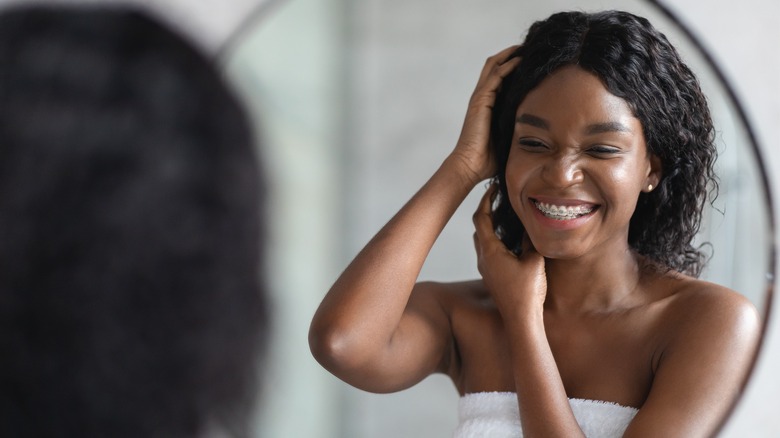 Prostock-studio/Shutterstock
Luckily, you can get longer and thicker hair using science. One way to help your hair grow more quickly is to get the blood flowing to your scalp. Dermatologist Dhaval Bhanusali told Cosmopolitan, "It's like giving more water to a plant to help it grow." Products that help the blood flow to the scalp are topical hair growth products. You can also consider massaging your scalp to increase blood flow, but you can also reach for a hair oil if you want to give your head a little extra TLC. To prevent breakage, consider wearing your hair in protective hairstyles and skipping the tight ponytails and buns. If you do have breakage, consider trimming your hair to promote healthy growth.
Book an appointment with your dermatologist before starting any products if you're concerned about hair loss and thinning. They can help you determine the cause of the issues you're having and give you advice about how to move forward with your scalp and hair.