Love It Or List It's Hilary Farr's Unexpected Musical Past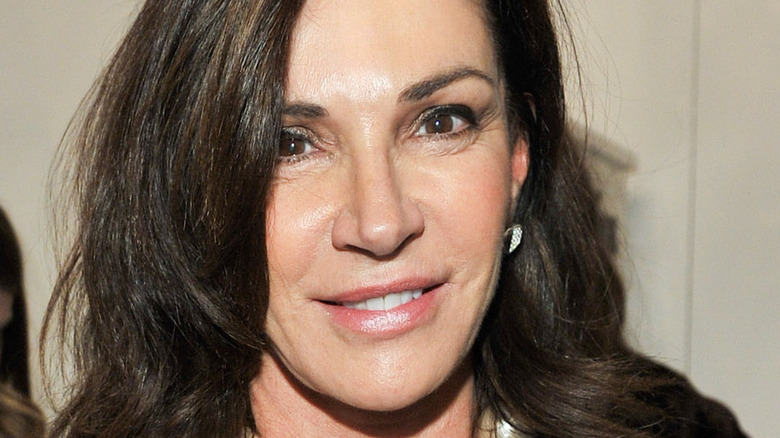 Sonia Recchia/Getty Images
"Love It or List It" was one of HGTV's top shows from 2008 to 2022, running for a total of 14 seasons. Hosted by the multi-talented Hilary Farr and David Visentin, the concept revolved around homeowners deciding whether to renovate their current homes (love it) or sell and invest in something new (list it). Farr served as the show's interior designer, working with guests to reimagine their spaces. 
Throughout the series' impressive run, she helped participants rediscover their love for the homes they already owned. "The most important thing is to understand what gives you pleasure," Farr explained to Realtor.com. As she reasoned, "Don't allow yourself to be completely influenced by whatever is so-called on-trend. Don't be influenced beyond what you are drawn to."
In 2021, the HGTV star launched a solo venture, "Tough Love With Hilary Farr." Here, Farr helped families solve design conundrums (and sometimes even relationship issues) with her trademark "tough love." However, long before she began winning over fans with her eye for design and love for trading jabs with Visentin on HGTV, Farr had another onscreen gig that was a lot more musical. 
Hilary Farr had a minor role in The Rocky Horror Picture Show
In one of the opening scenes of the 1975 cult classic "The Rocky Horror Picture Show," Janet and Brad, played by Susan Sarandon and Barry Bostwick respectively, attend Betty Monroe's wedding. Monroe is played by a young Hilary Farr clad in a larger-than-life '70s-style wedding dress. "I hardly was a co-star!" Farr laughed during a 2015 interview with Baltimore Media Blog, "I didn't even have a speaking part."
The interior designer added, "I was extremely young, and all my friends were a part of that film. They liked my work and decided to create a part for me out of nothing. It was great fun." According to Farr, she also lived below the legendary Tim Curry at the time, who played Dr. Frank-N-Furter in the movie (via PopSugar). "Rocky Horror" wasn't Farr's only onscreen role in the '70s either. 
She appeared in 1975's "Legend of the Werewolf" and 1979's "City on Fire" alongside A-listers like Ava Gardner, Shelley Winters, and Henry Fonda. In all three films, Farr was credited under the stage name "Hilary Labow." In 1989, nearly 20 years before she would land her first HGTV gig, Farr starred in the short-lived Broadway play "Run for Your Wife."
Hilary Farr returned to acting in 2022's Designing Christmas
In 2022, Hilary Farr returned to movies, appearing alongside "Gossip Girl" star Jessica Szohr in "Designing Christmas." The Discovery+ holiday movie tells the story of a fictional home renovation duo played by Szohr and Marco Grazzini — admittedly, the pair has a striking resemblance to some of HGTV's most famous couples. In an exclusive interview with The List, Farr joked that her experience decorating homes hasn't been quite as drama-filled as "Designing Christmas" would suggest. 
"The drama usually comes from me saying, 'No, the tile is in upside down,'" she acknowledged. However, the HGTV star did serve as an important resource for the screenwriters, providing input on the televised world of interior design. As she revealed, "That was one of the reasons that I was speaking with the writer and the team ahead of time, to flag things that I felt were a little bit playing with reality too much or were playing not quite right." 
Now that Farr has officially re-entered the world of acting, only time will tell whether another musical is in her future. Whatever the case, it will be hard to top "Rocky Horror" and its decades-long status as a cult classic.