'Locking In' Your Curls Is The Viral Hair Hack That Gives You Insane Volume With Just A Brush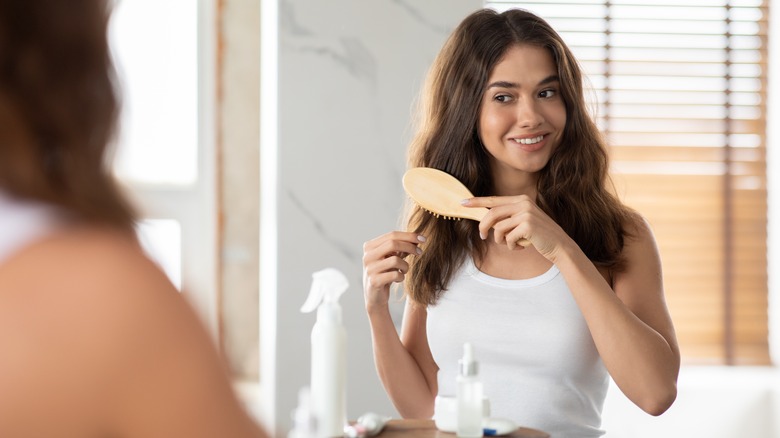 Prostock-studio/Shutterstock
The bigger the hair, the better. Getting voluminous locks is a goal for many people who dream of having big, beautiful tresses that don't fall flat. From the faux out blowout to voluminous Jessica Rabbit hair,  hair that looks full is on everyone's radar. Celebrities like Jennifer Lopez, Beyoncé, Kylie Jenner, and Zendaya are known for sporting iconic voluminous locks that show just how glamorous this hairstyle can be. 
If you've ever spent time curling your hair only for the end result to look flat and deflated, you're not alone. Keeping your curls intact without overdoing it on products like hairspray is tricky, but it's not impossible. The good news is that you can easily achieve insane volume in under five minutes with just a brush. The trend has been making waves on social media and is one of the quickest and easiest ways to keep curls set all day long.
How to lock in your curls at home
Beauty influencer Ally Lindgren posted a viral video to her TikTok of her step-by-step process to lock in her curls. To achieve amazing volume in your hair by locking in your hair, you'll need to first curl your hair. For big waves, try a tool like the ghd Classic Wave Oval Curling Wand; its 1.5-inch oval barrel will give you loose, beachy waves. For tighter curls, try the ghd Curl Thin Wand which has a 0.5-inch barrel that will give you locked in, tight curls.
Once you're finished curling, look for the curl pattern in your hair. Then, take a brush and put it against the lump of each curl and slide it through your hair, up towards your scalp. You only need to move your brush slightly upwards and once to lock in the curl. After you've finished locking in each curl, use hairspray to set the look and keep the curls in place. This is also referred to as teasing the hair, a method where you comb your hair toward your scalp, creating a voluminous look that's held in place.
Can locking in your hair cause damage?
You may be wondering whether teasing your hair is good for it. Teasing the hair has been seen as taboo in the hair community, as many claim it's terrible for your hair and can cause damage to your locks. Celebrity hairstylist David Lopez told Byrdie, "As long as you're doing it intentionally, it's not going to be bad for your hair." 
When teasing the hair, you should avoid running your brush back and forth and teasing it multiple times, as this will cause damage and breakage to your hair. To minimize the damage you do to your hair, run the brush or comb through your hair once and then move on to the next curl.
Another way to minimize tangles and damage is to comb your hair all the way through before teasing it (via Bustle). Spraying in a dry texturizing spray before running your brush through your hair to give it texture and a foundation for volume. This will help keep your hair healthy while giving you dreamy, voluminous hair.