Days Of Our Lives' Greg Vaughan Loves Being The Center Of A Good Old-Fashioned Soap Opera Catfight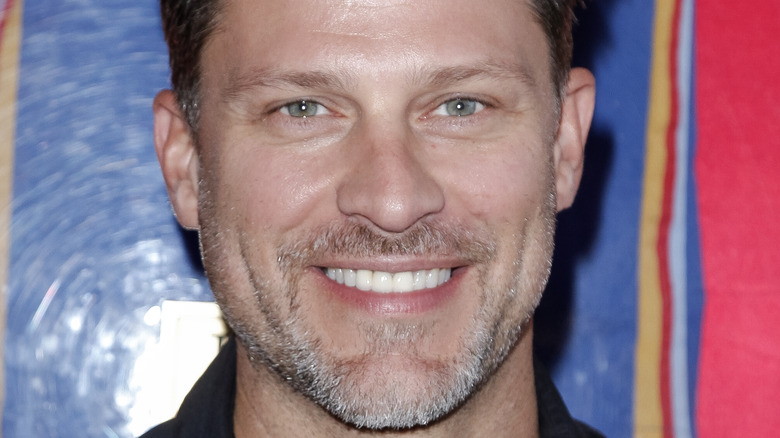 Tibrina Hobson/Getty Images
When it comes to romance and drama, "Days of Our Lives" seems to have found the perfect formula. The soap opera regularly mixes action with its love stories, and Eric Brady (Greg Vaughan) is a prime example. As a legacy character, born to iconic Salem characters Roman Brady (Josh Taylor) and Marlena Evans (Deidre Hall), Eric is an important piece of the Salem landscape. He's often involved in central storylines, like when he was banned from the priesthood, struggled with addiction, or caused the car accident that took the lie of Dr. Daniel Jonas (Shawn Christian).
Over the years, fans have watched all of Eric's ups and downs, but none have been more relevant than his on-again-off-again relationship with the love of his life, Nicole Walker (Arianne Zucker). Eric and Nicole's relationship has been a series of make-ups and breakups, usually caused by Nicole's poor decisions.
Most recently, Nicole has moved into a relationship with EJ DiMera (Dan Feuerriegel), while Eric has started dating a new girl in town, Sloan Petersen (Jessica Serfaty). Of course, Eric and Nicole's connection has caused problems along the way and sent the two women into a full-on rivalry.
Greg Vaughan loves Nicole and Sloan's rivalry
"Days of Our Lives" is no stranger to pitting characters against each other. Throughout the decades, there have been some epic feuds between characters such as Kate Roberts and Vivian Alamain, Jennifer Horton and Eve Donovan, and more. However, one of the most iconic Salem feuds has been the years-long bad blood between Nicole Walker and Sami Brady (Alison Sweeney). Currently, Nicole is engaged in an all-out war with Sloan Petersen due to her involvement with Eric Brady, and actor Greg Vaughan has been loving every minute of it.
"The two of them are like Sami and Nicole, fighting all the time," Vaughan told Soap Opera Digest (via Soaps). "Eric was in serious trouble and going down the rabbit hole, and Sloan's a little vixen. She kind of weaved her web around him, and Eric found himself in a moment where there was nothing but benefits," he added.
While Sloan doesn't seem like the kind of woman Eric should be paired up with, he does seem to love bad girls like Nicole. So, only time will tell if Eric and Sloan can make things work or if he'll ultimately end up back in Nicole's arms like so many times before.