Why You Might Want To Opt For A Brighter Shade Of Pink When Coloring Your Hair
People have been dyeing their hair for thousands of years, originally sourcing pigments from leeches and burned nuts to mix dark browns and blacks, per Byrdie. Iconic movie star Jean Harlow is often referred to as the original blonde bombshell, known for combining a slew of unadvisable chemicals to achieve her trademark look. Some even speculated that peroxide led to her premature death at 26, although these rumors have since been debunked (via The Atlantic). 
According to CNN, between 4% and 7% of women dyed their hair in the '50s. But by 2015, that number had skyrocketed to a staggering 70%. Since its inception, hair dye has grown considerably more expansive, now ranging from permanent to single-wash, temporary solutions. The punk scene in the '70s and '80s saw a rise in unnatural colors. By the early 2000s, emo culture led to an interest in dark shades of blue and purple — not to mention angled bangs. 
And, in the midst of the COVID-19 pandemic, pink hair became an unexpected trend. Regardless of the decade, you can't go wrong with shades like bubblegum, rose gold, and straight-up Barbie. Ready to try pink dye for yourself? Start off bold, consider your undertones, and keep in mind that some colors fade more quickly than others. 
Starting with a brighter shade will prolong the fading process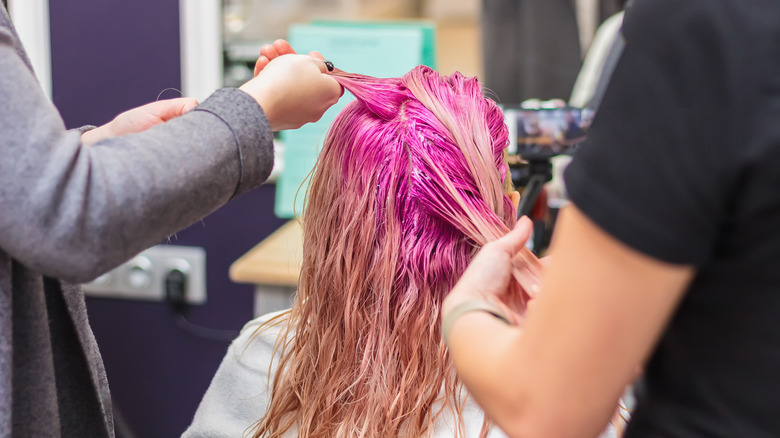 Yurich20/Shutterstock
Celebrities like Megan Fox, Lizzo, and Kaia Gerber have all recently experimented with pink hair. However, before you take the plunge yourself, know that pink is among the fastest-fading colors out there, especially if your hair is dry and damaged from years of heat styling and color treatment. The brighter the pink, the longer the fading process — and the more fun you can get out of a single bottle. 
A bold Valentino will eventually wash out into trendy rose gold, which will subsequently fade to reveal your natural or pre-treated blonde base. Before you peruse the aisles of CVS to find a new color, be aware that light pinks won't show up on dark blonde hair. Opt for hot pink if you really want to make a splash. "If you have a light blond tone, pastels are a perfect way to keep your hair light and add in color," master colorist Aura Friedman told Glamour. 
She added, "If your hair is more of a honey blond or darker, I'd recommend steering away from pastels since the color won't show up as well." According to Friedman, jewel tones and winter hues work wonderfully on darker strands. If your hair is brown or black, it's always best to recruit the help of a professional colorist. However, if you're committed to a bathroom sink lightening session, always take the necessary precautions to avoid burning your scalp.
Find a dye that complements your undertones
When choosing a new hair color, it's important to first consider your skin's undertones. Coloring falls on a spectrum of warm to cool, peachy pinks to greenish blues. If you're unsure where you fall on it, look at the underside of your wrist. As practiced hairstylist and colorist Roxie Darling explained to Byrdie, "You'll see the pinks, reds, blues, greens, and yellows there," adding, "If your veins are blue or purple, you're likely cool-toned." 
Comparatively, green-tinted veins typically indicate a warmer complexion. As a general rule, make sure your hair matches your skin. For instance, if your face has orange undertones, complement it with sunset-pink hair. This method can also even out your overall complexion, diminishing the appearance of hyperpigmentation or redness. 
To keep your pink bold for longer, invest in color-preserving products. Although sulfate-rich shampoos are great for removing dirt and grime from your scalp, they can also fade dye much faster. To keep that pink brighter for longer, take colder showers, schedule less frequent washes, and steer clear of heat styling whenever you can.