The Most Unexpected Hair Trend That Came Out Of Quarantine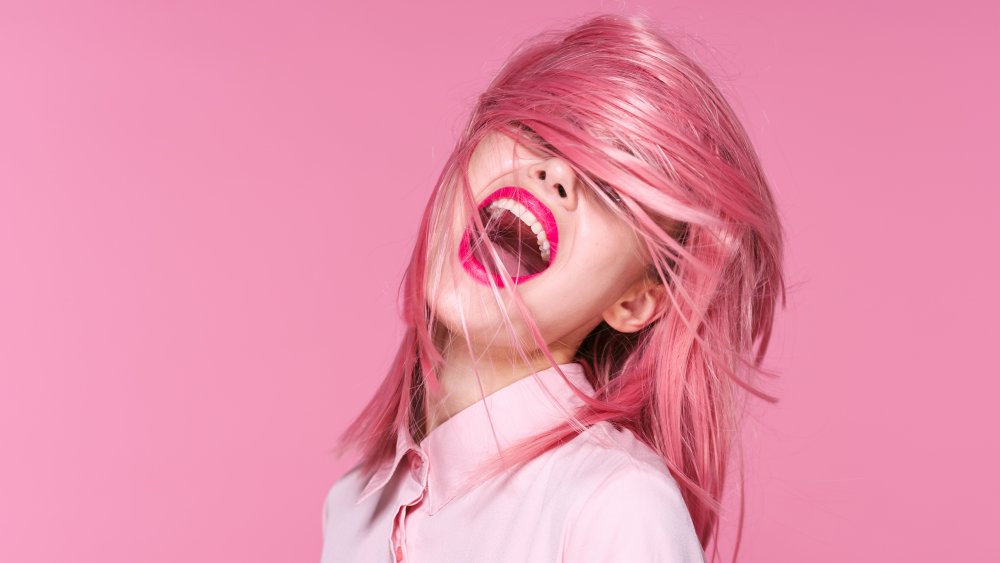 Shutterstock
Giving yourself a new hairstyle during quarantine has practically become a right of passage. Celebs like Hilary Duff, Pink, and Chris Noth have adopted new looks during the pandemic, but they're far from the only ones. Sales of hair clippers and hair dye have exploded during the pandemic as people have rushed to give themselves a makeover.
It turns out there's a pretty solid scientific explanation for why we want to change our hair during this difficult time. "Hair is an extension of our identity, how we see ourselves, and how we would like others to see us," mental health counselor Danielle Forshee told Elite Daily. She added, "The decision to cut your hair during a transitional period, whether it be a positive or negative transition, symbolizes to the individual themselves a new start."
While changing up your hair may be a very personal thing, it can also be a fashion statement, which explains why so many people are adopting quarantine's hottest hair trend: pink hair. Taylor Swift hopped on the pink hair wagon, adding pink and blue streaks to her hair during the pandemic. Refinery 29 noted that other stars who have gone pink include Dua Lipa, Keke Palmer, and Julianne Hough.
Why is everyone dying their hair pink?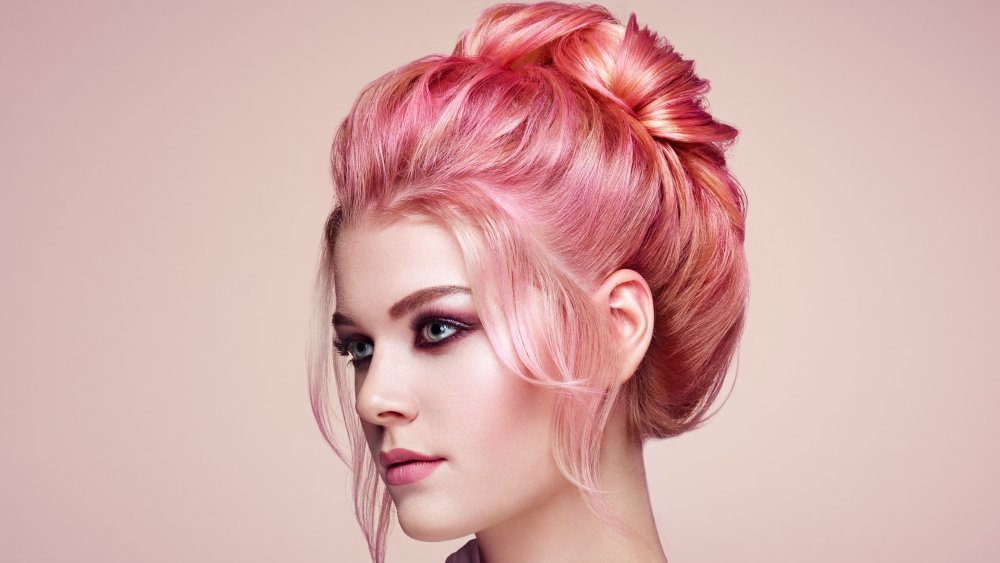 Shutterstock
Why pink? Hair stylist Kristin Ess, whose Rose Gold Temporary Tint has been selling quickly during quarantine, has a theory. "The main reasons are simple: Pink is such a happy color and because of its pastel shade, it still feels light and bright, the way blonde hair does," she told Allure. "It makes you feel like you have a brand-new color. Plus, the pink tone really upstages the line of demarcation [around your roots], which sort of makes you forget about the grow-out for a minute."
The reason may also be psychological, as neuropsychologist Sanam Hafeez told the outlet. "Pink represents all that we need in this world right now," said Hafeez. "Very often, pink is thought to have a calming effect. It is not a 'loud' color like yellow or orange. As most of us lounge around in scruffy clothes like sweatshirts, sweatpants, little to no makeup, and messy hair, pink hair is a way of bringing out our softer side in a way that does not require everyday upkeep and is also not expensive."
Other people may be taking advantage of not having to work in an office every day to choose a color that may not necessarily be considered professional. "A lot of people want to do a fun crazy color, but [professional dress codes] of their business doesn't allow them to," said stylist Riawna Capri, who recently helped Jamie-Lynn Sigler change up her own hairstyle during a Zoom call. "[Now], it's a time where you can really experiment with things you've always wanted to do."