HGTV's Jonathan Scott Puts Family First When Planning Renovations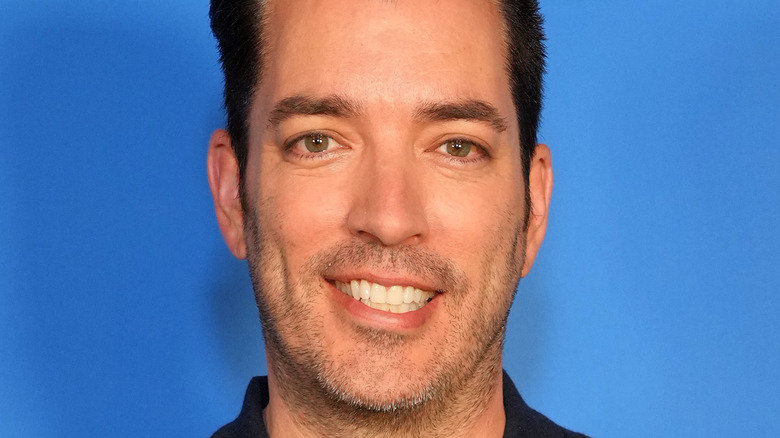 Kevin Mazur/Getty Images
Twin brothers Jonathan and Drew Scott — better known as the "Property Brothers" — are recognizable faces from multiple HGTV shows. In addition to their 13 seasons of "Property Brothers," they also host "Celebrity IOU" where they help celebrities give back to a loved one by renovating their house. Their show "Property Brothers: Forever Home" focuses on turning existing homes into dream homes. If that was not enough, they also host the show "Brother vs. Brother," where they each renovate a home separately and compete for the largest profit, which they donate to charity.
Their talent and expertise in everything from home building to the final touches they add to houses on their multiple reality shows make fans curious as to what the "Property Brothers" desire in their own homes. For Jonathan, the fact that he has been in a long-term relationship with actress and singer Zooey Deschanel only adds to the intrigue.
Jonathan Scott enjoys being home with Zooey Deschanel and her children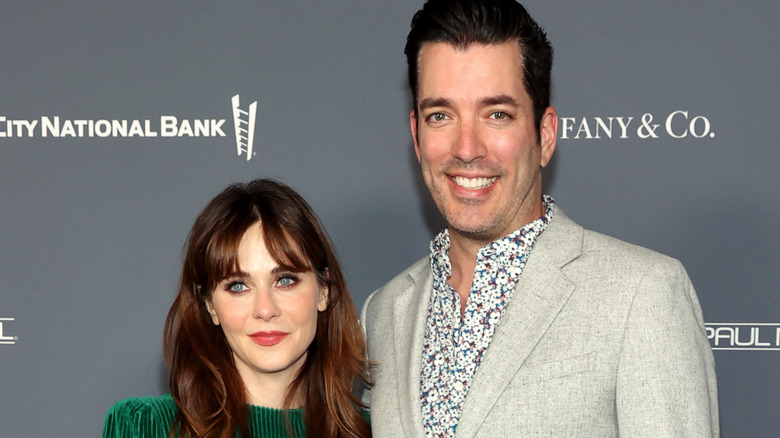 Amy Sussman/Getty Images
Jonathan Scott met Zooey Deschanel in 2019 on the set of "Carpool Karaoke" and began dating later that year. When speaking to TODAY in January 2023, Scott referred to himself as a "bonus dad" to Deschanel's two children, Elsie and Charlie. He also revealed that he has a positive relationship with Elsie and Charlie's biological father, Jacob Pechenik. Scott and Deschanel "enjoy every minute" of co-parenting. Given Scott's love for family time, his recent home changes reflect just that.
Scott explained to People that family was his focus when making renovations to his own home. "Nothing's more important than home," he told the publication. "And the older I get, the more I realize how much I appreciate being home with the kids and being home with Zooey." He explained that he wants their home to fulfill the needs of Deschanel's children as they grow up and wants to be able to entertain family and friends. "Everything we've done is so we can hold those people we love closer," Scott told People.
Scott and Deschanel collaborated on their renovations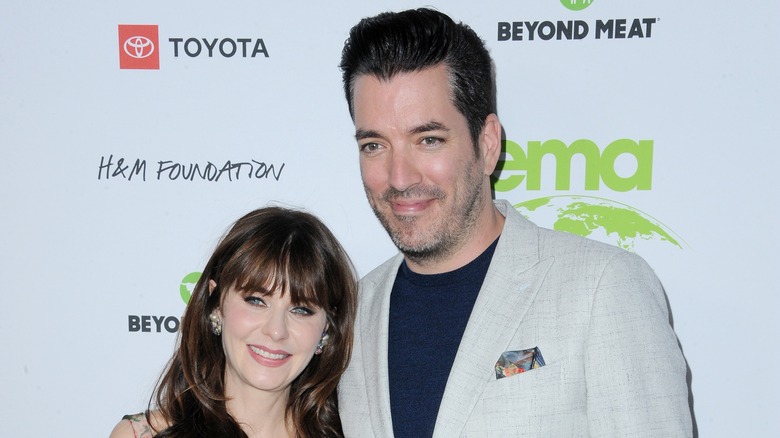 Tinseltown/Shutterstock
Fans of the show can obviously see that Jonathan Scott is close to his brother Drew when they take on project after project on HGTV. However, the brothers have a close relationship with others in their family as well. For example, the Scotts' parents are nearby. "It's nice cause we have our parents in our guest house," Scott told People.
Scott and girlfriend Zooey Deschanel quickly fell in love with their Georgian-style Los Angeles home in 2020. The couple divided up the work — Deschanel worked on the interior design and Scott focused on the construction and architecture. They also added energy-efficient solar panels and a water recycling system to reduce water consumption. Their renovations were not finished until early 2023. "This is a house that suits our tastes and needs, aesthetically and functionally. Jonathan is so amazing at figuring that out. He's been doing it for his clients for so long, and now he's done that for us and our family," Deschanel gushed on the brothers' website.