General Hospital Star Maurice Benard's Unexpected Emotional Reunion On Tamron Hall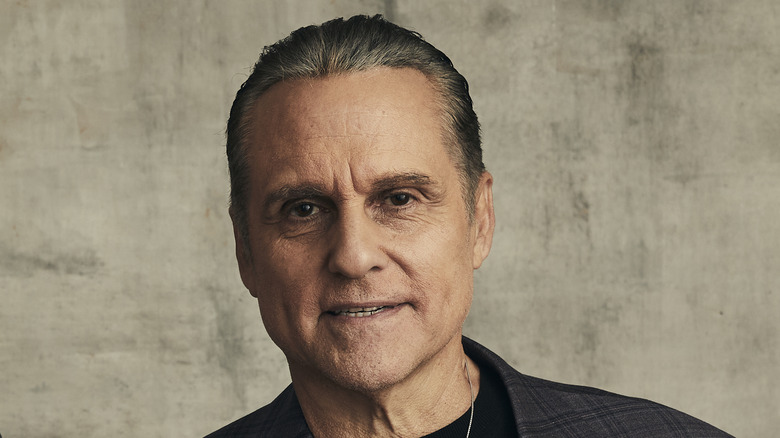 Jsquared Photography/Getty Images
Shortly after landing the part of Sonny Corinthos on "General Hospital," actor Maurice Benard almost quit because he felt his bipolar disorder was getting in the way. Fortunately, then-producer Shelly Curtis was able to help him through things, and 30 years later he's still at the top of his game as the mobster with a heart of gold. In 1990, Benard married the love of his life, Paula Smith, and they had three children: Joshua, Cassidy, and Cailey. The couple also adopted Paula's half-sister Heather when she was 15 years old after Paula's mother died in 2008. A proud family man, Benard often shares family moments — such as when he posted a picture of himself and his kids on Facebook.
Heather joined Benard for an episode of his YouTube show, "State of Mind," in which he openly discusses having bipolar disorder. In the episode, Heather was herself very open about how Benard and Paula's home was far more stable than her own. She always enjoyed spending time with the other three children. Heather also explained that while drugs and alcohol were prevalent in her birth-mother's house, she credited her adoptive mom Paula for keeping her away from that life, stating, "Because I had Mom, I had a good example."
Benard's love for his children is strong, and he recently had a touching surprise bestowed upon him by talk show host Tamron Hall.
Benard wasn't prepared for his emotional surprise
On "The Tamron Hall Show," the eponymous host was excited to welcome guest Maurice Benard, marveling that "General Hospital" has been on the air for 60 years. After praising him for being open about his bipolar disorder, Hall asked when he'd last seen his daughter, Heather. Benard's emotions bubbled up to the surface when the host surprised him by inviting Heather to come out onto the stage — which she did in her full Air Force uniform, as he'd never seen her in it.
Father and daughter embraced, then Benard sat down, fighting back tears. He was happy to see Heather in her uniform, and joked, "I am so proud of her, and, uh, I can't talk, so can I leave?" before Heather established that they hadn't seen each other since October. Benard went on to share with Hall how he and his wife Paula's adoption of Heather had changed their lives. He explained, "When we adopted her, we were talking in the room, and at one point [Heather] said [to Paula], 'Can I call you mom?' and I was gone [crying]. Worse than I am now."
After the interview, Benard posted a video of himself backstage on Instagram with the caption, "Just did Tamron Hall, and talk about a huge surprise." In the video, he mentioned his surprise and tears, adding, "[It's] World Bipolar Day. It's Vincent Van Gogh's birthday. Check it out. And watch me cry like a baby."