How Melania Trump Reportedly Feels About Donald's Legal Troubles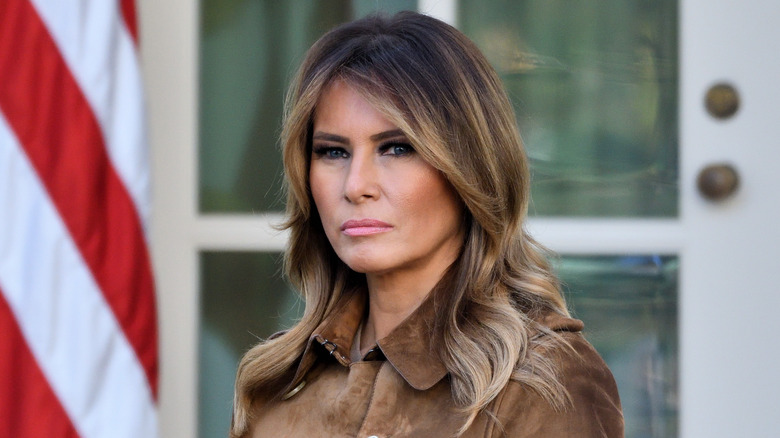 Evan El-Amin/Shutterstock
In late March 2023, former President Donald Trump was indicted by a Manhattan Grand Jury over allegations related to a payment made to adult film star Stormy Daniels. This was Donald's effort to keep their extramarital affair out of the news during his 2016 presidential run. Donald is facing over 30 counts of business fraud, marking the first time a former president has come up against criminal charges. 
Donald has been married to Melania Trump, formerly Melania Knauss, since 2005. He first met the Slovenian model in 1998, and the pair began dating in 1999. However, the affair between Donald and Daniels allegedly transpired in Lake Tahoe in 2006.
This was not long after Melania gave birth to her and Donald's only child, Barron Trump. Daniels reportedly accepted $130,000 in 2016 from Donald's lawyer, Michael Cohen. In 2018, Daniels told CBS' 60 Minutes that she did so out of safety concerns for herself and her daughter. Donald has denied the affair but did admit to paying the money. As this was during his presidential campaign and he recorded the payment as legal expenses, it's seen as a violation of campaign finance and other laws, thus, bringing forth his indictment and possible arrest. With that said, Donald's family, including his wife, Melania, have not made any public statements regarding his legal woes.
Melania Trump is staying mum on the subject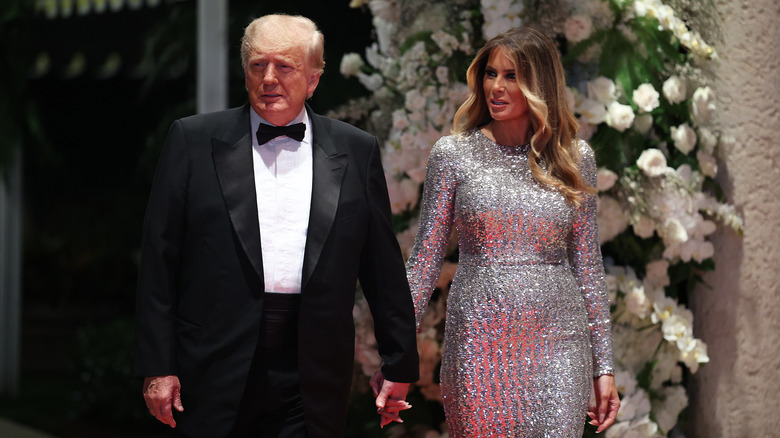 Joe Raedle/Getty Images
Since leaving the White House, Melania Trump has spent her time out of the limelight. She and Donald Trump moved from Washington, D.C. to Palm Beach, Florida, to live at Mar-a-Lago, a resort owned by the former president. In November 2022, Donald announced that he was running for president for a third time in 2024. However, Melania reportedly has no interest in being the first lady again. Instead, she wants to lead a quiet life and dive deeper into the world of NFTs. But her husband's legal troubles have interfered with this plan. In August 2022, the FBI raided Mar-a-Lago in search of classified documents.
Although they looked through Melania's closet, she did not denounce the FBI's actions, with one source telling CNN, "Why would she say anything?" They added, "Her thinking is, if she's quiet, it will just go away." Melania is taking a similar approach to Donald's Stormy Daniels hush-money scandal. Another source told People, "Melania is leading her own life, and still feels happy being at Mar-a-Lago, surrounded by people who love her and who never talk about reality, or bad things about her husband." Nevertheless, Melania is troubled by his alleged affair with Daniels. A source noted to People, "She remains angry and doesn't want to hear [the alleged hush money payment] mentioned."
The former first lady has her family by her side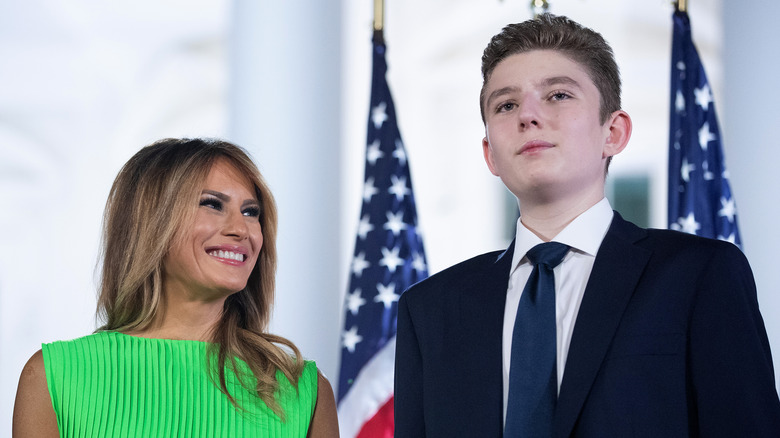 Chip Somodevilla/Getty Images
Even with her husband facing criminal charges, Melania and Donald Trump have been seen together at Mar-a-Lago but reportedly live separately. The pair were spotted having dinner shortly after the news of Donald's indictment came to light. Melania's parents also live at the property, and the former first lady's life is centered on them and her 17-year-old son with Donald, Barron Trump. A source told People that Melania does not have friends and prefers to spend time with her family. Despite the legal drama, it's believed that the family celebrated Barron's 17th birthday in March 2023.
If her husband goes on trial or to prison, Melania does not seem worried about it and will likely remain at Mar-a-Lago. A source in a different article told People, "Melania loves the beautiful weather and resort town atmosphere of Palm Beach." They added, "She is happy when she is in Palm Beach. She has her son and other close family members. They are tribe-like and usually stick together. Despite what happens to Donald, she will be fine. She is well taken care of."
Another source explained to People how Melania is dealing with the fallout of Donald's alleged affair with Stormy Daniels. They said Melania "wants to ignore it and hopes it will pass, but she doesn't sympathize with Donald's plight."