How Donald And Melania Trump's Relationship Has Changed Since Leaving The White House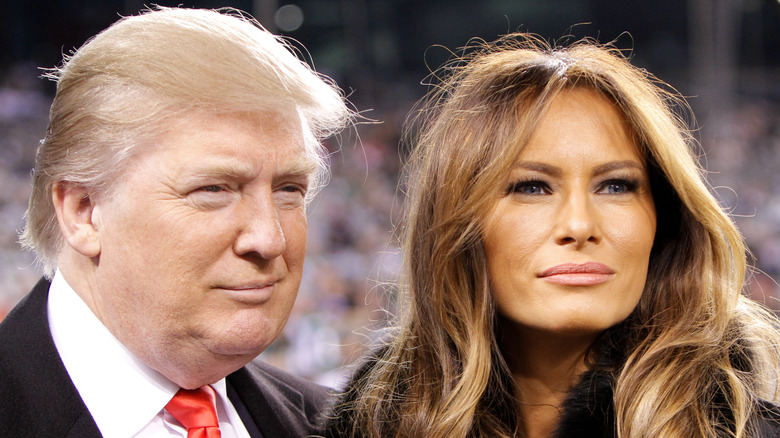 Debby Wong/Shutterstock
While the relationship between the former president and first lady has always been a bit of a mystery, it's natural to want to know a bit more about Melania and Donald Trump's marriage. Folks are especially interested considering the fact that Trump is a presidential hopeful once again. While some might argue that the public has never known much about Donald Trump's third wife, Melania has been even more absent from the public eye since the pair left the White House in 2021.
Trump has returned to the spotlight as a result of his recent indictment for falsifying business records in the alleged coverup of his relationship with Stormy Daniels. This is likely sparking even more questions about the presidential hopeful's relationship with his wife of nearly 20 years, considering the fact that the pair made a surprising appearance at Mar-a-Lago on March 30, the day of his indictment. For obvious reasons, it's important for Melania to show the public that she's supporting her husband during this difficult time, especially considering that the charges against Trump are related to his alleged affair. 
Of course, the Trumps' ability to smile and wave for the cameras in light of some pretty damning events isn't necessarily indicative of the state of their marriage. Yet, it's clear that Melania intends to stand by her man as he faces legal trouble and yet another fight for the presidency. But, what exactly has been going on between the two in the interim?
How the indictment is affecting the couple's relationship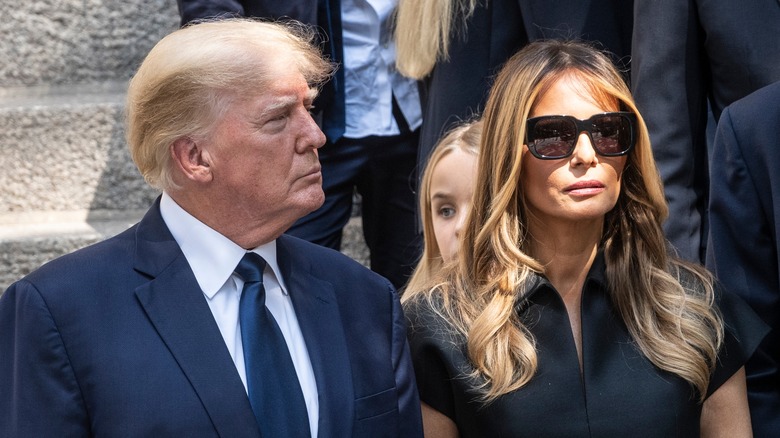 lev radin/Shutterstock
In January 2023, Donald and Melania Trump celebrated their 18th wedding anniversary. Regardless of what's been going on behind closed doors, these past few anniversaries have likely been better for Melania than the ones before, since she allegedly wasn't happy as the first lady. A source close to the family shared with CNN, "She's private, and she's protective of her son and her home." Someone who's particularly private or protective would certainly struggle with her role in her husband's presidency — especially a presidency like Donald Trump's. 
As the repercussions of Trump's indictment begin to take shape, Melania reportedly has no interest in "disrupting" her life or getting involved in the drama. A source told People, "Melania is leading her own life, and still feels happy being at Mar-a-Lago, surrounded by people who love her and who never talk about reality or bad things about her husband." The source added that Melania "remains angry and doesn't want to hear [the alleged hush money payment] mentioned." 
It's understandable why Melania would want to take her mind off the accusations leveled against her husband, considering the fact that the extramarital affair allegedly took place in 2006 when the couple's son, Barron, was just four months old. Unfortunately, pretending that the scandal doesn't exist doesn't have the power to make it go away, and the same goes for the looming possibility of another term in office that the former first lady is seemingly dreading. 
Melania has been absent during the early parts of Donald's 2024 campaign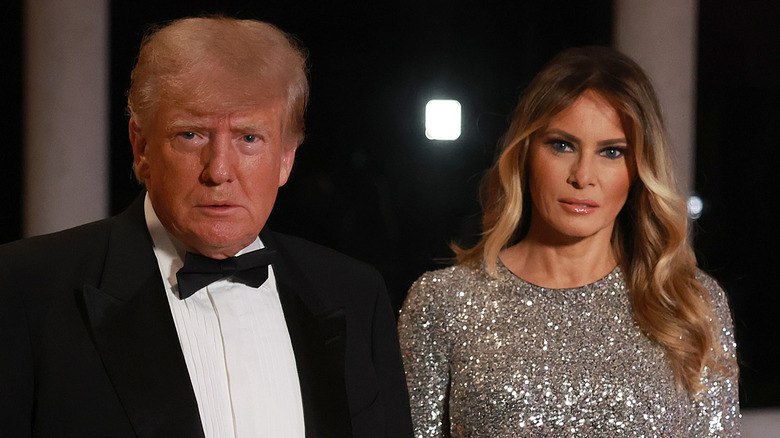 Joe Raedle/Getty Images
Other than his campaign announcement, Melania has steered clear of any events for Donald Trump's 2024 presidential campaign. This could be because he blamed her for bad political decisions. In 2022, Maggie Haberman, a reporter for the New York Times and author of "Confidence Man: The Making of Donald Trump and the Breaking of America," tweeted that Trump was "furious" and "blaming everyone who advised him to back [Dr. Mehmet] Oz — including his wife, describing it as not her best decision." 
In an interview with Anderson Cooper, CNN correspondent and author of "Free, Melania: The Unauthorized Biography," Kate Bennett, explained that the Trumps' marriage had been "a little chilly" after this incident (via Yahoo!). Bennett added that Melania resents "being in the news" and "doesn't like her name being attached to the rants and ravings of her husband." Melania may have already been thinking twice about supporting him in his current presidential campaign, and the indictment can't be making it seem more appealing. Bennett believes that Melania doesn't have "any intention of being on the campaign trail." 
A source close to the Trumps told CNN that Melania "has always considered what Donald does to be separate from her. Decisions he makes about his business are his decisions, not hers." Even so, it seems that things aren't perfect between the pair, and the circumstances are only getting tougher.