The Time Hallmark Star Alison Sweeney Appeared On An Episode Of Friends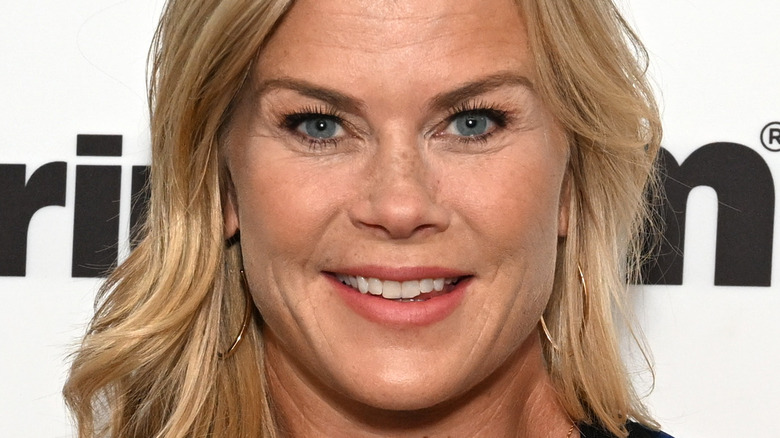 Slaven Vlasic/Getty Images
Alison Sweeney has been working in the entertainment business for decades. The actor got her start when she was cast in a holiday commercial for Kodak. She then went on to play roles on well-known TV shows such as "St. Elsewhere," Webster," "Tales from the Darkside," and more. Throughout the course of her career, Sweeney has also appeared in several films for the Hallmark Channel, like the "Murder, She Baked" series, "Love on the Air," "Christmas at Holly Lodge," "Good Morning Christmas," and "The Wedding Veil" series among others. She also previously hosted "The Biggest Loser."
Of course, her most unforgettable role is that of the bad girl with a heart of gold Sami Brady on the long-running soap opera "Days of Our Lives." Sweeney joined the cast of the sudser in 1993, playing the daughter of fan-favorite characters Roman Brady (Josh Taylor) and Marlena Evans (Deidre Hall). During her decades-long run on the show, Sami was involved in tons of drama which included baby-swapping, kidnapping, and murder. She was also nearly executed for a crime that she didn't commit.
Sami's love life was always in the spotlight as well, as she has loved many men such as EJ DiMera (James Scott, Dan Feuerriegel), Lucas Horton (Bryan Dattilo), Austin Reed (Austin Peck), Brandon Walker (Matt Cedeno), and others, were always central to the Salem storyline. In addition, the soap star also made a memorable appearance on the hit TV series "Friends."
Alison Sweeney played a soap star during her Friends appearance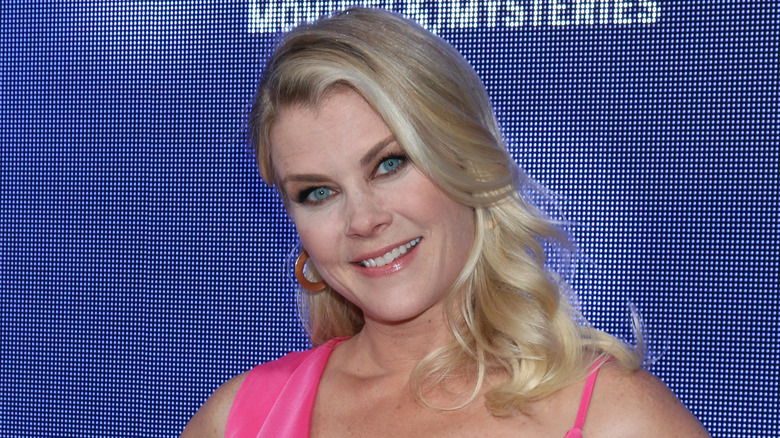 Kathy Hutchins/Shutterstock
In 2001, Alison Sweeney was asked to guest star on an episode of the NBC hit sitcom "Friends." Sweeney played a fictional soap opera actor named Jessica Ashley. In the episode, Jessica was nominated for a Soapy Award but was unable to attend the ceremony. Of course, fan-favorite "Friends" character Joey Tribiani (Matt LeBlanc) stepped in to accept the award for Jessica. At the time, Joey, a struggling actor, had landed a part on "Days of Our Lives," and was tapped to present an award at the event. Later, when Joey gave Jessica the award that she had won, she was nonchalant about it and even tossed it aside instead of proudly displaying it.
"We [at Days] were so excited when Joey got the storyline that he was on the show. It was just so fun for us and we'd always watch [Friends] speculating what they'd do next," Sweeney told Media Village in 2019. "It really was just an honor to be included and be a part of something so huge in our popular culture — then and now," she said. "To get that call to do the show and play a soap opera diva was so fun ... and what an opportunity! It was really exciting and completely different from anything I had done," she added.
While Sweeney's role on "Friends" was very entertaining to watch, she wasn't the only "Days of Our Lives" star to make an appearance on the series.
Many Days of Our Lives stars have appeared on Friends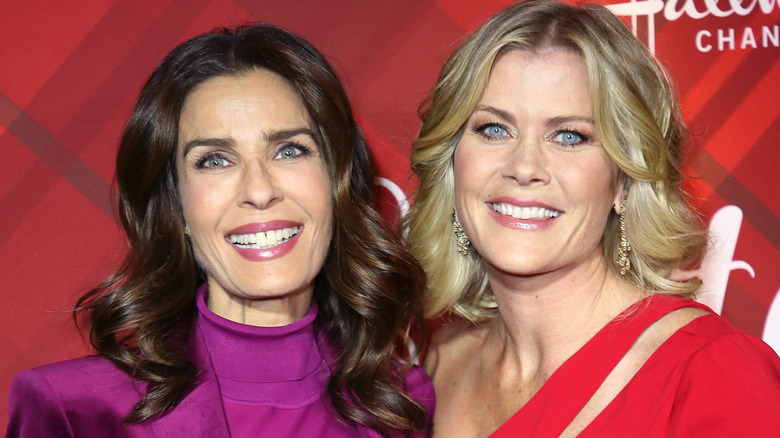 David Livingston/Getty Images
In addition to Alison Sweeney's portrayal of a soap opera diva on "Friends," the actress was just one of many "Days of Our Lives" stars who got to appear on the NBC series during its run. Once the character of Joey landed a major role in the soap opera, many of the cast members were asked to make guest appearances.
During the show's 10-season run, Joey's affiliation with "Days of Our Lives" became a central storyline. At times, some real-life actors from the sudser were even integrated into the show, per Soaps. Stars like Kristian Alfonso (Hope Brady), Matthew Ashford (Jack Deveraux), Kevin Spirtas (Craig Wesley), Farah Fath (Mimi Lockhart), Alexis Thorpe (Cassie Brady), Kyle Lowder (Brady Black, Rex Brady), and Roark Critchlow (Mike Horton) all appeared on "Friends" at one time or another.
Of course, "Friends" and "Days of Our Lives" also had another big connection. John Aniston, who starred as the beloved character Victor Kiriakis on the daytime drama, is the father of "Friends" breakout star Jennifer Aniston. Although John never appeared on "Friends," fans of both shows loved the crossover between Sweeney and the other stars on the primetime drama.