The Internet Is Obsessed With Using Pink Concealer To Brighten Under-Eyes - Here's How To Do It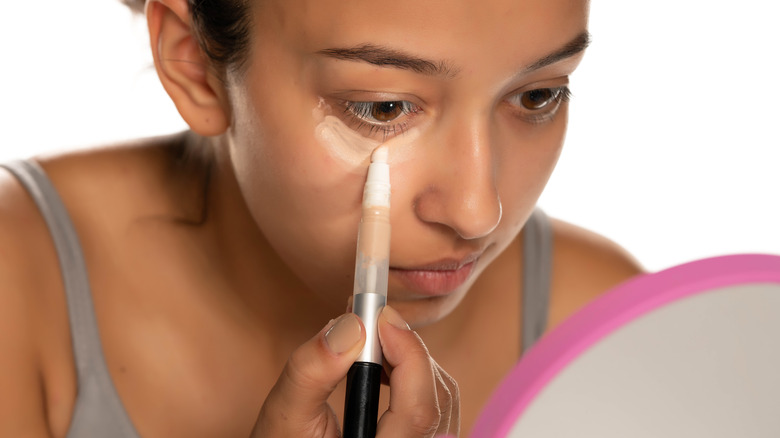 Vladimir Gjorgiev/Shutterstock
When it comes to makeup, you can really do anything. Its versatility allows you to create virtually any look you want. With the power of contour and highlighting, makeup artists can change the perception of the structure of your face so accurately, some people might even question if you got surgery. TikTok creator @sadiaslayy demonstrates just how much a little dark concealer and highlighter can create different illusions when it comes to the shape of your nose. Nicki Minaj even had to dispel plastic surgery rumors based on makeup contouring. She told Extra, "They'll see contour and they'll think you had surgery on your nose. No."
Concealer comes in a variety of colors that are used for different purposes. While most people are used to the standard shades of brown that match our skin, there are a variety of other colors available such as green, red, purple, blue, and pink. Concealer can do so much for you, like hide blemishes, color correct, and fix blotchy and hyperpigmented areas. Makeup artists have discovered a cool way to use a pink concealer that would brighten your under-eyes and this trick is on everyone's radar.
How to get this look
Concealers are an essential part of makeup application. Makeup is supposed to build on our natural features and enhance their beauty, but our skin doesn't always comply. From breakouts to acne and discoloration, skin tends to have an agenda of its own. Concealers help by masking some of these flaws. Now, pink color-correcting concealers can be used to brighten undereye discoloration, making your eyes seem more alive and brilliant.
In a video that has amassed almost two million views, TikTok creator @sarah_wolak explains how she uses the Maybelline Eraser color 160 to liven up her under-eyes while also noting how her blush blends more naturally against the skin when pink concealer is applied. She rubs the light pink concealer, which she describes as salmon-colored, along her under eye corners and blends it in using a makeup sponge. In another viral video, makeup influencer @macy_renee16 endorses the product, maintaining that she doesn't need to add another concealer on top of it.
What if I have darker skin?
If you're of a darker complexion, this particular product may not work for you but don't start punching the air just yet. Yes, the Maybelline Eraser in shade 160 may be exclusively for fair skin tones, but there are other ways for the melanated crowd to brighten up their under eyes. All you have to do is switch up the light pink concealer for a more appropriate shade depending on the color of your skin. 
Fortunately, the Maybelline Eraser comes in a wide range of shades — 18 to be exact — and you can test it out on their website. Just click on the "Try It On" button on the product page and you can virtually see which color would work for you by uploading a photo, using a model, or trying out live mode. Don't forget that, for darker skin tones, orange, peach, and red corrector shades mask undereye discoloration more naturally and effectively. Depending on how severe your dark under eyes are, one shade of concealer won't be enough to properly cover that area.
If this product isn't right for you, it's okay to use other brands of concealer as well. For a more affordable option, you can try L.A. Girl Pro Conceal which costs about five dollars less than the Maybelline Eraser and comes in an impressive 43 shades.