Shania Twain's 2023 CMT Awards Look Is A Relatable Fashion Mistake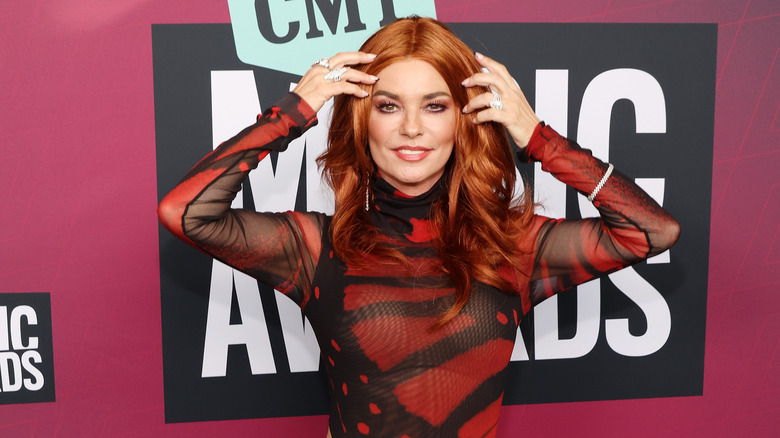 Rick Kern/Getty Images
"Man! I Feel Like a Woman!" crooner Shania Twain is a certified legend in the country world, and she's had some pretty iconic fashion moments over the years. Who could forget her worst-dressed 2023 Grammys look complete with a polka-dot suit, matching hat, and a bright red wig, or her sequined minidress and white boots when Twain took the stage with Harry Styles at Coachella in 2022? 
Given her decades-long history of taking major fashion risks, it's no surprise that the legendary singer showed up to the 2023 CMT Music Awards red carpet in a fairly bold ensemble. This year, Twain opted for a racy sheer red and black gown with lower hip cutouts, a high slit, and a train that caused her quite a bit of trouble.
Of course, fashion risks are necessary sometimes because they can lead to exciting innovation and new trends. After all, there were plenty of head-turning looks at the CMT Awards last year. However, they don't always pay off, and this awards show was one of those moments for the country queen. Celebrities really are just like us; this mistake is totally relatable.
Shania Twain's CMT Awards dress was a little too long
It happens to the best of us — you choose a gorgeous, elegant, lengthy dress and feel like a princess . . . until you can't stop stumbling over it during your special event. To Shania Twain's credit, the gown itself was absolutely stunning. The only problem with the look was the very bottom: The pairing of the singer's train and her shiny, black platform heels caused her to struggle and almost trip while she posed on the red carpet. 
Nevertheless, the beloved artist still managed to flash her award-winning smile and strike some model poses. If you ever suspect this might be an issue for one of your own outfits, try walking around in your dress or skirt and shoe combination for a few minutes at home beforehand. 
A too-long dress or skirt might look pretty when you're standing still and gazing in the mirror, but don't be fooled — it's not worth it for several hours when you're desperately trying to feel confident. Make sure to nail the height of your outfit and shoes so you don't run into this classic issue!
The country icon is adamant about staying true to herself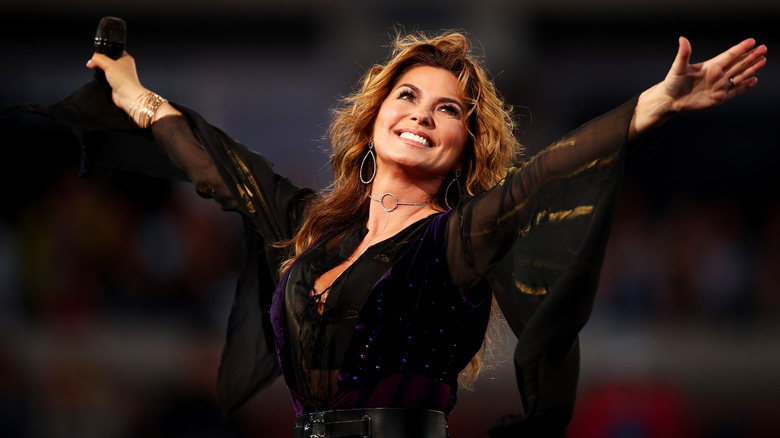 Clive Brunskill/Getty Images
Even if Shania Twain looks back on her 2023 CMT Awards ensemble with a hint of embarrassment, in the long run, the country icon will surely be taking it all in stride. As The Irish Mirror reported at the time, Twain recreated her iconic "That Don't Impress Me Much" music video look at the 2022 People's Choice Awards. Naturally, Twain also updated it to be more modern with some sexy cutouts including a chic sheer bodice alongside a long cape and a hood.
The singer also rocked pink hair for the occasion, at which Twain was presented with the Music Icon Award for her decades of service in the industry. Although Twain's stunning transformation has captured fans' attention over the years, as she enters her late fifties, the conversation has turned slightly negative with the singer criticized for making drastic changes including experimenting with bleached blonde locks in February 2023.
Thankfully, the country star isn't fazed, telling The Mirror that she feels more confident at 57 than she did as a teenager. In fact, the decorated artist did a nude photoshoot to force herself to love her body flaws and all. Now, "I say you should look in the mirror and be fine with that. I am only going to get older and saggier — if I hate myself now then what state am I going to be in, in five or 10 years?"