Grammys 2023: All The Worst-Dressed Stars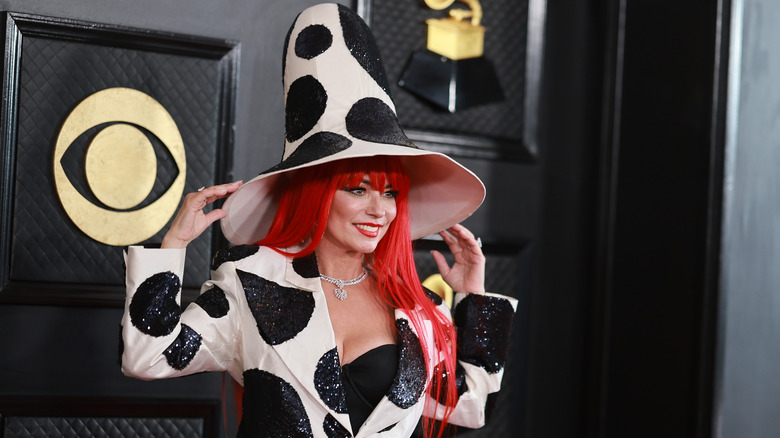 Matt Winkelmeyer/Getty Images
Some people believe that the Grammy Awards are all about music, but we know that they're also about fashion. Of all the awards shows that grace our screens every year, the Grammys are one of the best for seeing all our favorite celebs taking major fashion risks. This year, the stars certainly did not disappoint and graced the red carpet in a wide away of fabulous fashion hits to flat-out misses.
Of course, fashion can be polarizing, and the riskiest looks cause the most controversy. While Lizzo's Grammys gown might not be for everyone, plenty of people think she stole the show. Cardi B's bold blue Gaurav Gupta gown is sure to make some best-dressed lists, while others disagree (via People). Some consider Miranda Lambert's dress a lesson on how not to rock fringe, and others may think her risk paid off. Whatever you thought of the most controversial Grammys looks, we have a feeling you're going to agree with us on these ones. Our worst-dressed list is full of over-the-top looks that definitely weren't red carpet-worthy. 
Shania Twain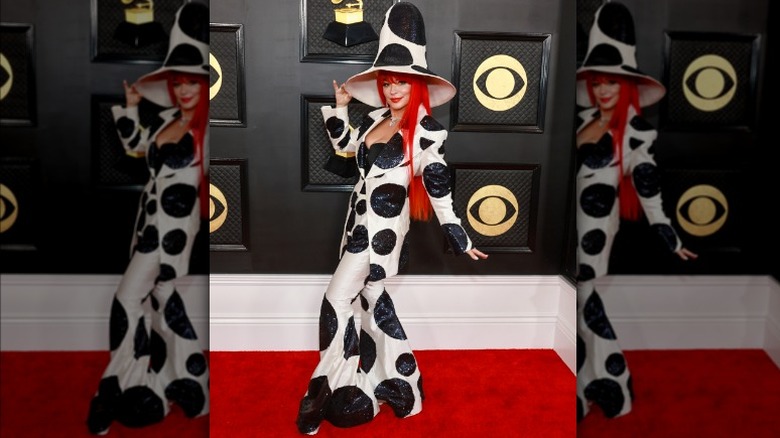 Matt Winkelmeyer/Getty Images
Per Indy100, Shania Twain sported a Harry Styles-inspired outfit for Grammy's night. We see Harry's influence coming through in those big, billowing bellbottoms, and we love the silhouette they create. The love, however, stops there. From the massive polka dot pattern to the Dr. Seuss-esque hat and fire engine red hair, this outfit is just too costumey. Despite his penchant for taking fashion risks, we think that even Harry, himself, would have pared this outfit back a bit.
Kacey Musgraves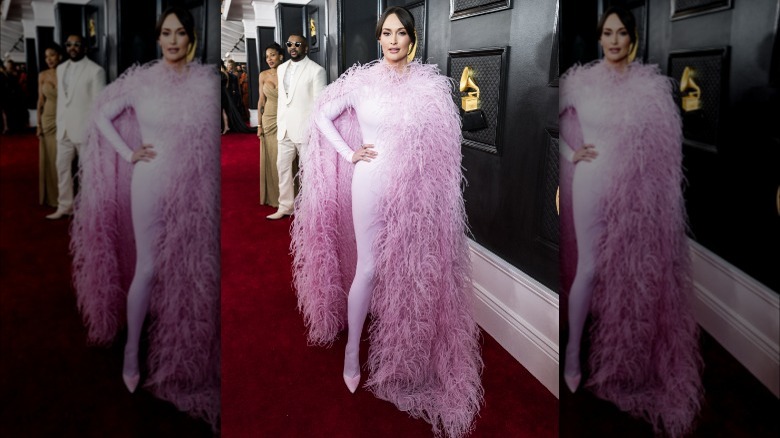 John Shearer/Getty Images
Kacey Musgraves never shies away from a fashion risk. The thing about risks, though, is that sometimes they pay off, and sometimes they don't. We love a baby pink look, and we want to love this one, but the flamingo-esque silhouette should be reminding us of bubble gum and Barbie, and instead, it looks more Pepto Bismol-inspired. We might be able to get on board with that feathered pink cape with something else underneath, but the skintight pink catsuit just isn't the best backdrop for a statement-making cape.
Pharrell Williams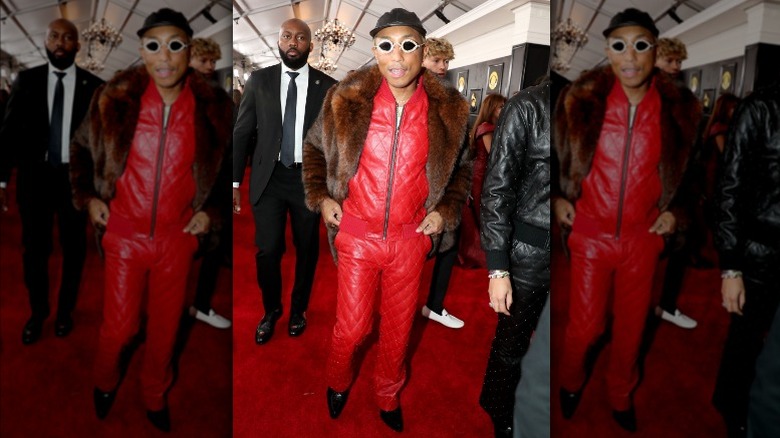 Johnny Nunez/Getty Images
It's not easy finding a great Grammy's look. Award-winning singer and producer, Pharrell Williams, was lucky enough to find seven of them. That said, we wish he picked just one instead of sporting all of them at once. The red leather jumpsuit could have been an interesting fashion moment, but when paired with a fur coat, glitzy sunglasses, and a leather baseball cap, it looks more like he's wearing the contents of a costume closet layered all together. 
Maren Morris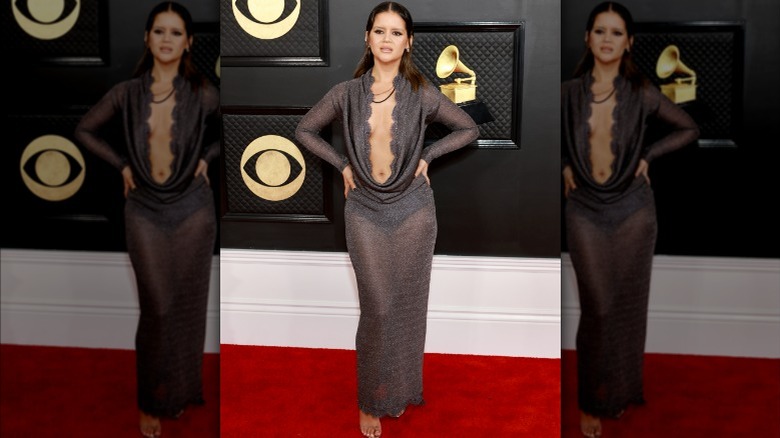 Matt Winkelmeyer/Getty Images
While Maren Morris's red carpet look may seem more understated than some of the others on the worst dressed list, a closer look will show that she's still making quite a few statements at once. From the see-through gown revealing black underwear to the neckline that plunges below her belly button, this dress is extra revealing — but in a way that looks sloppy rather than cool and daring. When paired with short necklaces, slicked back hair, and even the bleached eyebrow trend, this look is a combination of trends gone wrong. 
Miguel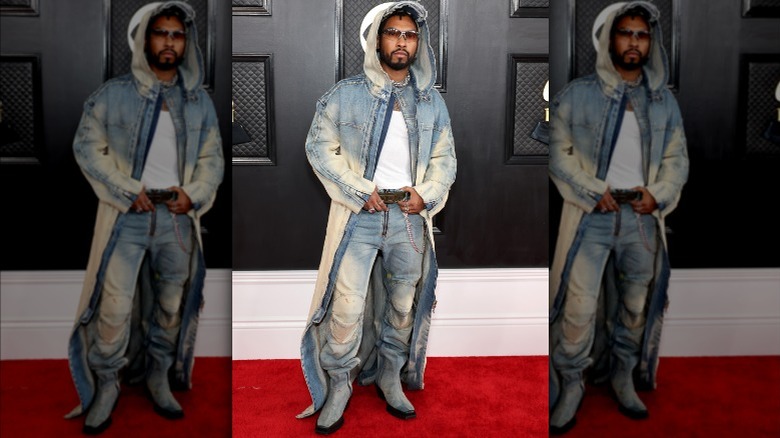 Amy Sussman/Getty Images
We all know that Y2K is totally in right now, and Miguel definitely got this memo. That said, it seems he didn't get the memo that in reality, the Y2K revival is different from actual 2000s fashion. In other words, putting your own spin on that iconic Britney Spears and Justin Timberlake denim-on-denim look from the 2001 American Music Awards is not actually a good idea. The Canadian tuxedo is a notoriously difficult look to pull off, and while it can be done, Miguel's Grammys 'fit is definitely not an example of how.
Blac Chyna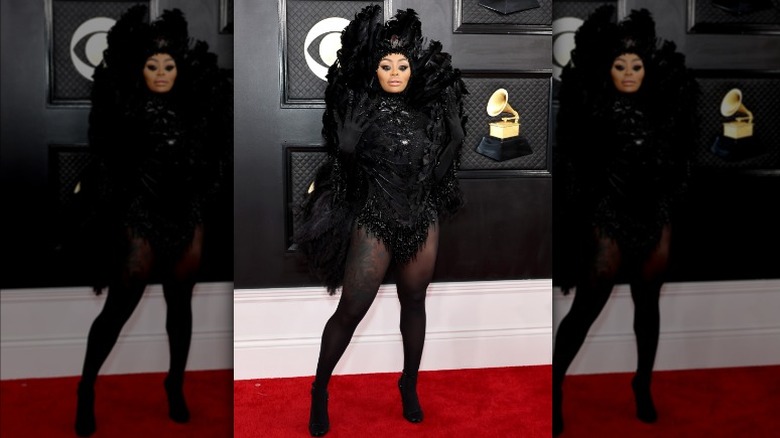 Amy Sussman/Getty Images
Her name may be Blac Chyna, but it's clear that this model drew inspiration from "Black Swan" this evening. While she may be in head-to-toe black, this outfit still manages to have way too much going on. While camp and over-the-top looks are always welcome at the Grammys, this one takes it just a bit too far. Blac Chyna gets totally lost in the get-up, and we wish we could see a bit more of her with a bit fewer feathers.
Bebe Rexha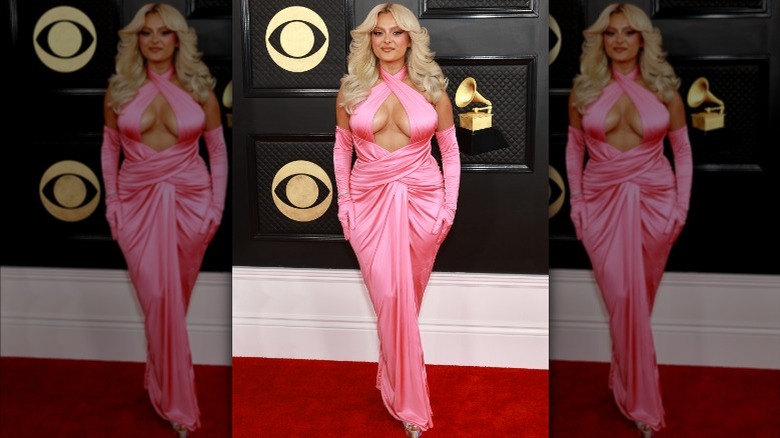 Matt Winkelmeyer/Getty Images
We'll be honest: there are parts of Bebe Rexha's look that we like. Her makeup is perfection, and this gown hugs her curves in all the right places. That said, while we love an ensemble that pays homage to decades past, this look is way too stuck in yesteryear. This seriously '70s-inspired hairstyle could look amazing with a simpler gown, and a pared down version of this dress could look amazing sans gloves and with a slicked back ponytail. Altogether, though, this look combines too many different styles. 
Dwayne 'The Rock' Johnson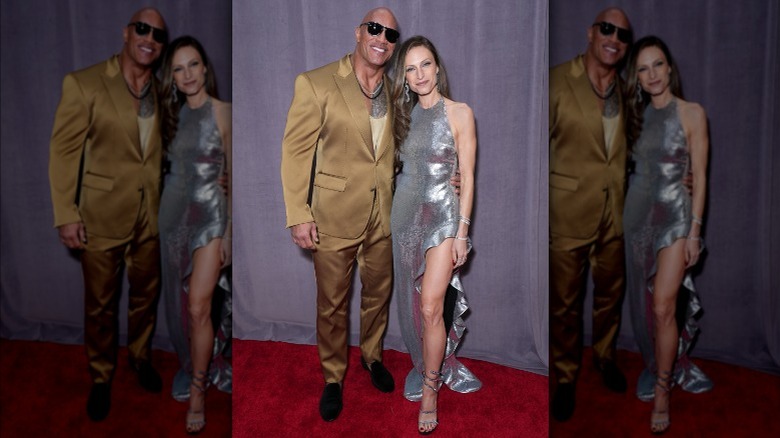 Kevin Mazur/Getty Images
The Rock must have gotten his awards ceremonies confused; he came to the Grammy's dressed up like an Academy Award. The Rock sported a gold-ish suit with a low cut tank underneath, some chunky necklaces, and black sunglasses. The color of the suit is close enough to his skin tone that without a pop of color, his whole outfit really blends in and washes him out, and the sunglasses and jewelry just looks out of place.
Hannah Monds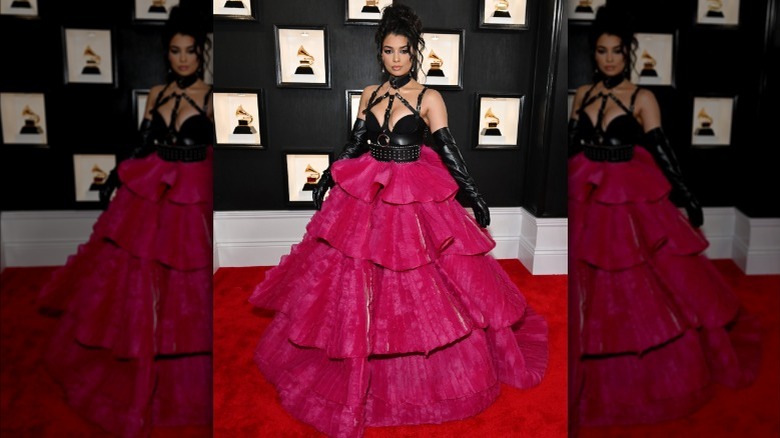 Lester Cohen/Getty Images
The bottom of Hannah Monds's gown has potential, but we can't say the same for the top. The Grammys are a great place for an edgy red carpet look, and the juxtaposition of this with something fabulously feminine and frilly is modern and cool. Yet, the combination of these two elements is too intense in this dress, and we would have much preferred to see her stunning hair and makeup paired with something that let her shine instead of distracting us from looking at her.
Dencia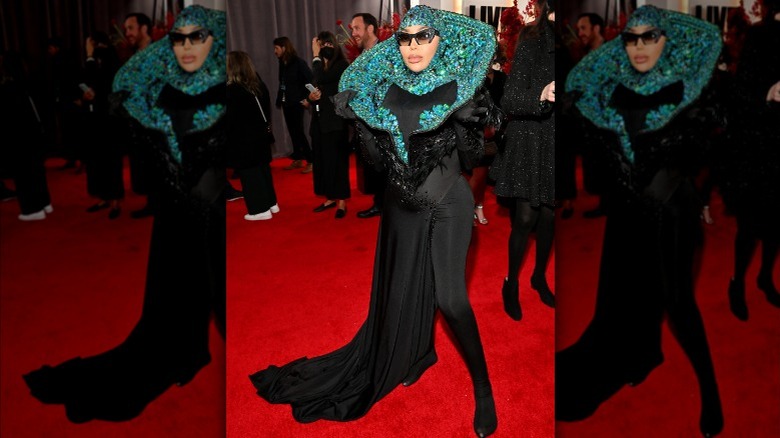 Lester Cohen/Getty Images
When we saw Dencia hit the Grammys red carpet, we had major flashbacks to the list of red carpet looks that missed the mark at the 2022 AMAs. Why? Because Dencia made that list in a look that was very similar to her Grammys 2023 ensemble. Either she learned nothing from her AMAs fashion faux pas or she's just a woman who knows what she likes. Either way, we'd love to see this superstar sporting something that shows a little bit more of her and isn't so distracting and confusing when the next award show comes around.