Cutouts And Slits Brought The Heat To The 2023 CMT Music Awards (Here Are The Spiciest Looks)
Jason Kempin/Getty Images
Watching stars hit awards show red carpets isn't just a great way to see amazing fashion; it's also a great way to see where the trend cycles are headed. The 2023 CMT Music Awards were indeed no exception to this. In fact, there's one trend, in particular, that country stars were eager to sport for this award show. If you saw this year's red carpet looks, chances are you noticed plenty of cutouts and deep slits. 
 We all know there are many ways to take part in the cutout trend, but the stars at the 2023 CMT Music Awards were eager to experiment with new places to show a little skin. From Megan Thee Stallion's bold exposed hip to LeAnn Rimes' super plunging neckline, these daringly creative cutouts and leg slits are making us want to get our summer wardrobes ready to show a little extra skin. 
Megan Thee Stallion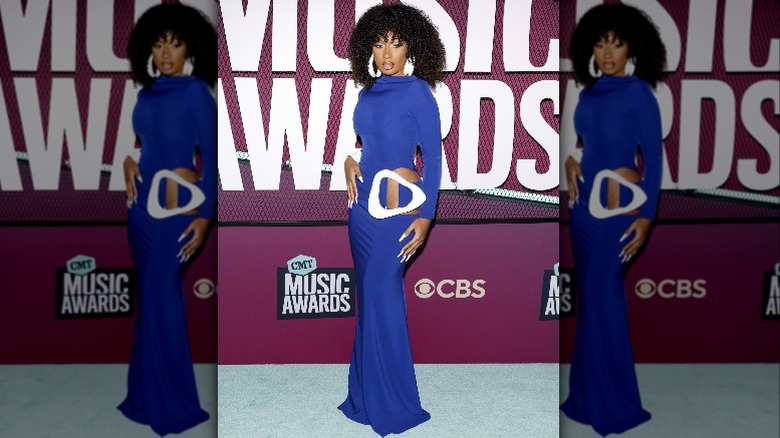 Jason Kempin/Getty Images
When Megan Thee Stallion stepped onto the red carpet, she proved that bright blue is definitely her color. The rapper stunned in her sleek blue body-con gown, and the dress' unusual cutout added some unexpected interest. While plenty of folks have been dreading the return of the low-rise jean trend, Megan's look proves that showing a little hip is as chic as it is fresh. The modern, abstract silver circular appliqué adds another layer of dimension that makes this look truly pop. 
Shania Twain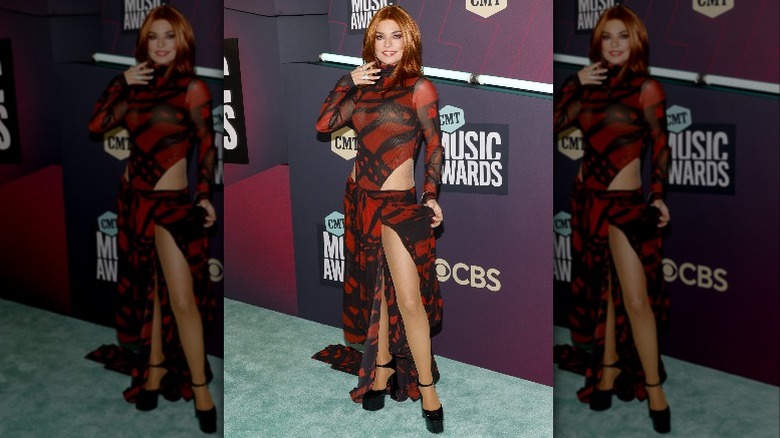 Jason Kempin/Getty Images
While a cutout on your hip isn't the most obvious place to show a bit of skin in a formal gown, Megan Thee Stallion wasn't the only star to do it. Country music legend Shania Twain's graphic gown also had cutouts just above her hips. The shape of the cutouts gave the illusion of a maxi skirt with a deep slit styled with a bodysuit. The cutouts and slit paired together made this dress pretty revealing, but when combined with long sleeves and a mock neck, this look was balanced and updated. 
LeAnn Rimes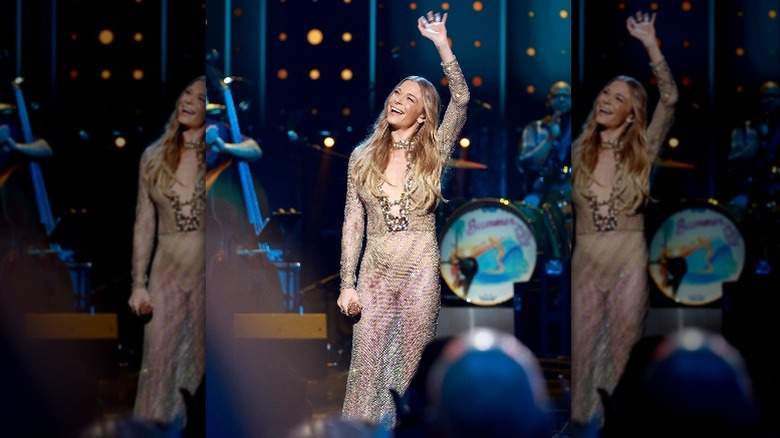 Matt Winkelmeyer/Getty Images
When LeAnn Rimes hit the stage, it was clear that she was ready to bare it all. Her gown was sheer and perfectly matched her skin tone, and her plunging neckline included a unique cutout. Below where it seems that the star's neckline ends, there's another small cutout surrounded by a sparkling trim. Rimes certainly looked stunning, and the way her gown paired understated with bold illustrated a perfect way to rock the cutout trend. 
Carly Pearce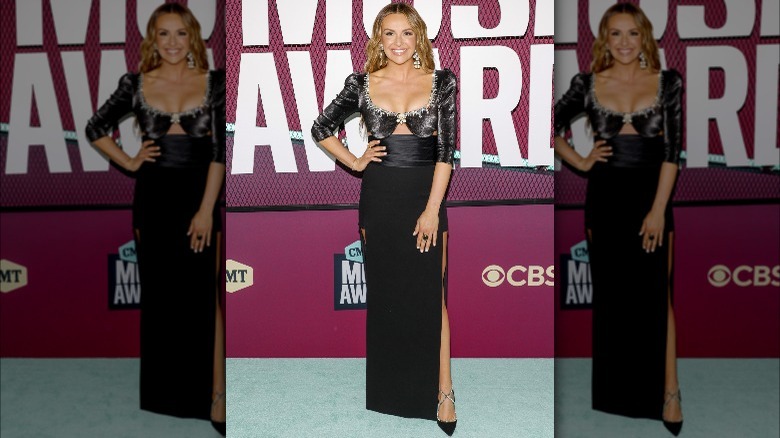 Jason Kempin/Getty Images
Carly Pearce managed to rock the cutout and leg slit trends in her elegant black gown. A small cutout below the bust accentuated the waist and added interest to an otherwise extra-formal-looking gown. A super-high slit on each side of the long, sleek skirt added a surprising and sexy twist to an otherwise simple silhouette, proving that showing some extra skin can be the perfect way to kick an outfit up to another updated, on-trend level.