All The Worst-Dressed Stars At The 2023 CMT Music Awards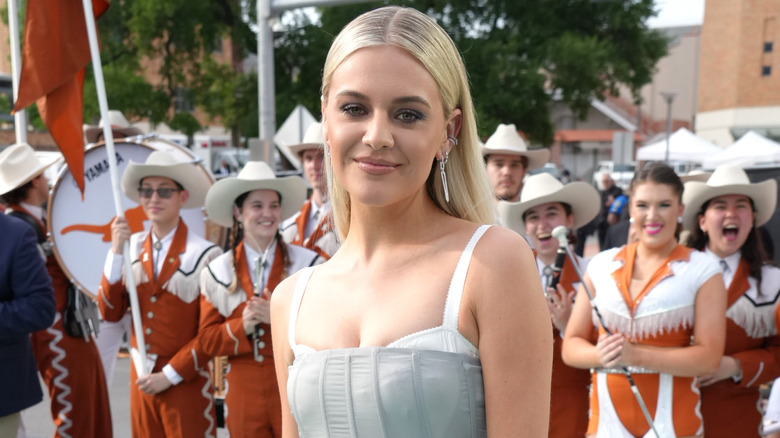 Jeff Kravitz/Getty Images
The 2023 CMT Music Awards are one of country music's biggest events. The ceremony is packed with every musician who's ever donned cowboy boots, slung a guitar around their neck, and sung about love, heartbreak, cheating, beer, whiskey, trucks, the great outdoors, and the joys of simple living. These awards are different from most because they're voted on by fans, rather than industry insiders, and honorees are particularly grateful to be recognized by the folks who do the listening. 
While this year's red carpet featured some stunning gowns and suits, such as Megan Thee Stallion's standout cobalt cut-out gown and Jenna Paulette's copper pantsuit, there were plenty of relatable fashion mistakes at the CMT Awards. Some ensembles were too glitzy, and some weren't glitzy enough. Some featured odd detailing, and others were simply unflattering. These are some of the memorable misses from one of country's biggest nights. Now, why doesn't someone write a country song about an embarrassing awards-show fashion faux pas?
Alanis Morrissette was too basic in black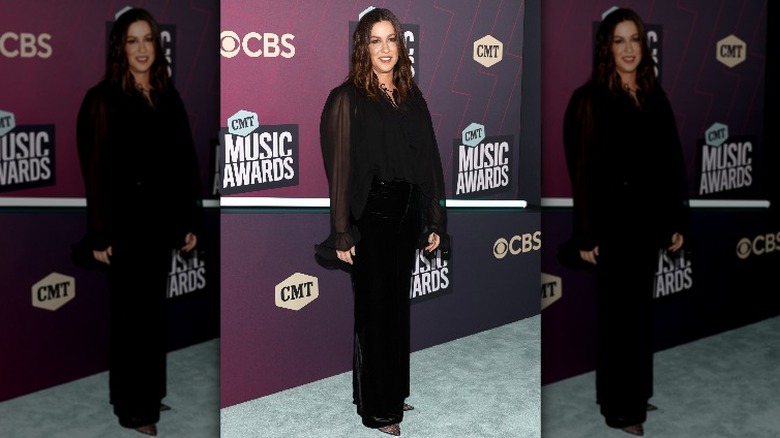 Jason Kempin/Getty Images
Don't get us wrong — we adored seeing Alanis Morrisette at the CMTs, where she joined Ingrid Andress, Lainey Wilson, Madeline Edwards, and Morgan Wade to perform "You Oughta Know" as part of the 10th anniversary of CMT's Next Women of Country. However, her shapeless black velvet suit didn't dazzle, nor did it fit the country-glam theme. She oughta have known better. Oh, well — as she put it, you live, you learn.
Kelsea Ballerini's grim gray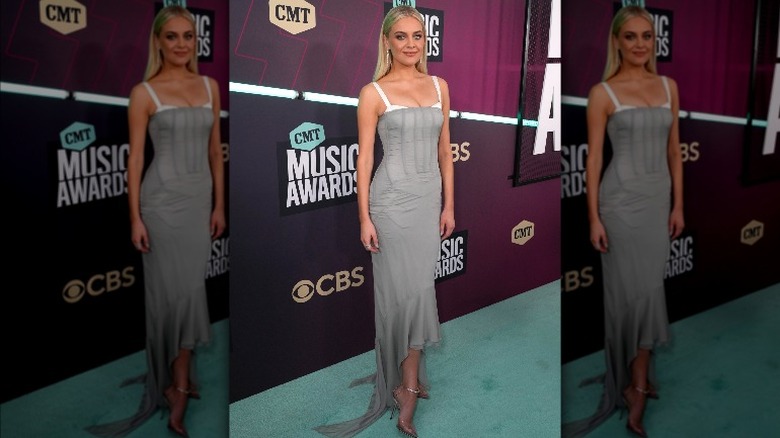 Kevin Mazur/Getty Images
As co-host of the CMT Music Awards, Kelsea Ballerini should have outshone most of the honorees. Instead, she underwhelmed in a gray number with corset top and sloppy handkerchief hem. Unfortunately, the white bra top also looks less like high fashion and more like Kelsea was feeling a little insecure about the possibility of a wardrobe malfunction in the middle of the broadcast. Even her hair and jewelry are a little understated for a flashy country event like this.
Boots yes; dress no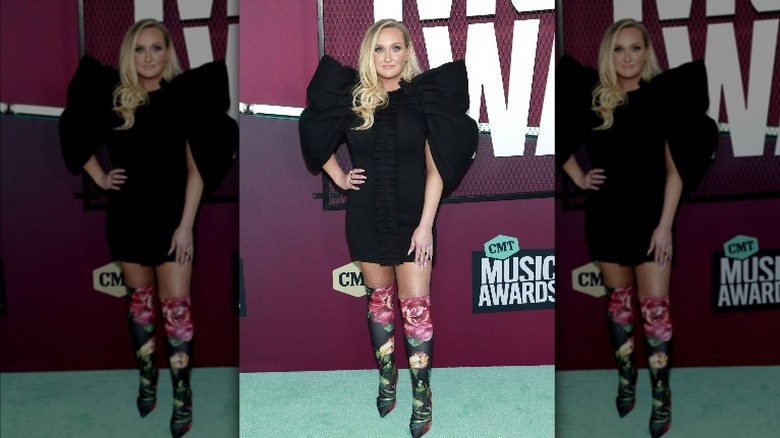 Emma Mcintyre/Getty Images
Pillbox Patti — the stage name of Florida native Nicolette Hayward — is a skyrocketing singer-songwriter who's made her name with hits like "Suwannee," "Young and Stupid," and "A Little Dive Bar in Dahlonega." She tried to make a statement at the CMT Music Awards and almost succeeded. Her over-the-knee floral stiletto boots are absolutely to die for. Her dress, not so much. Echoing the 2023 Oscars dominating trend of puffy sleeves, Patti donned a black dress with super-exaggerated shoulders, resulting in a costume-y effect.
A bubblegum bummer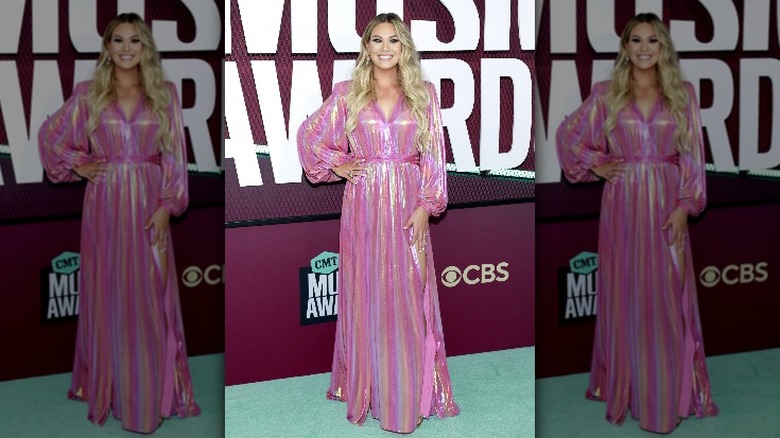 Emma Mcintyre/Getty
Helping greet the stars on the preshow red carpet was Marley Sherwood, host of CMT's "Hot 20 Countdown." She came to the party to shine — though in her case, she shone just a little too much. The iridescent pink material of her dress was more appropriate for a Barbiecore event than for a down-home country awards show. The unflattering dolman sleeves and loose cut didn't help matters, either; some sheer or lace accents and a more form-fitting style would have been an improvement.
Aglow in green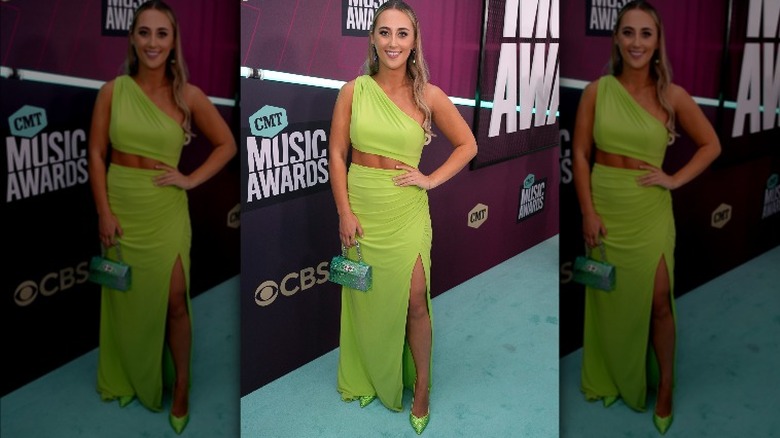 Kevin Mazur/Getty Images
"It's Been a Year" nicely sums up the whirlwind career climb Ashley Cooke has had. The rising young star was named among the 16 2023 Next Women of Country by the CMT, joining other honorees such as Alana Springsteen, Kasey Tyndall, Pillbox Patti, and Megan Moroney. She's sure to have many more red-carpet opportunities in the months and years to come, so she can be forgiven this debut fashion misstep. Ashley's two-piece ensemble shows an awkward fit, and the glowing green shade is blinding. 
Shania's dress was a miss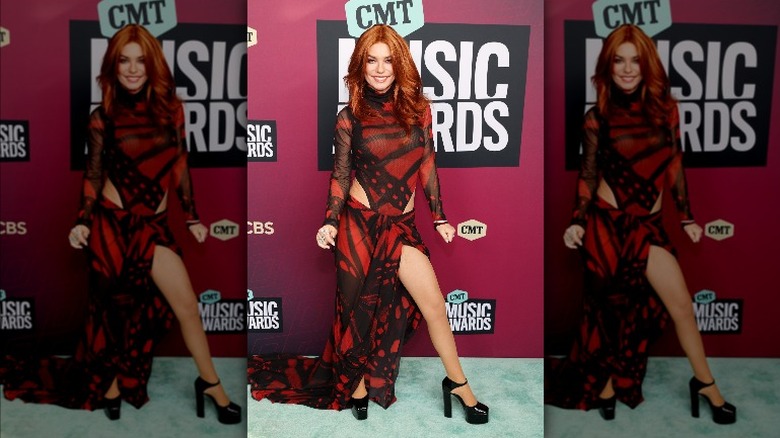 Rick Kern/Getty
No question that man! Shania Twain still feels like a woman, and she's still a country music legend. Appearing as both a presenter and a recipient of the CMT Equal Play Award, she was stunning in her red and black sheer cutout dress. If only the train weren't such a long and flowy walking hazard. That sound you heard at the ceremony was the audience holding its collective breath and hoping that she wouldn't trip over her dress in her chunky six-inch heels. 
Gwen Stefani was more than we could bear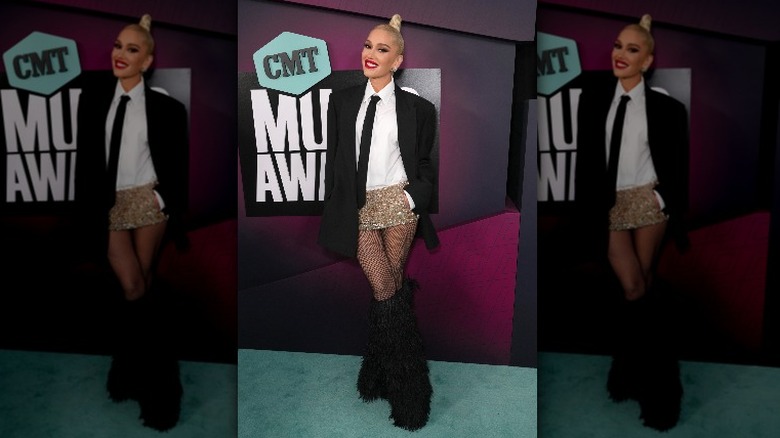 Kevin Mazur/Getty
Let's face it: When Gwen Stefani makes an appearance anywhere, no one expects her to look boring. The 2023 CMT Music Awards were certainly no exception. Invited to perform on the show with Carly Pearce, she dazzled from head to almost toe. She paired gold sequined shorts with a white button-down shirt, black tie and blazer, and fishnet stockings. Her makeup and pulled-back hair twist were spot-on. But the big furry boots? We're not fans. A pair of spangled gold or black cowboy boots would have been a better choice.
Denim dud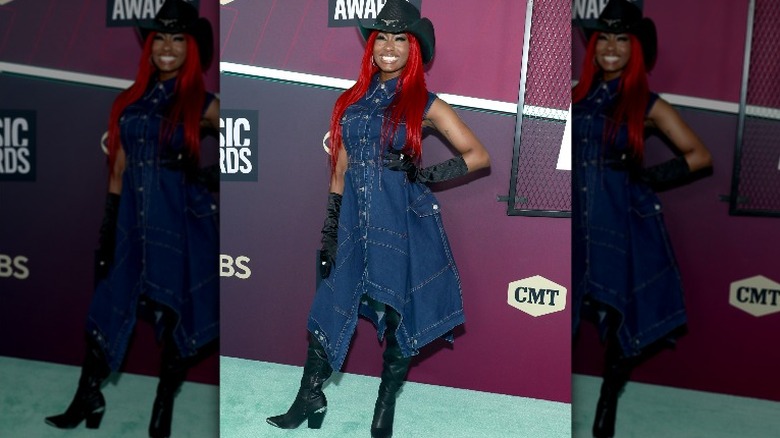 Emma Mcintyre/Getty
Reyna Roberts, a 2021 member of the CMT Next Women of Country, is "a little bit of whiskey in my sweet tea ... a little hell yeah in my hallelujah," as she put it in her hit "Raised Right." Though she wasn't a nominee this year, she still walked the red carpet as an honored guest. No one can deny her look was country-appropriate, but her long denim dress felt too casual for a night featuring rhinestones and sweeping gowns. Not even her black satin gloves could make this outfit look citified.
Losing some sparkle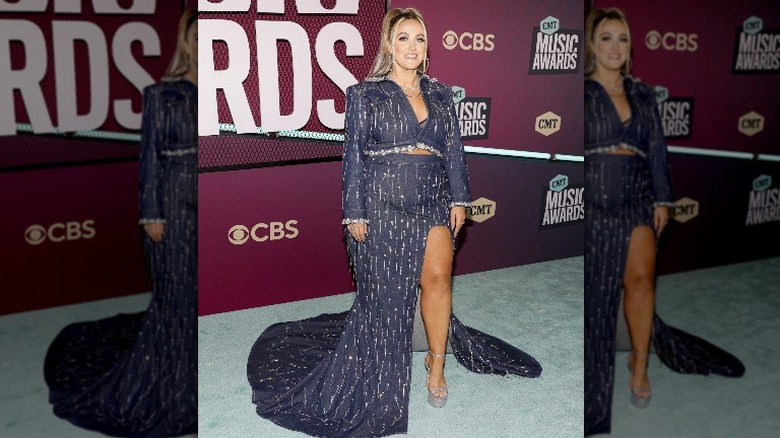 Jason Kempin/Getty
"This is me. Love it or leave it," declares Priscilla Block on her website. She's another young country star making her mark, and in a very 21st-century way, first gaining public attention by posting her performances on TikTok. Her message of self-acceptance has also made her popular among her fans. But her smile was more sparkling than her style at the CMT Awards. Priscilla's blue gown was too matronly for a young artist, even with the thigh-high slit. Plus, the top wasn't a good fit; it slipped and showed a bit of bra at an inopportune moment. Our verdict? Love her, leave the dress.
A little too country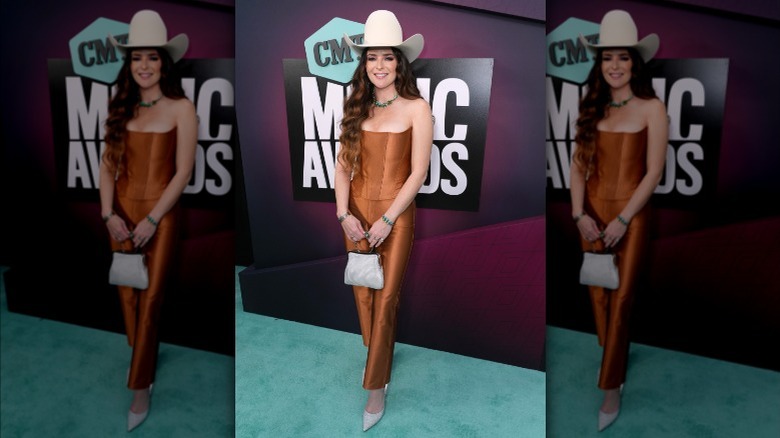 Kevin Mazur/Getty Images
Don't get us wrong, we love Jenna Paulette's bronze jumpsuit, turquoise jewelry, understated sparkly heels, and soft, flowy waves. But the the "You Ain't No Cowboy" singer may have gone too far in proving her own status as a cowboy, because the accessory she chose to top off her look is just far too big for her head. While the 10-gallon hat is certifiably country, it also distracts from the star's otherwise flattering and cohesive outfit.