Blake Shelton Was Never The Same After Marrying Gwen Stefani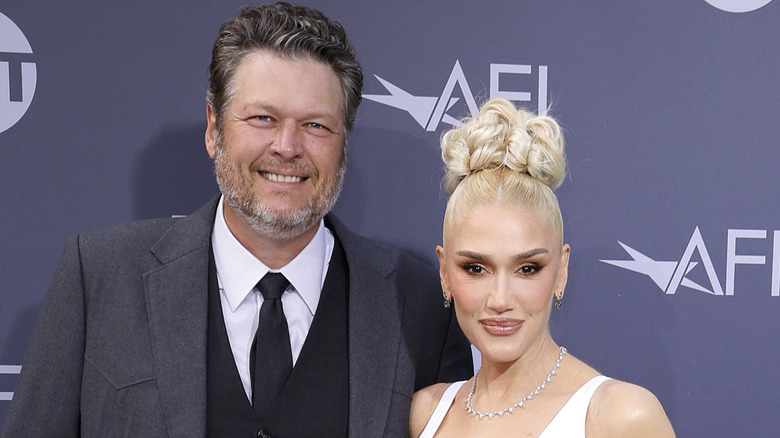 Frazer Harrison/Getty Images
Singers Gwen Stefani and Blake Shelton first met when they were both judges on "The Voice" back in 2014. They reportedly grew closer a year later after they each divorced their spouses in summer 2015. Stefani later explained to Howard Stern that she believes something bigger than the two of them really brought them together. As she said, "We just started this friendship, which was just unbelievable that God would put us in a position to have each other at that moment."
Stefani and Shelton were official by the end of the year and announced their engagement in October 2020 by sharing a photo on Instagram. The pair tied the knot a year later, on July 3, 2021, at their home in Oklahoma.
Since then, Shelton has been open about how being married to Stefani has changed him, especially in terms of being a stepdad to Stefani's three sons, Kingston, Zuma, and Apollo.
Blake Shelton joked that marriage has softened him up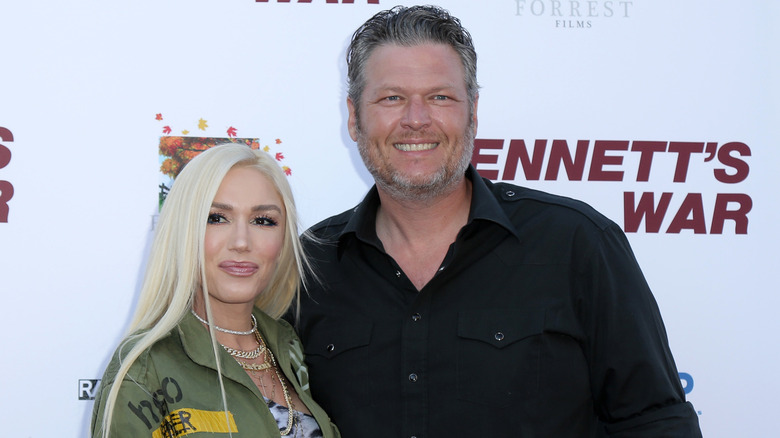 Kathy Hutchins/Shutterstock
Being happy and in love can change a person, and it certainly seems that marrying Gwen Stefani has changed Blake Shelton — and if his words are anything to go by, those changes are for the better.
During an October 2021 episode of "The Voice," Shelton joked about the marital shift he experienced. At the time, the country music legend was working as a celebrity judge on the show alongside John Legend, Kelly Clarkson, and Ariana Grande. Grande wasn't as seasoned as the rest of the show's judges, and as a result, she was a little emotional during the audition process — something that Shelton catered to when he presented her with a box of tissues. 
Shelton handed the box to Grande and explained, "After this season, you won't ever need these again. You'll get over it. You'll become callous like us three." After both Clarkson and Legend expressed their surprise at Shelton's attempt to ease Grande into the judging process, Shelton told his fellow judges, "Look, I'm married now. I'm soft. I'm getting softer."
Blake Shelton embraced fatherhood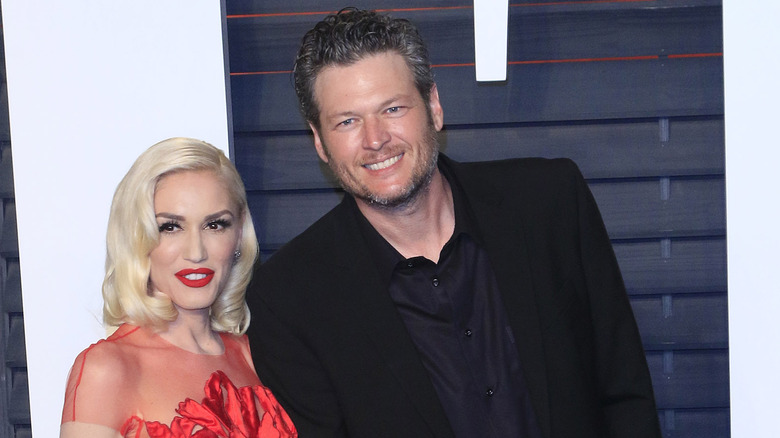 Joe Seer/Shutterstock
In an interview with Lon Helton at the Country Radio Seminar, Blake Shelton revealed that becoming a stepfather to Gwen Stefani's sons with ex-husband Gavin Rossdale has changed how he approaches his professional life. As he told Helton, Shelton became interested in "stripping some things away" in terms of professional commitments and obligations.
Becoming a stepfather helped him realize that there's more to life than the way he'd been living. He said, "You gotta get some life in there, and marrying Gwen, I've married into a family," he said. She's got three boys ... and all of a sudden you go, there's other stuff."
Shelton went on to add that Stefani wasn't sure if he would really be interested in her because she's a mom to three kids; however, he wasn't unfamiliar with this type of family unit. Shelton's father met his mother when she was already the parent of a 1-year-old boy named Richie. And Shelton was eager to jump in. He mused, "You got three boys? Awesome! My dad did it. My dad raised me. I could do this. I didn't know what I was signing up for, but I was all about signing up for it."
Blake Shelton demonstrated his dedication to his wife and stepkids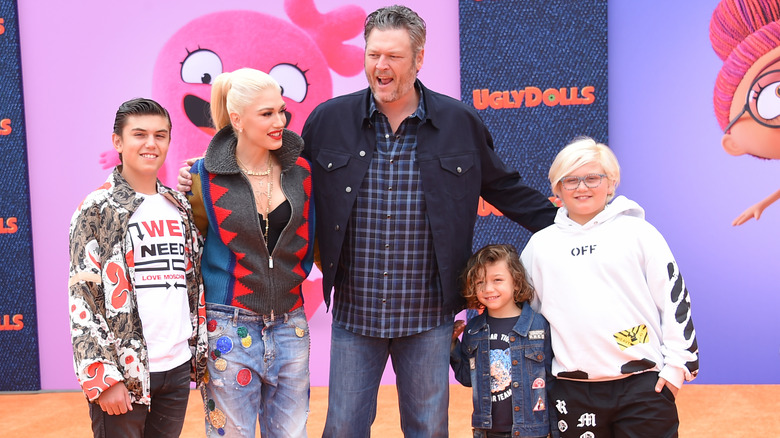 DFree/Shutterstock
"The Voice" Season 23 is Blake Shelton's last as a judge on the popular talent show. The reason Shelton left is pretty simple: He wants to spend more time with his stepkids. 
In December 2022, Shelton explained to People that both he and Stefani have lived large all over the world, and now it feels right to slow down and be with their children more. As he told the outlet, the pair are in a phase where it sounds more fun to "put ... sweatpants on at 6 p.m. and watch Ozark eight times" – something a lot of us can relate to! 
"If I walked away from my career at this time, the only thing that I run the risk of is having regrets that I'm missing out on some more important things in life," he explained to People. "For now, that's our kids. This isn't about me anymore and never will be again." 
Blake Shelton felt 'settled' after marrying Gwen Stefani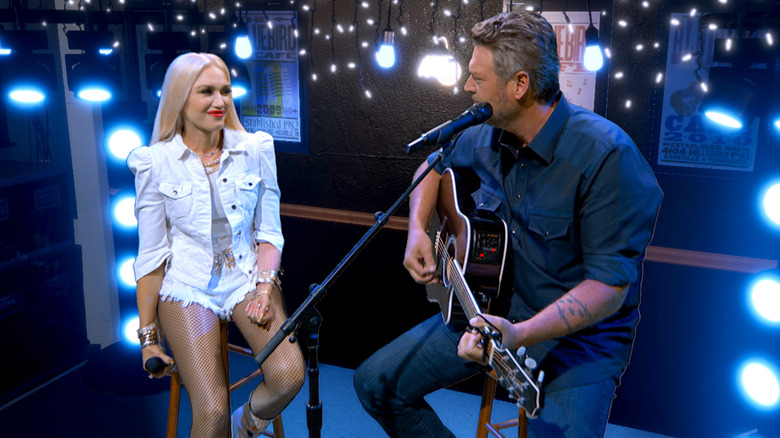 Acma2020/Getty Images
Gwen Stefani seems to be what Blake Shelton was missing all along. He told People in December 2022 that he felt "settled" after the two married. Referring to the time they spend in Oklahoma, the country singer said, "We get away from everything [in L.A.], and we're just us. It truly does feel different. That's where I feel the most comfortable, happy and safe."
Shelton also heaped praise on his wife. "To me, she's my best friend and everything that I need and that I lean on in my personal life and that's all really that matters," he gushed. Shelton admitted that marriage to Stefani is incredibly easy — to the point that he actually finds it unusual. As he said, "The thing with Gwen, the relationship we have, it's so natural and so normal to both of us that that's the only weird thing about it. This feels like the most normal, easiest thing I've ever been a part of in my life."
Blake Shelton has learned a 'different kind of self-worth'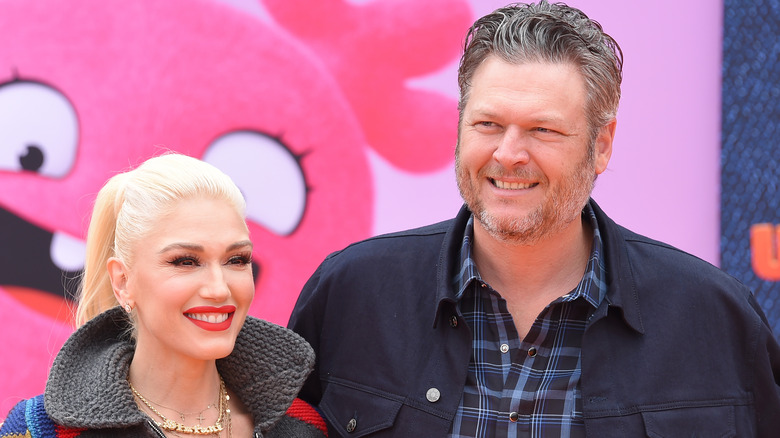 DFree/Shutterstock
Gwen Stefani and her three sons have helped Blake Shelton understand the importance of self-worth. As he explained to People, prioritizing Stefani's kids over himself has given him a glimpse into living life in a different way. Shelton explained, "I'm someone they actually lean on, and that's not a responsibility that I ever had and not something that I ever considered even being into." He continued, saying, "It's a different kind of self-worth. Maybe it's the opposite of self-worth because you put yourself way down on the rung, and they move up ahead of you."
Stefani and Shelton were together for seven years before they finally got married, so he had plenty of time to get to know her sons Kingston, Zuma, and Apollo. Stefani shares the boys with her ex-husband, Gavin Rossdale, and while the custody arrangement isn't publicly known, it's clear that both biological parents, as well as stepdad Shelton, spend plenty of time with the kids.