So, What Does Texturizing Spray Actually Do?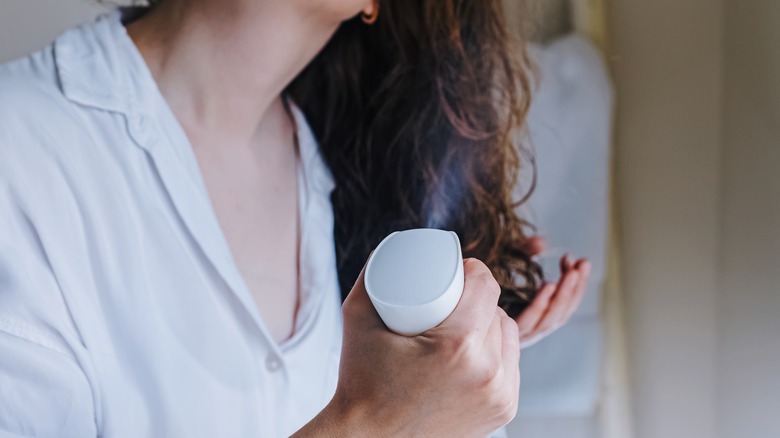 Chiociolla/Shutterstock
Once you enter a hair salon, it's rare that you'll leave without feeling transformed. After your hair has been washed with shampoo, you've sat under the dryer, and been placed in the hairstylist's chair, watching their hands move around in a whirl and work wonders on your hair, there's no way your mood should remain the same when you walk out the door. Despite it growing out of your head, you've probably never been able to perform the type of magic you saw in the salon on your own hair.
Even when mimicking every step you watched them do, your hair frustratingly never turns out the same way. While their brushed-out curls give you the sexy beach waves you'd kill for, your attempt makes you look like an air-dried poodle. The secret product you're most likely missing? Texturizing spray. Used to give volume and hold, a texturizing spray may be exactly what your hair needs.
What is texturizing spray?
Although both texturizing spray and hairspray can give your hairdo longevity, the latter leaves you with a sleek, refined look. Hairspray is like Blair Waldorf from Gossip Girl, polished and put together. It tames flyaways and frizz. Meanwhile, the texturizing spray has more of a Serena van der Woodsen vibe — voluminous, flowy waves that are strategically tousled. The hold that texturizing spray delivers is light. It mainly adds lift and texture to hair, thanks to the invisible powder that gives it the desired texture.
It works especially well for people who want to add a bit of fullness to their hair, especially if they have fine, short hair. For more hold, you can apply texturizing spray to damp hair. After towel drying your hair, hold out the can at arm's length from you. Start out with a small amount, misting the roots and length of the hair and scrunching slightly.
If you're using it on dry hair, spritz it on when you're at the end of your styling routine. After you've curled your hair, apply the texturizing spray all over the head. Once done, you can brush or pull out the curls to your liking.
Shop the best texturizing sprays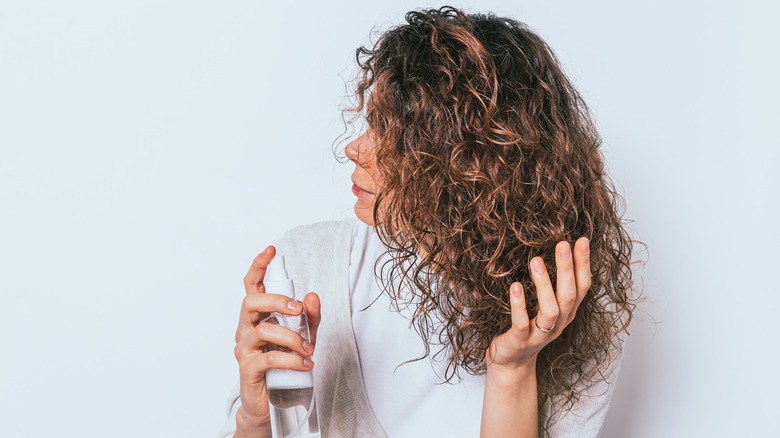 Progressman/Shutterstock
Getting your curls to stay in place without the crunch of mousse or flakiness of gel often seems impossible. Thankfully, the Briogeo Blossom & Bloom Ginseng Volumizing Spray makes it easy. Made for all hair types from straight to coily, this texture spray soaks up oil while delivering fuller, thicker hair.
For effortlessly chic hair, try the Ouai Texturizing Hair Spray. Made with fruit and flower extracts and volcanic minerals, it provides a medium hold and volume. It delivers lift and hold for fuller strands that emit a scent of musk, rose, and Italian lemon with each hair flip.
One of the most popular texturizing sprays around, the Oribe Dry Texturizing Spray has a cult following for a reason. Formulated with Oribe's Signature Complex of watermelon, lychee, and edelweiss extract, the spray protects hair from the elements and maintains keratin levels. Humectants heal damaged hair while zeolite crystallines soak up oil. It builds volume like no other, leaving the hair with an impeccable, tousled texture.