Kate Middleton Outfits That Just Weren't That Flattering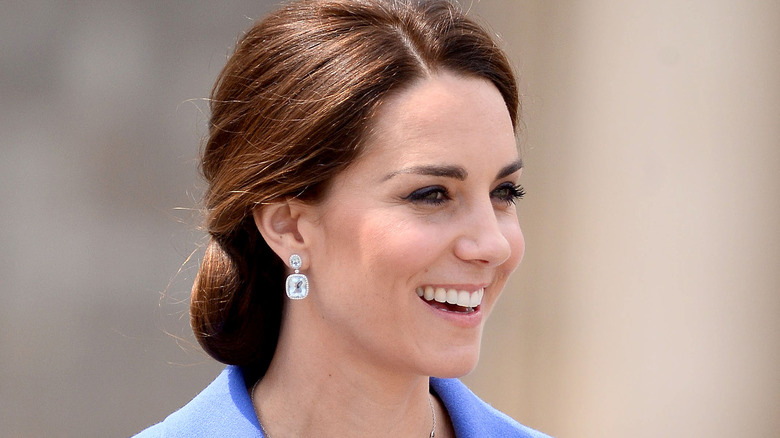 Isaaack/Shutterstock
When it comes to royal fashion, Princess Catherine definitely knows what she's doing. When she first came on the scene as Kate Middleton, Prince William's then-girlfriend from college, she embraced the trends of the early aughts and rocked a number of hats, cargo jackets, jeans, and minimal makeup. As her role within the royal family expanded after her wedding to William, Catherine (then the Duchess of Cambridge) started to evolve her fashion sense, opting for popular streetwear labels like TopShop and Banana Republic all while serving as a working royal. Over the years, Catherine's heightened popularity and her position as one of the most visible members of the firm has only increased. With time, her status escalated to a newfound position, and it was certainly reflected in her wardrobe.
Casting aside the affordable brands and ready-to-wear pieces, Catherine — now the Princess of Wales — started rocking impeccably tailored pantsuits, looked dazzling in her evening wear, and elevated her style in a way that even the most intent royal watchers couldn't have expected. Though some lobby that it was Meghan Markle, the Duchess of Sussex, whose own fashion sense forced Catherine to elevate her wardrobe, others would argue that the Princess of Wales simply ushered in a new sense of self while working up the ranks. Still, there have been moments where Catherine's clothes didn't do her justice — though not many, we will admit.
This early look of Kate's didn't do anything for her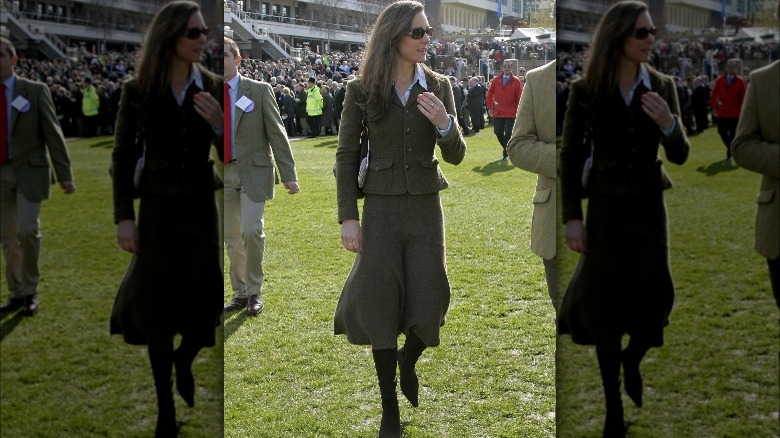 Max Mumby/indigo
We're starting with an oldie but a goodie — or baddie, depending on how you look at it. Before she was the Princess of Wales, Catherine was Kate Middleton, Prince William's girlfriend from St. Andrews University that everyone wanted to know more about. Though she was technically a commoner, Catherine came from a well-to-do family that owned a lucrative business. As such, she was able to attend prep school and, later, the prestigious university in Scotland where she just so happened to find her prince, literally. As she and William were connected publicly by 2004, Catherine started popping up on the aristocratic circuit, including this pictured 2007 visit. Attending day one of the Cheltenham Horse Racing Festival on March 13, 2007, Catherine truly embraced the fashion of the time and rocked head-to-toe brown — though it really was not flattering, in retrospect. 
Starting with the silhouette, the skirt length on Catherine's figure made her look shorter than she actually is (Catherine is quite tall, standing at 5'9"). Cutting her off at the mid-calf while bleeding into the boots she chose for the occasion, the look from the waist down did not flatter Catherine's natural, graceful look. Meanwhile, the jacket, though nicely fitted, also hit her at an odd spot just below the waistline, messing up the proportions even more. Along with the 2000s sunnies, this wasn't her best look. 
Kate's choice to this 2016 event was more matronly than show-stopping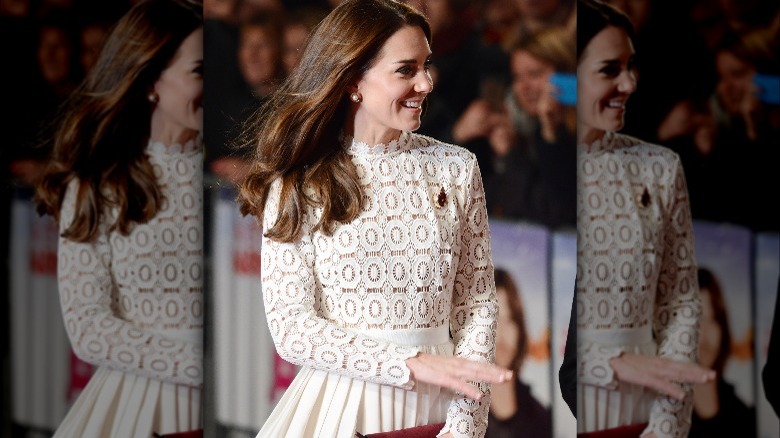 Dave J Hogan/Getty Images
If there's one thing that Princess Catherine knows how to do well, it's evening wear. Just think of the dress she wore while honoring South Africa's President Cyril Ramaphosa during her first official state dinner as the Princess of Wales: the tailored bodice, the bold cape detailing, and the tiara, in which she simply looked stunning. In many ways, Catherine is working against her own standards, making her choice in 2016 a bit disappointing. 
Pictured above is Catherine's look that she chose while attending the British premiere of "A Street Cat Named Bob." The event was to raise money and awareness for addiction recovery, and though the evening was supporting an incredibly good cause and Catherine looked the part, this ensemble certainly was not her best. 
Starting with the bodice of the dress, its lace appliqué detailing screamed more matronly — or dare we say, grandma's old tablecloth — than then-Duchess of Cambridge in all her fashionable glory. If you look a little bit more closely, the top doesn't actually fit her particularly well, gaping a bit at the sleeves and shoulder line. Moving to the sleeves, the length is a little long, cutting off Catherine's wrists in most of the photos. The pleated skirt makes this dress even more dated, and not in a chic, vintage way — and given how well she can rock an evening look, this one did not do her justice. 
Hit or miss? Kate's outfit in 2019 was controversial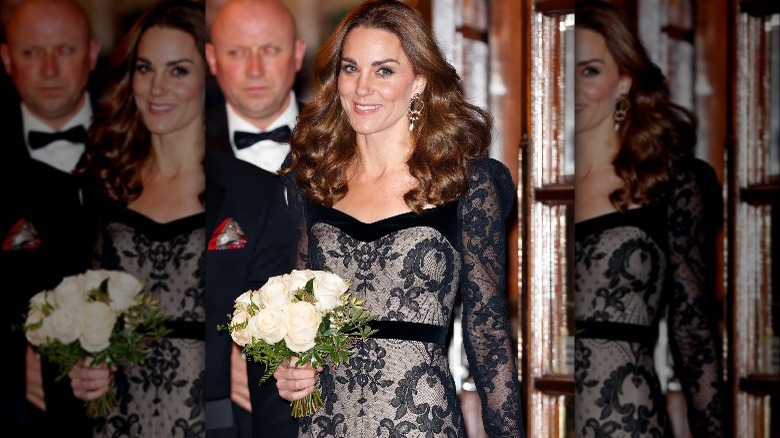 Max Mumby/indigo
They say that the best kind of outfit is one that people talk about, whether they're singing your praises or slamming your choice. This dress that Princess Catherine wore in 2019 is one such look, and it could really go either way as to whether you love it or hate it. We don't mind it, but if you take a step back and look at the dress as a whole, it really doesn't flatter the princess in the ways in which it could. 
Catherine, then the Duchess of Cambridge, wore this dress while attending the Royal Variety Performance held at the Palladium Theatre on November 18, 2019. Certainly an occasion to dress up for, she stepped out in the black lace number which featured 1980s-era shoulder puffs, and her auburn hair was curled to the nines. There are elements of this look that could work, but when it comes to the collective whole, it really doesn't suit the princess. For starters, the puffy sleeve detailing dates the dress unnecessarily, and the lace screams more doily than anything else. The bold black décolletage and waist detailing cuts Catherine's torso in ways that a chic, fitted lace dress wouldn't, and her curled hair — and its length — is definitely competing with the sleeves and neckline. There are elements of this look that work, but collectively, it's not harmonious. 
Kate's wedding attire in 2009 was not her best look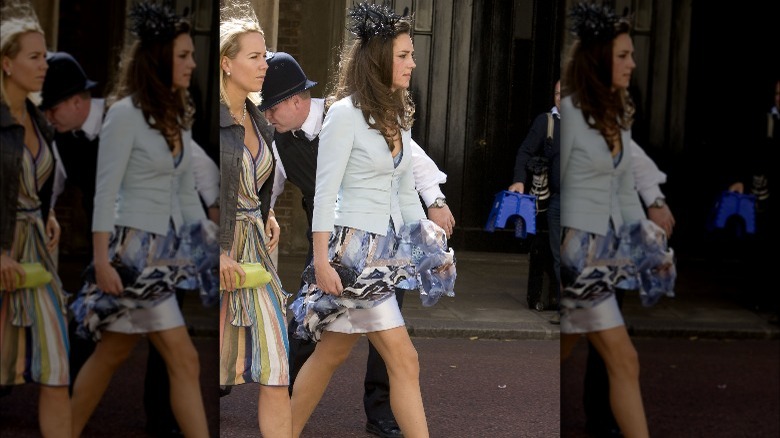 Antony Jones/Getty Images
One thing about the wind is that it does not discriminate, so we'll let this little fashion faux pas slip. But, as pictured above, Princess Catherine's fashion look while attending a wedding in 2008 is absolutely not her best look, which is surprising considering the heightened importance of the event she was attending.
Pictured on July 19, Catherine was walking to the nuptials of Lady Rose Windsor (the daughter of Prince Richard, Duke of Gloucester) and George Gilman. Appropriately held at The Queen's Chapel, Catherine's attendance was certainly not surprising, as she was the steady girlfriend of Prince William at the time. However, her outfit for the occasion did not do her justice, and the wind blowing up her skirt and exposing her slip made a bad situation worse.
Wearing a multi-patterned dress that screams Wet Seal, Catherine paired the look with an oddly positioned blazer that cut her off right at the hip line. Wearing a fascinator — as is typical for a royal wedding — Catherine's headpiece choice screams early-2000s goth princess rather than royal wedding chic, and her hair definitely suffered from the blustery conditions as well. Overall, this look was incredibly disjointed for the now-princess, and we're glad that we haven't seen the likes of it since. 
Brown was the feature color for this unflattering 2013 look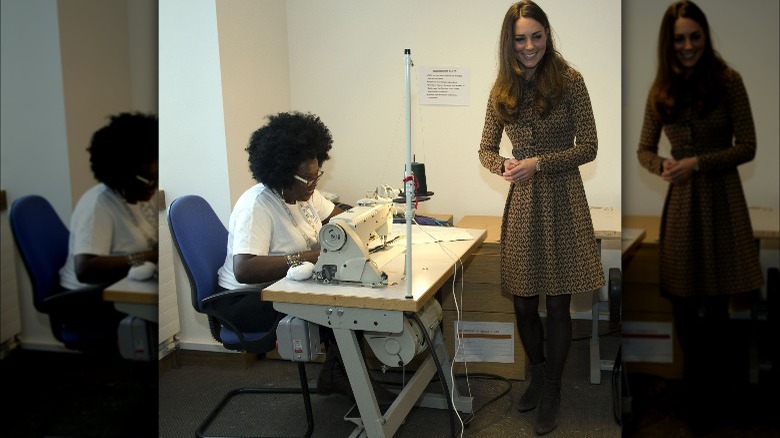 Wpa Pool/Getty Images
We love Princess Catherine and think that her style, overall, is pretty impeccable. This look, however, does not fall on our list of favorite outfits. The early 2010s was an experimental time for fashion, we'll certainly be the first to admit, and coming out of the era of low-rise jeans and Juicy sweatsuits was difficult. Anyone sticking to those 2000s trends also knew that brown was, for some horrific reason, the trendiest color around. Catherine has definitely sported some amazing looks over the years, but she certainly didn't seem to get the memo that brown was — and is — out. This look really is not her most flattering, and we're going to break it down. 
Catherine wore this look while visiting the Only Connect Head Office, there to learn how the organization supports former convicted people and young persons at risk. A great cause, and certainly a visit to pay attention to — and unfortunately, Catherine showed up in head-to-toe brown. The dress she chose for the occasion was giving old living room curtains, and pairing the dress with brown tights and brown boots gave the entire ensemble a one-tune note that nobody wanted to listen to. To make matters worse, the boots in question were ankle-length, the quintessential early-2000s cut that looks good on no one. We love her, but this look was simply not it. 
The print of this dress didn't do Kate any favors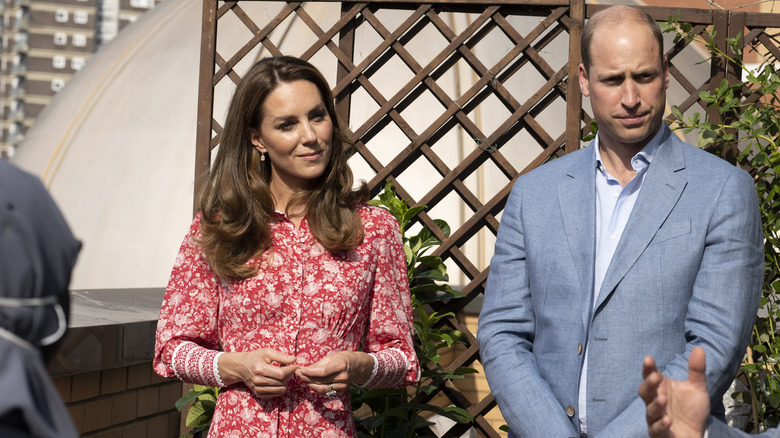 Wpa Pool/Getty Images
Throughout her time in the royal family, Princess Catherine has been known to rock a floral, and on many occasions, she's done so in a way that is cute, trendy, and sophisticated. Unfortunately, this pictured appearance was not one of them: The idea was there, but the print of the dress ultimately aged Catherine in a way that simply wasn't needed. The then-Duchess of Cambridge and her husband, Prince William, were visiting the East London Mosque during the height of the COVID-19 pandemic, thanking volunteers for their service during the health crisis. Though it was an official event and not a time to pull out all the stops, Catherine's outfit choice didn't hit the mark. 
Starting with the actual cut of the dress, the fit is lovely. The pleated detailing under the bust and the tailored bodice grace the princess' figure perfectly, but it's really the floral pattern that did her dirty on this one. Further aging the dress is the cuff material, which really screams "sofa at your great-aunt's house" rather than "trendy, young, working royal who's out trying to do good in the world." The high neckline of the dress is also competing with Catherine's long locks; a sleek up-do would've served this look much better. Overall, Catherine has such a high bar that she sets for herself that this ensemble really didn't flatter her in the ways in which it could've. 
Bright green is not the duchess's most flattering color, as proven in 2012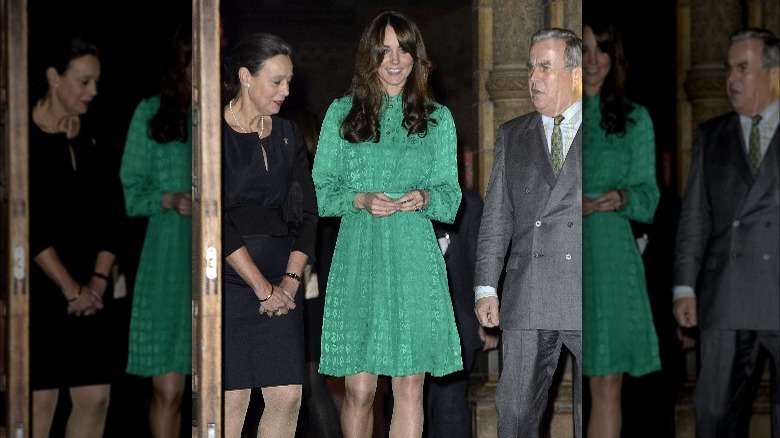 Ben A. Pruchnie/Getty Images
An element of fashion is all about experimentation, and we'll certainly give it to Princess Catherine that she has tried a bunch of different styles over the years — not an easy thing to do when you're in the public eye. 
From her early aught looks to rocking affordable streetwear to the designer pantsuits she wears today, Catherine has certainly worn a lot of different fashion hats, but this look from 2012 was not successful. The then-Duchess of Cambridge attempted to pull off this green midi-dress while attending the official opening of the Natural History Museum's Treasures Galleries. As it wasn't a formal event or state dinner, Catherine was able to wear something a bit more fun and flirty — but this green dress was simply not it. 
Breaking it down, the color is ... a choice. Though we applaud her for taking risks, this bold color really distracts from Catherine's delicate features and is striking in a way that doesn't leave you saying, "Wow, I absolutely need to go buy that dress." The cut of the dress is also a bit bulky on her, as the sleeves drape at the elbows and make her look far boxier. Capping off this unflattering look, Catherine's hairstyle at the time really distracted from her beauty, as her heavy curtain bangs covered much of her eye and cheekbone area. Overall, this look didn't serve her at all.  
For such a great dresser, this choice really didn't do Kate justice in 2019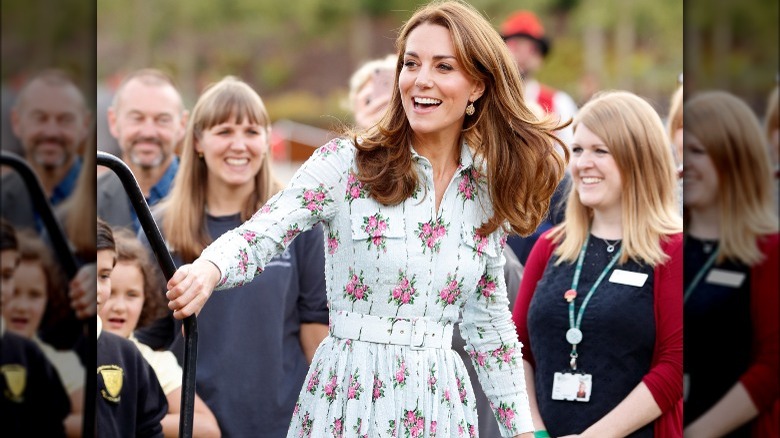 Max Mumby/indigo
We know that this breakdown of unflattering looks of Princess Catherine's is a bit brutal, so we want to remind you that overall, we love Catherine's dress sense and how she has evolved her looks with time. Her current era of impeccably tailored suits, fitted coats, and designer labels is 10 out of 10, and we understand that it took some time to get there. However, there are certain looks that really didn't do her justice, and this is one of them. 
While attending the "Back to Nature" festival hosted at the RHS Garden Wisley in 2019, Catherine wore this pale blue and pink dress, belted at the waist, with her auburn hair flowing in the wind behind her. Based on the expressions of the people behind her, everyone was thrilled to make her acquaintance, but this ensemble really isn't flattering on her.  
Attending a festival with nature at the center of it is certainly an opportunity to dress in florals, but Catherine's attempt on this day in particular screamed "retirement home" rather than "I'm going to save the environment with my innovative ideas." The belt in particular — as it is quite thick with a large buckle — is very dated given that she wore this look in 2019, and the pink bouquets are really quite distracting. The fit is fine and nothing to rave about, but there are just a few too many elements. 
This dress choice did not tailor to Kate's shape at all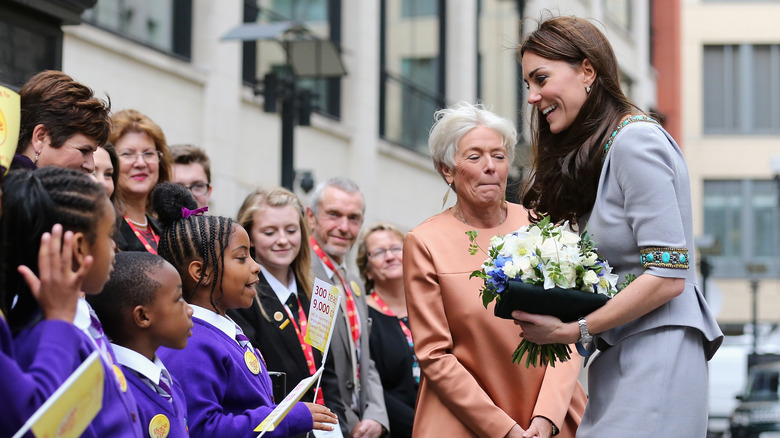 Chris Jackson/Getty Images
Though her role as a senior member of the royal family is ultimately in service of the monarch, Princess Catherine has made a distinct point to bring attention to children's issues over the years. Her advocacy has been vital, and we, for one, love that about her. Looking solely at her outfit choice for this charity event, however, brings less of a glowing review, as it was simply not doing her any favors. 
On this particular occasion, Catherine was in attendance at the 2015 Place2Be Headteacher Conference in London. A patron of the charity, Catherine was there specifically to bring more attention to children's mental health, an incredibly worthwhile cause. Unfortunately, her outfit didn't do her justice. Starting with the top, the blue-gray color is quite nice, but the aquamarine detailing around the cuffs and collar is really bulky and distracting, and dare we say a little cheap looking. The tailoring is also very off, with bulky material gathering at her shoulders and collarbone area. Moving down to the skirt, the peplum accent is fine, but the actual fit of the skirt is also very bulky around her waist and hips. We're definitely not saying that she needed to wear something skintight, but for such a high-profile person, the tailoring of this look — or lack thereof — was very unflattering. To make matters worse, it was incredibly windy on the day in question, messing up Catherine's hair.
Kate's coat choice during this 2021 visit was not flattering at all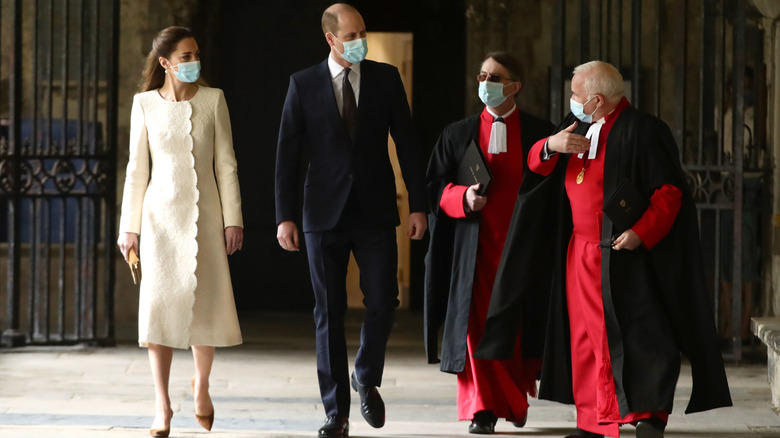 Wpa Pool/Getty Images
We're the first to admit that we absolutely did not go through the height of the COVID-19 pandemic wearing anything other than sweatpants, but we're also not one of the most photographed women in the world. While attending a COVID-19 vaccination center in March 2021 — which just so happened to be at Westminster Abbey, very casual — Princess Catherine wore this cream colored coat and tan heels, listening to the religious leaders explain the comings and goings of the center alongside her husband, Prince William. And while the work she was there to do was extremely important, this outfit really did not do her any justice. 
We're all for a coat dress, and Catherine has rocked some impeccable looks over the years, but this choice wasn't a flattering one. Starting with the color, the yellowish tinge really washed her out, as Catherine is rather fair in complexion. This coat dress in black, or even in a deep royal blue, would've been a step in the right direction. Looking at the material of the coat dress, the subtle detailing really looks more like a quilt you'd find in an old person's home rather than on the back of one of the most stylish women. And lastly, looking at the fit, the material comes across as very heavy, almost weighing the princess down unnecessarily. Overall, not her best look. 
This gown was lovely, but the color did not flatter Kate at all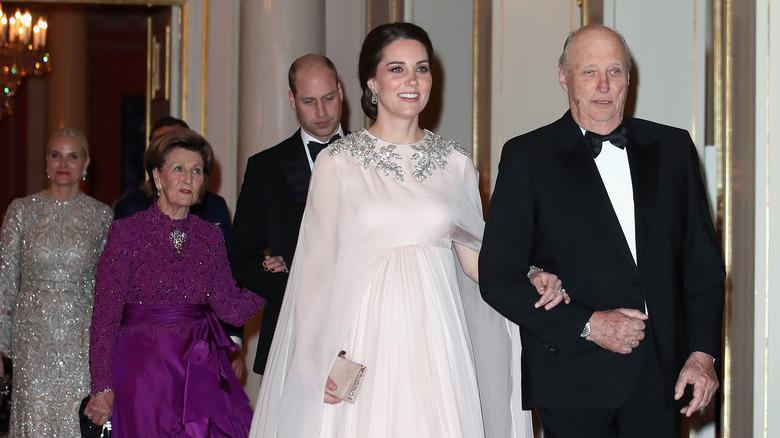 Chris Jackson/Getty Images
Dressing while pregnant is certainly not an easy task. Most days, you just want to lounge in a pair of bike shorts and an oversized sweatshirt, eating chips and trying to stay hydrated and calling it a day. Princess Catherine got through not just one, but three pregnancies in the public eye and dealt with horrible sickness during each one, so props to her for doing it all with grace and class. But, while on a royal tour to Sweden and Norway in February 2018 — Catherine was pregnant with her third child, Prince Louis, at the time — her dress choice while attending a dinner at the Royal Palace didn't serve her as well as it could've, and the end result was a bit unflattering. 
Looking at the dress as a whole, the fit was a little off. Specifically at the collarbone area, the material does come across as a bit heavy on the princess's frame, weighed down by the crystal details on the shoulders. But, where it really let her down was the color. Catherine has a very fair skin tone, and this incredibly pale pink color really washed her out. If it had been in, perhaps, a beautiful emerald green — a color that Catherine has rocked on a number of occasions — it might have saved the look. 
Kate's skirt suit combination was not her strongest look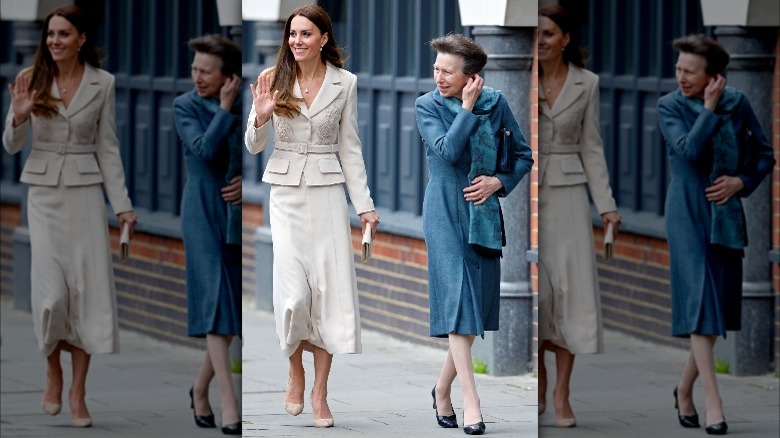 Max Mumby/indigo
Of all the work that she does in service of the monarch, we love that Princess Catherine continues to bring awareness to vital issues that women and children are facing. For this particular outing, Catherine and Princess Anne were visiting the headquarters of the Royal College of Midwives (RCM) and the Royal College of Obstetricians and Gynecologists on April 27, 2022. Catherine just so happens to be the patron of the RCM, and it's amazing that she continues to bring attention to areas of British life that can be expanded upon and improved. However, her look for this particular visit simply wasn't one of her strongest, and the cut of her skirt suit is actually quite unflattering as you break it down. 
Starting with the jacket, the sleeves are rather bulky on Catherine's delicate frame. A jacket that featured more of a cigarette-style sleeve would've been far more suited to her shape, resulting in less bunched up material. The peplum-style base of the jacket brings a width to the look that simply isn't needed, and the length of the skirt hits Catherine in a very odd spot. Not dissimilar to the jacket, the skirt also features far too much material that ended up just bulking around the princess's lower leg. Though it's certainly not a bad look, Catherine sets the bar so high for herself that this ensemble didn't make the cut.