The Subtle Luxury Of Prince Harry's Dior Bee Shirt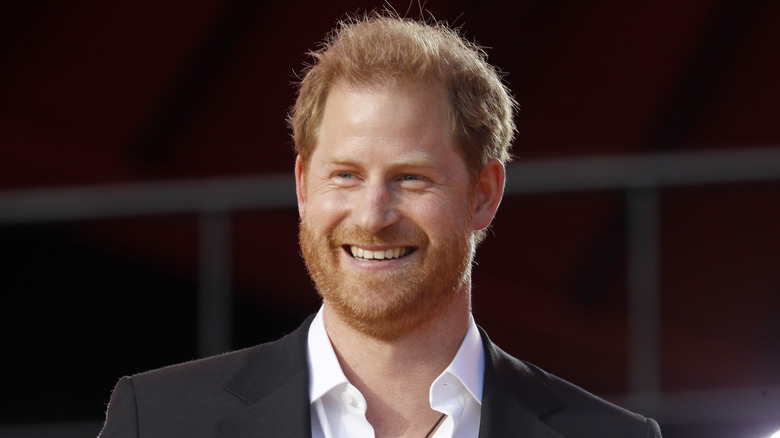 John Lamparski/Getty Images
It's safe to say Prince Harry's past looks weren't exactly the epitome of style. Harry himself discussed his take on fashion in his bombshell memoir "Spare," stating: "As a rule, I didn't think about clothing. I didn't fundamentally believe in fashion, and I couldn't understand why anybody would." The Duke of Sussex also fondly recalled perusing discount fashion store T.J. Maxx (known as T.K. Maxx in the UK).
Harry was "particularly fond of their once-a-year sale when they'd be flush with items from Gap or J.Crew, items that had just gone out of season or were slightly damaged." On the other hand, there's no arguing that Meghan Markle has worn some stunning fashion looks since she started dating Harry, but he's widely known to favor comfort over style. Also in his memoir, Harry shared that his approach has always been to look for items that are "nice and comfortable" above all else. 
However, his style game has definitely been on the up lately, and what better way to become a fashion icon than with a Dior shirt? 
Prince Harry's choice could indicate a change-up in his style
Max Mumby/indigo
Making a surprise appearance at London's High Court as part of his lawsuit against Associated Newspapers, the Duke of Sussex looked cheerful and ready to face what awaited him inside. However, besides his relaxed demeanor, Prince Harry's choice of clothing is more notable than it may have appeared to be at first glance. Beneath his impeccably tailored suit, Harry wore a crisp white Dior shirt with a small bee embroidered near the bottom and mother-of-pearl buttons that feature the Dior signature.
It may seem innocuous, but the bee is actually embroidered using 18-carat gold thread, signifying that the shirt is a symbol of quiet luxury. Of course, it's also by Dior, so its $1,000 retail value won't come as much of a surprise. However, what Harry's choice of shirt does indicate is that he's breaking free from the style rules that he had to abide by during his time as a working royal. 
There's no way to know the full truth about the royal family dress code since it's shrouded in secrecy, but back when he was a full-time member of The Firm, Harry was restricted by several rules and regulations, including but not limited to the color of suits and style of ties he was allowed to wear.
Small touches like this show how the duke's style has evolved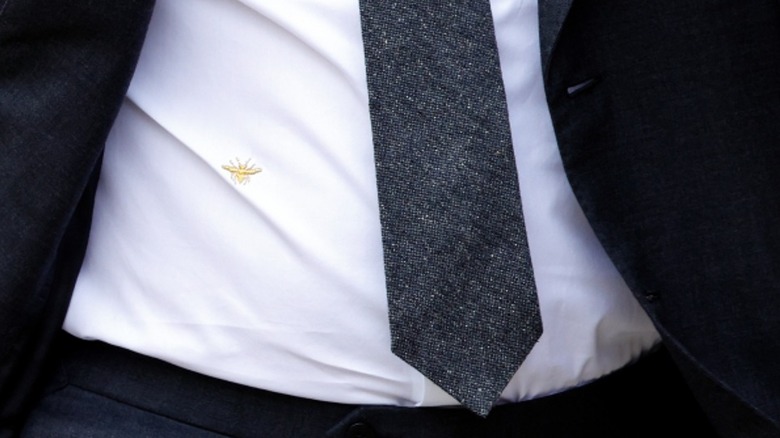 Max Mumby/indigo
The Dior shirt isn't the first time Prince Harry has stepped up his fashion game either. Since he married Meghan Markle, Harry's outfits have noticeably become sharper and more put-together compared to the rag-tag fleeces and baggy jean looks he used to favor. The Duke and Duchess of Sussex are proud fans of crisp, fresh tailoring and understated luxury, which is why Harry's decision to wear the Dior bee shirt makes so much sense. 
In addition, the prince donned a slim tie to the Monday session of the High Court hearing — another subtle break away from classic fashion rules (and, some might even say, the royal family itself). There's even speculation that Harry could enter into an ambassador-style partnership with Dior, according to The Mirror, which would make sense seeing as the luxury brand is one of Meghan's favorites too. 
Nothing has been announced at the time of writing, but royal fashion expert Miranda Holder reckons it's a major possibility. Naturally, Harry could use such a deal to elevate his newfound persona as a Los Angeles native by partnering with one of the biggest worldwide luxury brands.