Hallmark's Hunter King Claps Back At Instagram Critics' Comments On Her Appearance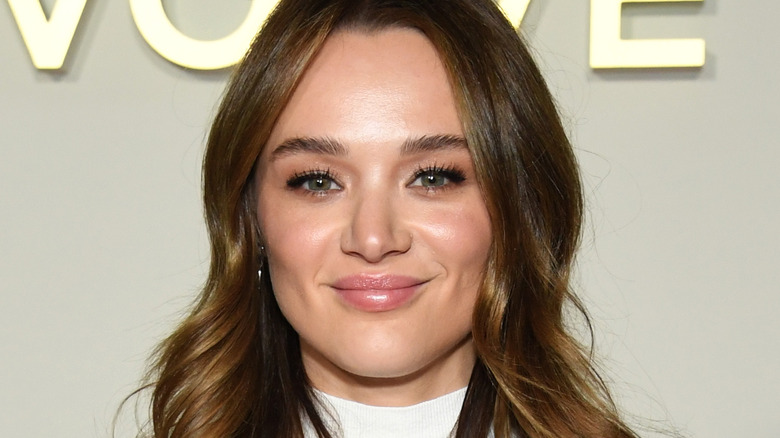 Jon Kopaloff/Getty Images
The internet can be a pretty hostile place, and comment sections are seldom particularly civil. We all know this deep down, but Hallmark Channel leading lady and "The Young and the Restless" alum, Hunter King, just got to experience this universal truth firsthand, and she is not happy about it. 
Lip injections and other facial fillers have certainly been gaining popularity as of late for famous folks and non-celebrities alike. Sometimes it feels as though every young star is getting a syringe of something injected somewhere, making the pressures to meet ever-changing beauty standards even more intense than they already were. Even so, this doesn't mean that bullying anyone who looks like they may have gone under the needle is the answer to folks' concerns.
On Sunday, April 2nd, "Life in Pieces" actor Hunter King shared a photo on Instagram that caused quite a stir. While the image was just a simple selfie of King in an oversized t-shirt with the caption, "Tried the white eyeliner hack... still look tired," folks couldn't help but take note of the star's lips, and as we've come to expect from the wild west of the world wide web, they weren't afraid to share their thoughts in the comment section.
Hunter King fights back against negative comments
After Hunter King posted her selfie to Instagram, comments condemning her for getting lip fillers rolled in. King's loved ones jumped in to stop the rumor mill. "LOL, relax, internet trolls," King's boyfriend, Andy McNeil, commented. "I wake up next to her every morning, and this is a common thing! She's gorgeous even when her lips get swollen. And spoiler alert to all the medical experts leaving comments about fillers — the swelling goes down an hour or so after waking up, calm down." King's mother, Jamie, added, "Extra puffy morning lips! Why do us King ladies wake up so puffy?"
King took to her Instagram story to address the hate herself, according to She Knows, saying, "After my last post and all the negative comments, I just wanted to address something. No, I don't have any lip filler, but even if I did, I don't think that people should feel so comfortable commenting such rude things about people's appearance. Keep your negative comments to yourself. I don't know who raised people to think it's OK to spew such negativity." She added, "It's rude. And it's hurtful. I personally don't get lip filler — my lips are just extra swollen in the mornings for some reason? But for anyone who does, good for you! Do what makes you happy! And for the love of god, can we all just be kind? The world needs more of that." We can certainly all agree on that.