You Should Never Wear Skinny Jeans On An Airplane. Here's Why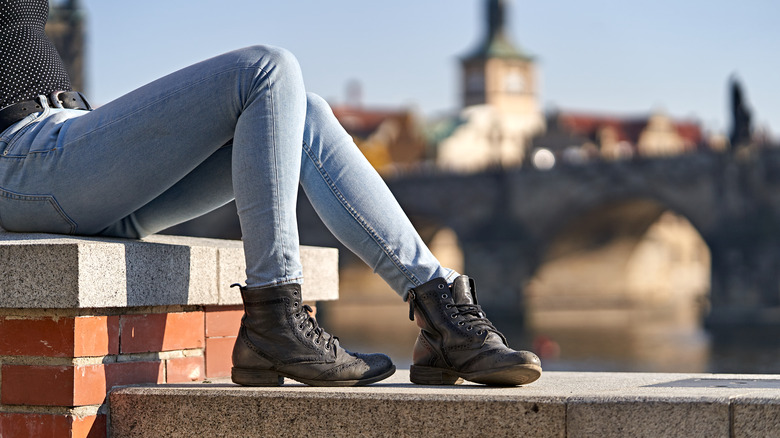 Adolfocc/Getty Images
Being on airplanes and flying to different destinations can be thrilling — no matter the purpose (business or vacation). But comfort is key and this is something frequent flyers would agree on. That's why you choose the most efficient luggage, the best airlines possible, and the most convenient flying times. 
Another thing you always pay attention to is your document check-list. Have you got your travel documents — passport, visas, and insurance, etc. — in order? Did you check-in online to avoid the lines at the airport? Do you need to pack some snacks to make the layover times bearable? These are some of the common questions that circle your mind when an overseas trip is coming up. Under the umbrella of comfort comes clothing. If you're like most frequent travelers, you probably lay out what you're going to wear on a long flight the night before. 
Just because comfort is important, you don't want to compromise on style. After all, you want to feel good while traveling as well since what we wear has an effect on our mood. If skinny jeans are a favorite choice of yours in terms of style, perhaps you've considered wearing them on a flight. But flight attendants and aviation experts have plenty of reasons for why you should ditch your skinny jeans when on an airplane. 
Skinny jeans can be restrictive and tight clothing is a big no on airplanes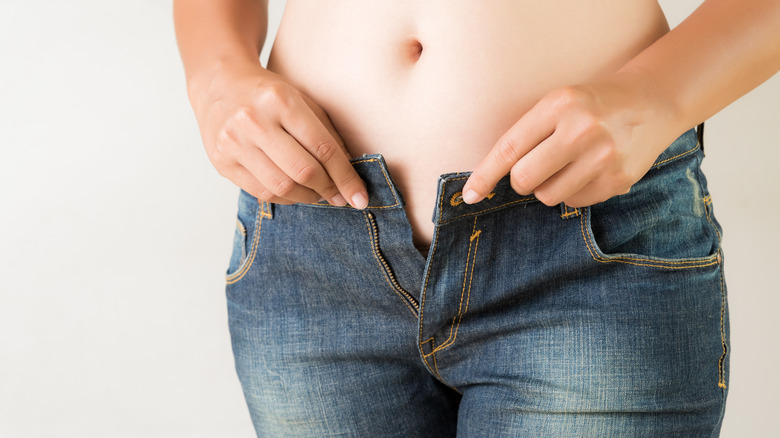 Siam.pukkato/Shutterstock
Have you ever wondered why airports are more often than not filled with people in comfortably loose clothing (some even sporting sweatpants)? This is why. The entire process of flying — being at airports, sitting on uncomfortable seats, stretching out in constricting spaces, and using crammed toilet spaces — necessitates ease of movement. And skinny jeans are not built for that. 
Bloating and restrictive clothing don't go well together either. As director of the Institute for Altitude Medicine in Telluride, Colorado, Peter Hackett explained to Condé Nast Traveler, "Gas in the intestines will expand about 30 percent with a cabin altitude of 7,000 feet" — a condition that is commonly referred to as "jet belly."
American Airlines flight attendant Andrea Fischbach told Who What Wear that passengers have to also be concerned about developing deep vein thrombosis (DVT) — a medical situation where blood clots form in the veins of your legs. So wearing clothing that allows for movement is important because you want to ensure that your blood's flowing the way it should. Skinny jeans are restrictive in general and some medical practitioners warn against wearing them if you have medical conditions like compartment syndrome, urinary tract infections, and heartburn, as they can exacerbate the problems.
If you must wear jeans, choose a stretchy kind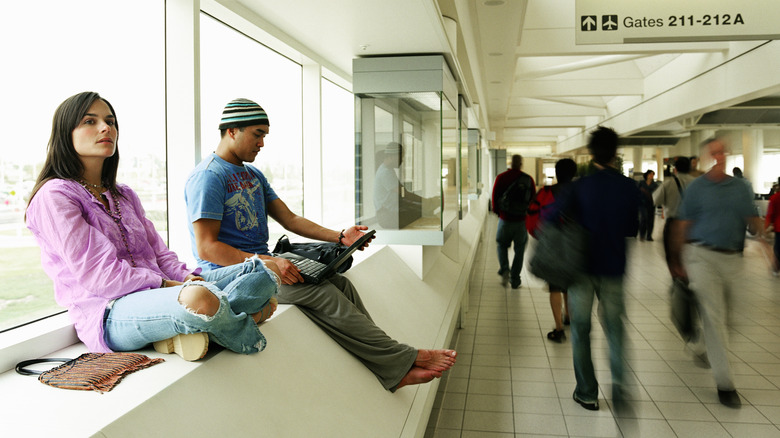 Mike Powell/Getty Images
It's hard to stay away from the allure of wearing jeans — especially on a trip that will involve sitting on not-so-sanitary chairs, visiting dirty washrooms, and sometimes even getting comfortable on airport floors. Jeans also make the perfect clothing choice because they can be paired with literally anything. Plus, you have the added advantage of wearing a relatively bulky piece of clothing on you without having to pack it in your already heavy luggage. 
So if you must choose jeans, opt for a stretchy and comfortable pair. Amy Caris, a flight attendant and the Director of In-Flight at JSX, added to Reader's Digest, "As a passenger, I always wear ponte knit pants, which offer stretch and are stylish."
The key is to keep your waist, thigh, and general leg area free of constrictive clothing. Your body needs room to breathe and be comfortable and skinny jeans definitely fall under the list of things you should never wear on an airplane.