Out Of Concealer? Your BB Cream May Do The Trick
When you run out of concealer, don't make a trip out to the department store right away. Instead, check if you have a BB cream handy. BB cream can be the perfect alternative to getting makeup-ready when you need to even out your skin tone and achieve a glowy finish. BB refers to beauty balm or blemish balm, and it works as a hybrid of skincare and makeup.
A BB cream is designed to work as a multi-use product that provides lighter coverage, extra hydration, and UV ray protection. BB cream works similarly to a tinted moisturizer, but you'll also get the added benefits of SPF protection. Sir John, a celebrity makeup artist, tells Byrdie, "BB Cream is a great lightweight option that avoids that more cakey, drying look you sometimes see from full coverage foundation." This skincare product is perfect for when you're in a pinch and have run out of concealer but don't want to go out bare-faced. It's also great when you need SPF protection as well as a barely-there neutral makeup look.
The difference between BB cream and concealer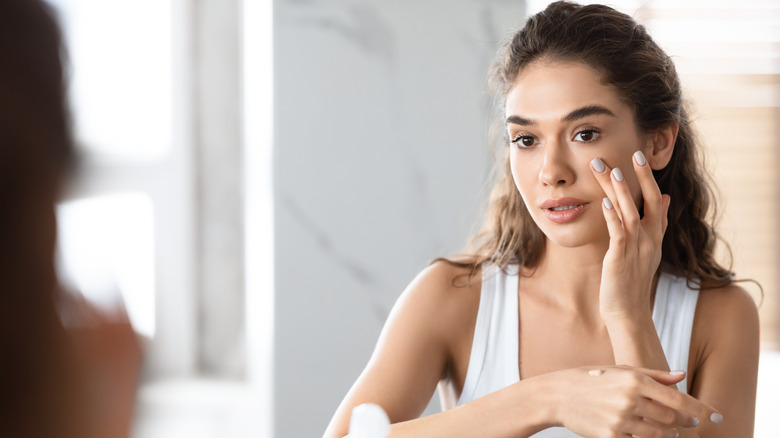 Prostock-studio/Getty Images
You can put BB cream all over your face (unlike concealer) to give you a more even skin tone. One of the drawbacks of BB cream is that it doesn't come in as many hues as other makeup products like foundation or concealer, so you won't have a wide selection range. 
It's also not ideal for full coverage, so if you want to cover skin disparities like dark circles and redness, concealer is the better option. Concealer is similar to foundation, but it is typically thicker and is used to cover up age spots, dark circles, eye puffiness, and other spots. Its formula is much more pigmented, which is what helps it cover those pesky color variations. Many also use concealer to help contour their face when applying their makeup for a more structured look.
Similarly to concealer, you don't need a ton of BB cream, just pump a small amount onto the back of your hand. You don't need to go overboard and a small bit will do the trick. 
How to apply BB cream the right way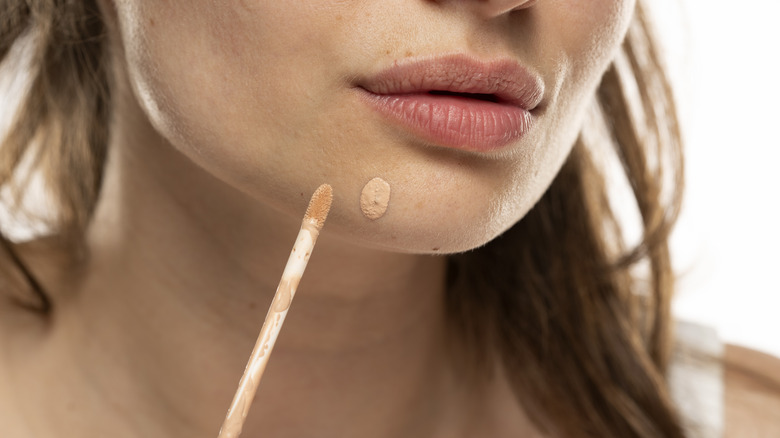 Vladimirfloyd/Getty Images
Per Olay, the best method to apply BB cream is the five-dot technique. This simple routine involves using your finger to dab a dot of cream on your forehead, cheeks, chin, and nose to create five dots. Then, gently blend them in using your finger, makeup brush, or makeup sponge until you've completely blended in the cream and are happy with the results. 
Fortunately, BB cream is versatile and works well with all skin types. There are plenty of high-quality BB creams to choose from, like the Smashbox BB cream, which created a buzz in the beauty community. When it comes to the best BB creams to buy, we have you covered. 
If you have oily skin, we recommend using Covergirl's Clean Matte BB Cream, which will give you just the right amount of coverage without making your face look oily or caked with makeup. For those with skin on the dryer side, we recommend opting for Maybelline's Dream Fresh BB Cream. This BB cream will leave your skin with a hydrated and smooth finish while also protecting you from UV rays with a broad-spectrum SPF 30.