Here's How You Can Watch King Charles III's Coronation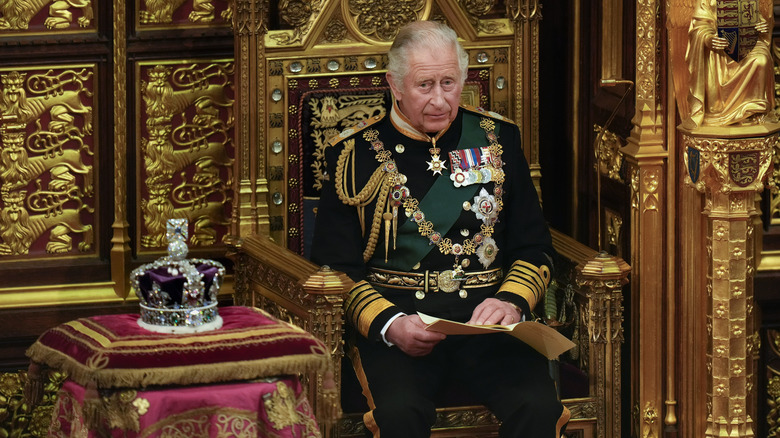 Wpa Pool/Getty Images
We Yanks are an odd lot. Just a couple of centuries ago, we fought to gain our independence from Great Britain and vowed never to be controlled by a monarchy again. Now, we can't get enough of the royals. We eagerly watch all the big weddings — even if it means getting up at the crack of dawn. We wept at the deaths of Princess Diana and Queen Elizabeth II as if they were our own relatives. 
And, now that King Charles III is about to be officially crowned, millions of Americans are following the news of the plans as eagerly as the Brits. In all fairness, a king's coronation is heavier on pomp and circumstance than, say, a presidential inauguration. No robes, scepters, or jewel-encrusted headgear are involved when a new commander-in-chief takes his oath. But even in its pared-down state, Charles's ceremony is expected to be quite the spectacle. 
The BBC reported that it will include processions, an anointing, and music by "Phantom of the Opera" composer Sir Andrew Lloyd Webber. Among the rules Charles will be forced to follow at his coronation are the special robes he must wear at various points in the ceremony, ranging from starkly simple to a richly embroidered mantle. Plus, his two heirs will be taking part too; Prince William will pay his respects to his father by kneeling, and Prince George will be one of the pages carrying his grandpa's robe. So, how can you watch the can't-miss event of the year?
It should be easy to watch the coronation live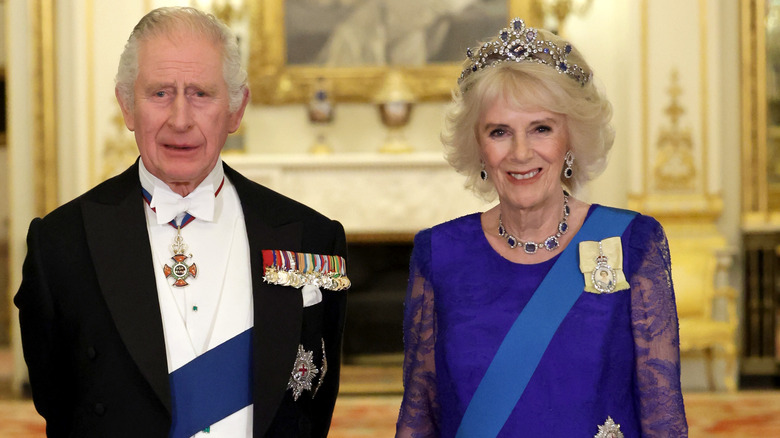 Chris Jackson/Getty Images
"Hundreds of millions" of viewers are expected to tune in, per the BBC, when King Charles III is enthroned with the historic St. Edward's Crown (Charles will swap the heavy headpiece for the somewhat lighter Imperial Crown when he and Queen Camilla make their appearance on the Buckingham Palace balcony). Plenty of Americans will be among those millions; it'll be slightly tougher to do over here, but there will definitely be opportunities to watch either all or part of the coronation, so don't panic.
Cosmopolitan reports that the BBC will be broadcasting the entire event, so it's likely that BBC America will include the same coverage. Check your local cable provider to make sure they carry the channel. If not, it's speculated that Sky News's YouTube channel will also be streaming the coronation from the first procession to the final cheers. Although no U.S. network or cable news channels have announced their coverage plans as of this writing, it's pretty much guaranteed that one or more of the big names will broadcast at least some of the ceremony. 
After all, it's been 70 years since Queen Elizabeth ascended the throne, so this will be most viewers' first time watching a British coronation. One key detail to keep in mind is the time difference — England is six-plus hours ahead of the U.S., depending on where you live, and royal ceremonies tend to start in the morning. Have a pot of coffee ready!