Meet Donald Trump's New Rival, Manhattan District Attorney Alvin Bragg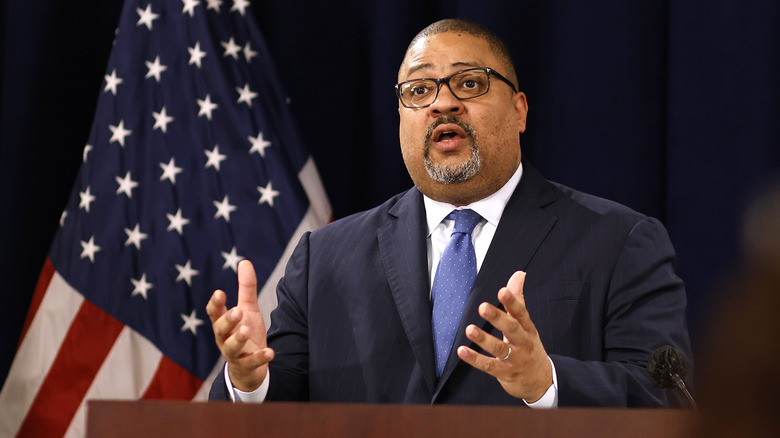 Kena Betancur/Getty Images
Former U.S. president Donald Trump has had many historic firsts as a politician. He was the first-ever president to occupy the Oval Office without any prior political or military experience, and he's also the first president to be impeached twice. But on April 4, 2023, he achieved yet another infamous milestone — Trump is reportedly the first president to ever be indicted with felony charges, and it's all thanks to Alvin Bragg. Bragg is currently serving as Manhattan's District Attorney, and his unique approach to putting Trump behind bars has quickly made him the man of the hour. 
The prosecutor charged Trump with over 30 felony counts for allegedly fabricating business records, which stemmed from the property mogul's hush money payment to adult star Stormy Daniels, to prevent her from publicizing their alleged adulterous affair while he was running for office. Rumor has it that the two had a brief tryst just months after Trump's youngest son, Barron, was born, leading to him allegedly paying Daniels $130,000 in exchange for her silence. While Trump eventually admitted that he paid Daniels off, he remains adamant that no extramarital affair occurred. 
Now, Bragg is using the hush money as a jumping-off point to go after the former president. His indictment noted that Trump "repeatedly and fraudulently falsified New York business records to conceal criminal conduct that hid damaging information from the voting public during the 2016 presidential election." And because of this, Bragg just became Trump's latest target. 
Alvin Bragg is Manhattan's first-ever Black DA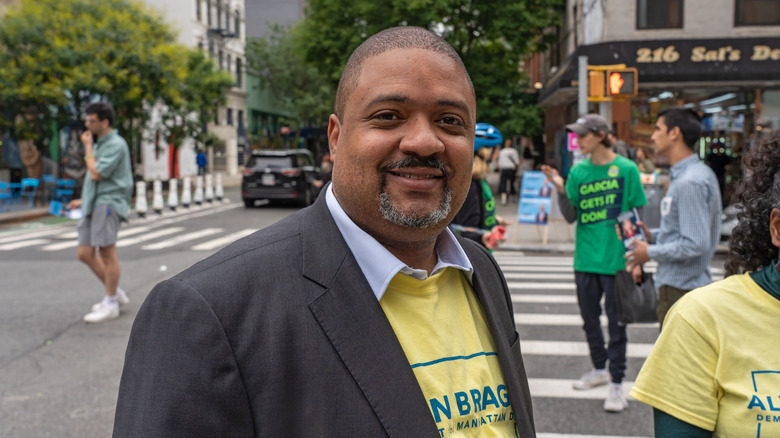 Ron Adar/Shutterstock
Many prosecutors have made valiant attempts to try and indict former president Donald Trump, but only Alvin Bragg has managed to do it successfully. The Associated Press confirms that Bragg was voted to be Manhattan's 37th District Attorney in November 2021 and assumed the post in January 2022, making him the first-ever Black Manhattan DA. His official bio describes Bragg as a "son of Harlem" who has spent much of his career as a prosecutor working to protect "everyday New Yorkers from abuses by the powerful, and correcting past injustices by vacating wrongful convictions." 
Before he became DA, the Harvard-educated lawyer worked for the New York State Attorney General's Office and the Southern District of New York as an assistant attorney general. When Bragg was elected, he initially faced criticism following his decision to postpone Trump's indictment, leading former Special Assistant District Attorney Mark F. Pomerantz and former General Counsel Carey R. Dunne, both of whom investigated Trump for years and believe he has committed "numerous felonies," to turn in their resignations. 
In Pomerantz's letter, he wrote that Bragg was making a big mistake by stalling the indictment process, describing the move as "a grave failure of justice" that would result in Trump getting away with his alleged crimes (via The New York Times). But now, Bragg has fully redeemed himself by plowing ahead and getting it done.
What does Donald Trump think of Alvin Bragg?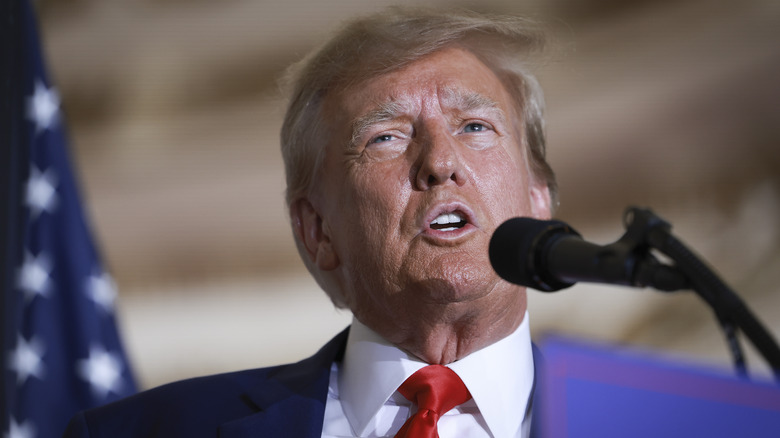 Joe Raedle/Getty Images
In true Donald Trump fashion, the former president wasted no time ridiculing Alvin Bragg and even arranged a press conference at his Mar-a-Lago estate to malign the Manhattan District Attorney. In front of his loyal fans, Trump insisted that Bragg is a "criminal" because "he illegally leaked massive amounts of grand jury information, for which he should be prosecuted, or at a minimum, he should resign," (via The Independent). 
Trump also claimed that Bragg's charges against him have no basis whatsoever, making the entire case moot. "A local failed district attorney charging a former President of the United States for the first time in history on a basis that every single pundit and legal analyst said there is no case — there's no case," Trump added, per Fox News. "But it's far worse than that because he knew there was no case."
But is there really no case or is Trump just spreading "fake news," as it were? According to several legal experts, Bragg's case is strong. "Some of the legal theories, as much as we can see from the outside in, do appear to be novel. But I do give him credit for starting from scratch, building his own case, and making sure that he feels comfortable with it," as former federal prosecutor Danya Perry told NPR.