Hunter King Had A Special Nickname For Her Hallmark Co-Star Beau Mirchoff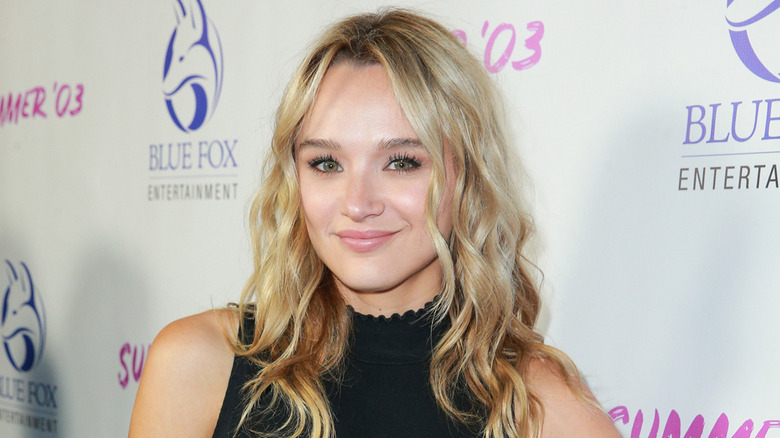 Rich Fury/Getty Images
The Hallmark Channel's 2022 film "Hidden Gems" is a bit different from the holiday movies for which the platform is most well-known. Instead of taking place in a cozy, snowy small town full of bakeries and Christmas tree farms, the action kicks off in sunny Hawaii. The movie stars Hunter King as Addy, a young woman preparing for her sister's wedding. When Addy loses their grandmother's ring in the ocean, she teams up with Beau Mirchoff's Jack to scuba dive all around the island to try and find it. 
"Hidden Gems" also features Eliza Hayes Maher as Kate, Addie's sister and the bride-to-be. King is fast becoming a Hallmark stalwart, having also starred in "A Royal Corgi Christmas" and Hallmark Movies & Mysteries' "Nikki & Nora: Sister Sleuths." Mirchoff, meanwhile, appeared as Cash in "Ride," a series from Hallmark about a family of bull riders in Colorado. You may also recognize him from his role as Jamie, the love interest to Maia Mitchell's character Callie in "The Fosters" and "Good Trouble."
Mirchoff and King really hit it off while making "Hidden Gems." In fact, King revealed some behind-the-scenes secrets about the movie and the filming process, including her sweet on-set nickname for her co-star.
King gifted her co-star a rather punny nickname
No need to create an ocean or beach with CGI and special effects — "Hidden Gems" was actually filmed on location in Hawaii. When King got lost on her way to a wardrobe fitting, she got to see just how beautiful the island really is. "For 11 miles I was driving through the mountains surrounded by jungle and I just started laughing," King told Just Jared. 
She continued, "It didn't even feel real! I've never been lost in a more beautiful place and I was just feeling so grateful and giddy to be lucky enough to be where I was." The actor recommended anybody who visits Hawaii to try shaved ice and visit the North Shore. Elsewhere, a week into filming "Hidden Gems" with her co-star Beau Mirchoff, King used a clever pun to give him a new nickname. 
"I gave Beau the nickname Beau-tato chip." King revealed. "So I'm really hoping that'll stick." She also pointed out that Mirchoff is scuba certified, just like his character Jack. Scuba diving for "Hidden Gems" and bull riding for "Ride" are definitely different from the courtroom Mirchoff performed in on "Good Trouble."
King and Mirchoff had a blast working together
While appearing on the "Hallmark Happenings" podcast, Hunter King shared how she and Beau Mirchoff initially met briefly on the plane ride over to Hawaii, before they officially met and started working on the film together. On acting alongside him, King gushed, "He's so talented and one of the kindest and funniest people I've gotten to work with." She sang his praises again when the two of them were featured on a Hallmark Q&A live-stream. 
During it, King remarked that Mirchoff was great with words and gave good, timely advice on set at the exact time she needed to hear it. The Hallmark star went as far as to describe Mirchoff's advice as "magical." King's co-star had wonderful things to say about his colleague as well, telling her, "I loved filming every scene with you, Hunter. We had a great time." King expressed immense gratitude at being able to join Hallmark for "Hidden Gems" during the podcast. 
She and Mirchoff have both been cast in other Hallmark projects since that film came out and will hopefully work with them for years to come. With any luck, they can team up on a future movie too.