Did Sarah Ferguson Just Throw Some Shade At Harry And Meghan?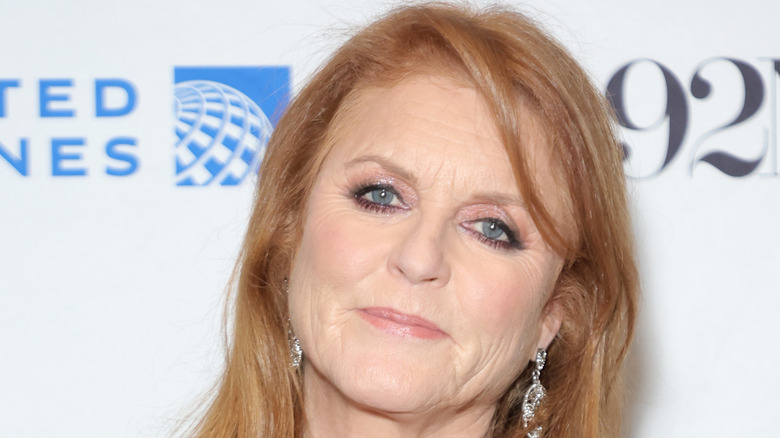 Michael Loccisano/Getty Images
Previously, when asked about her thoughts on Prince Harry and Meghan Markle and their decision to step down as working royals to live their own lives in the United States, Sarah Ferguson, Duchess of York, remained neutral. Fergie told People that with regard to the Duke and Duchess of Sussex and the way they have chosen to go about their lives, she herself reserved "no judgement" of the couple and their choices. 
"I don't believe that any single person has the right to judge another person," Fergie said at the time. "I'm not in a position myself to make any judgments," she elaborated, likely referring to her own scandal-ridden life in the spotlight as the wife and then the ex-wife of the now-shamed Prince Andrew. Fergie appeared to harbor no animosity and no judgement whatsoever toward Harry and Meghan, even in the face of their controversial docusesries and Harry's tell-all book "Spare," which dropped major bombshells and made unflattering revelations about the royal family. 
Now, however, it appears Sarah Ferguson's tune may have changed.  
Is Fergie throwing shade?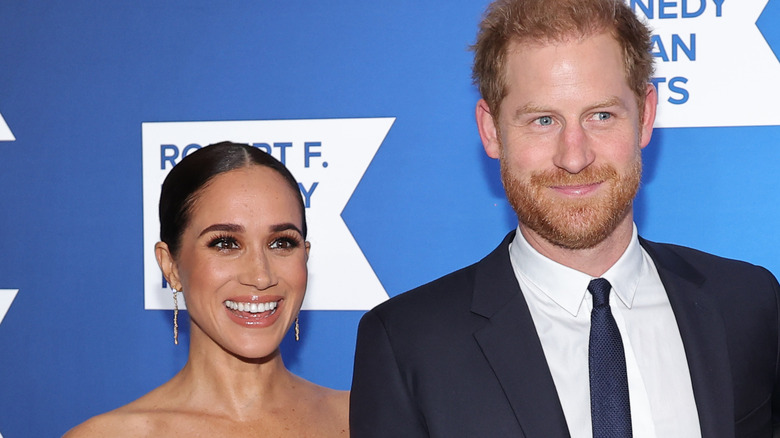 Mike Coppola/Getty Images
While discussing her own past choice to step down as a working royal some time ago, she told The Independent, "Well, you can't have it both ways. You can't sit on the fence and keep one foot in and one foot out. You're either in or out." Fergie would know; while she does still share the Royal Lodge in Windsor with her ex-husband Prince Andrew, she herself gave up the title of HRH years ago and no longer receives public funds. She also was not invited to attend the royal family's annual Christmas celebration for decades, a slight that was only rectified this past Christmas when she was invited again.
"But then don't cry about not being invited to weddings," she went on. "You chose to leave, now go and live it – and be it," she said. Fergie travels frequently between the U.S. and the U.K. and is currently touring and interviewing in promotion of her new novel "A Most Intriguing Lady."
Was this comment pointed at Harry and Meghan? No one can say for sure, but it sure does seem to fit the situation. The Duke and Duchess of Sussex have indeed been invited to attend the upcoming coronation of King Charles III, but there is no word yet as to whether they will attend.
What else Fergie had to say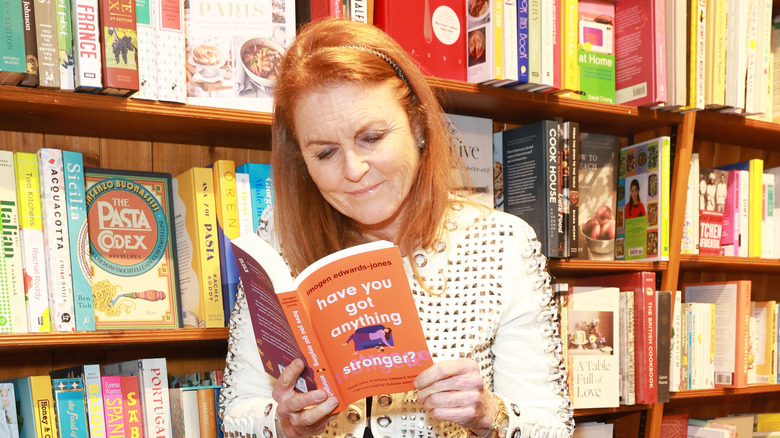 David M. Benett/Getty Images
Fergie has been through a great deal since marrying into the royal family in 1986. The media lambasted her for her fluctuating weight for years after she gave birth to her two daughters, Princess Eugenie and Princess Beatrice, and the same tabloids that hounded her beloved friend Princess Diana also stalked Fergie during her separation from Prince Andrew in 1992 and her official divorce from him in 1996. She was shamed for her dating life, for her fashion choices, and for virtually anything she dared to do that broke with tradition. 
All of these years later, however, Fergie has learned some valuable lessons that she attributes to a great deal of soul searching and "addressing lots of issues" (via The Independent). During this same interview, she went on to give some sage advice that could be of use to both average people and, one could argue, to Prince Harry and Meghan Markle as well.
"People believe obstacles stand in the way but... they are the way. It's how you climb them," Fergie said. She says that she nows feels she is finally becoming her "authentic self" having let go of her role as a working royal, having learned from her experiences, and now pursuing her dream of becoming a romantic novelist.