Why Days Of Our Lives' Aketra Sevillian Didn't Have To Audition To Become Talia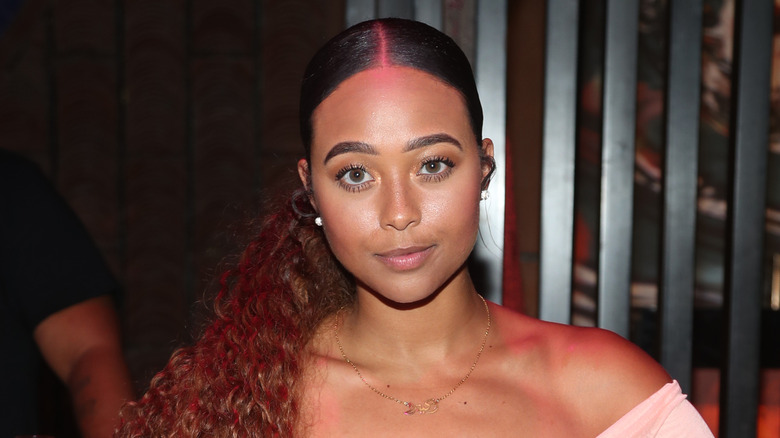 Jerritt Clark/Getty Images
"Days of Our Lives" viewers are currently watching a brand new character make her way in Salem. Actor Aketra Sevillian recently joined the cast of the sudser as Jada Hunter's younger sister, Talia Hunter. Talia showed up in Salem out of the blue and took her sister completely by surprise. While Jada is rocking her job at the Salem Police Department, Talia's story seems to be much different. The young woman came to town hoping to get a job at Chanel DuPree's bakery. Once hired, it was revealed that Talia actually followed in the footsteps of her late father, Marcus Hunter, and became a doctor. However, she stepped away from her medical career when she moved to Salem.
Talia's story is still a mystery to fans at the moment, as not much has been revealed about the character. However, soap opera viewers know that most new characters are usually hiding some sort of secret that eventually comes out and causes chaos for those around them.
While fans are interested to see what the future holds for Talia, many have also been loving Sevillian in the role. It seems that producers also loved the actor, as she reveals she never even auditioned for the role of Talia.
Aketra Sevillian opens up about being cast on Days of Our Lives
During a recent interview with Soap Opera Digest, Aketra Sevillian revealed that she's been a huge fan of soaps since she was a child. The actor admitted that her grandmother was a devotee of "Days of Our Lives" and "General Hospital," and that she grew up watching the sudsers alongside her. Sevillian also shared that while she had landed prior roles in shows like "The Sex Lives of College Girls," and "Grown-ish", she auditioned for "Days of Our Lives" in the past without success.
However, while the soap was casting the role of Talia Hunter, they seemed to think Sevillian was a good fit. The actor admits that because she had auditioned for the sudser before, she didn't have to read for the role of Talia. "I didn't even have to audition. I just sent them some of my tapes, because I had tested for them twice," she told the outlet. "They came with an offer a couple of days later, and I was ecstatic."
Since being cast on the show, Sevillian says that her co-stars have been a great help to her, especially Greg Vaughan, who plays Eric Brady, and Elia Cantu, who portrays Talia's older sister, Jada Hunter. The star also added that the fast-paced world of soap operas is an adjustment, but that she believes it's making her a better actor.