Royals Who Suffered From Major Wardrobe Malfunctions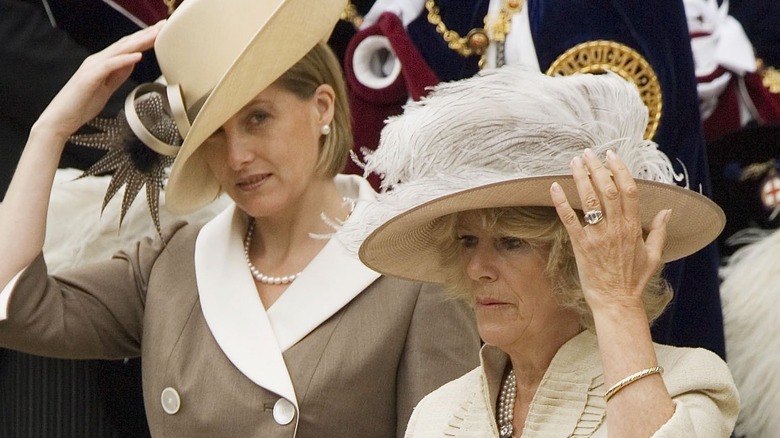 Anwar Hussein Collection/Getty Images
The British royal family might be one of the best-dressed families in the world. Over the years, its members have worn pieces that indelibly altered the fashion world, from the fairy tale Dior gown worn by Princess Margaret on her 21st birthday to Princess Diana's never-forgotten revenge dress. Of course, these stylish royals enlist quite a bit of help to ensure that their looks are perfectly presentable — even working one-on-one with designers to dream up custom-made ensembles. 
Diana was known to have such close personal ties to the fashion world that she was occasionally spotted dining out with Gianni Versace. And, the People's Princess wore so many pieces by Catherine Walker that the couturier would lend her pieces on request. These days, Princess Catherine continues the royal tradition of associating with stylists. Fashion designer Jenny Peckham even told WWD that she likes to get Catherine's input before she draws up a new dress, stating, "It's always quite a collaboration."
Despite all of the effort that goes into dressing the British royal family, its members are not immune from suffering the occasional wardrobe malfunction. Unfortunately, thanks to the eternal presence of the paparazzi, few of these mishaps have gone unnoticed. From Queen Elizabeth II's broken wedding tiara to King Charles III's hole-filled socks, the royal history of public clothing struggles only goes to show that sometimes, even the highest-ranked people are at the mercy of a broken zipper.  
Queen Elizabeth's tiara malfunctioned on her wedding day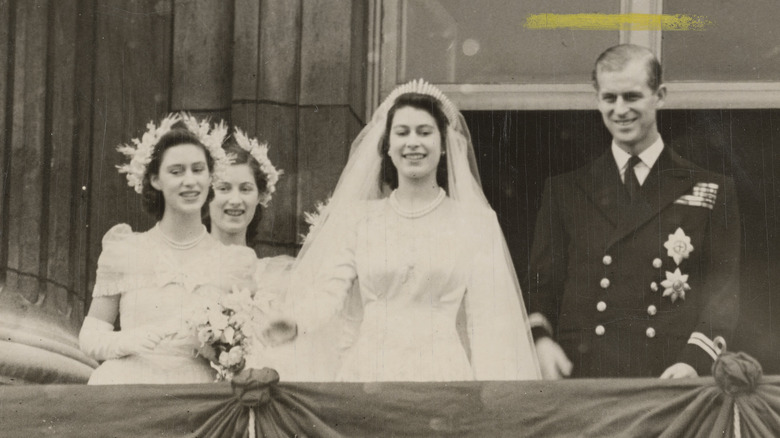 Evening Standard/Getty Images
From a bird's-eye view, Queen Elizabeth II's wedding to Prince Philip was a picture-perfect event. On the morning of the November 20, 1947 ceremony, the then-princess was the image of serenity. Following the grand event, Elizabeth's father, King George VI, wrote her a letter, noting, "You were so calm and composed during the service and said your words with such conviction" (via The New Yorker). However, beneath the princess' regal stiff upper lip, there hid a bride panicked over her attire.
During a 2011 royal wedding dress viewing covered by On Demand News (via YouTube), Elizabeth told Princess Catherine that her tiara malfunctioned on her big day. "The catch, which I didn't know existed, it suddenly went," the queen confessed. Luckily, a royal jeweler from the House of Garrard swooped in to save the day. "I think he taped it up with a spring. It would have been rather embarrassing," she recalled.
Speaking with Marie Claire, the House of Garrard confirmed Elizabeth's story, recounting, "They had [the tiara] police escorted to the House of Garrard workshops. We fixed the tiara that morning, had it sent back to Queen Elizabeth, and then she got married in it." While the jewelers were hard at work, the Queen Mother presented options for a plan B. As described in the book "Garrard: The Crown Jewelers for 150 Years," the Queen Mother told her daughter, "We have two hours and there are other tiaras."
Princess Margaret wore a see-through swimsuit on vacation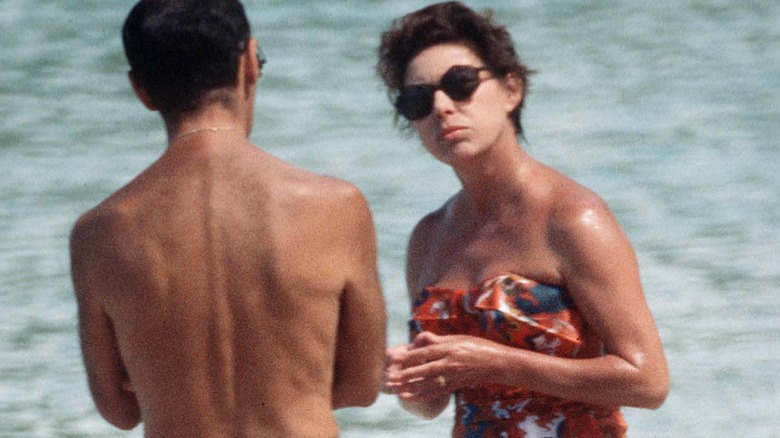 Anwar Hussein/Getty Images
During her heyday in the 1960s and 70s, Princess Margaret was known for being the rebellious royal who challenged tradition. Affectionately dubbed "Priceless Margarine" by John Lennon, Margaret — or Margo, as she was known to her family — enjoyed rubbing shoulders with celebrities and rock stars. Her biographer, Theo Aronson, even alleged that she once told Jean Cocteau, "Disobedience is my joy."
Whether or not Aronson's claim is true, Margaret lived up to her reputation one year while on a Caribbean vacation. In her memoir "Lady in Waiting: My Extraordinary Life in the Shadow of the Crown," Lady Anne Glenconner described an incident that took place on Mustique Island: "I began to notice that whispers circulated whenever [Margaret] got out of the water. I soon realized it was because her swimming costumes were transparent when wet." 
While this royal wardrobe malfunction would have been embarrassing to some, Margaret did not even bat an eye. When Glenconne confronted the princess about her see-through swimsuits, Margaret apparently responded with little more than a shrug. "Oh, Anne, I don't care. If they want to look, they can look." That being said, it's important to note that at the time, the Glenconne family owned Mustique Island, meaning that Margaret was free from the prying eyes of the paparazzi. As Glenconne wrote in her tell-all, "Even though it was basic, and for years there were no celebrities and no grandee on the island, [Margaret] had privacy."
Princess Diana's first photoshoot was too revealing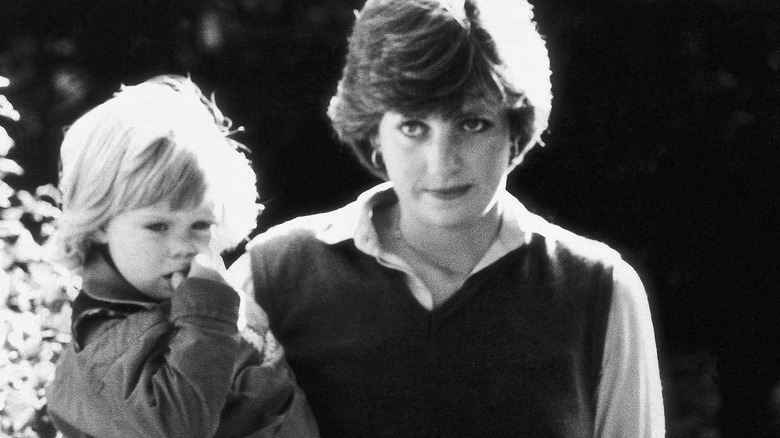 Steve Back/Getty Images
Sometime in September 1980, Arthur Edwards headed to the London preschool where Lady Diana Spencer was employed. Apparently, as a newly-minted photographer for The Sun, Edwards was hoping to get a shot of then-Prince Charles' sweetheart. What he got instead, however, was an iconic photograph of what would potentially be Diana's most famous royal wardrobe malfunction. Recalling that fateful day years later in an interview with Today, Edwards revealed, "She posed up and I did half a dozen pictures ... Everybody doesn't believe this, but it is the gospel truth — halfway through, the sun came out." Since Diana wasn't wearing a petticoat, the light shone through her skirt "and revealed those beautiful legs" for all to see. 
In the documentary, "The Diana Story," Edwards revealed that the photograph of Diana's legs was an instant hit. "This was a page-one picture then. And the headline was: 'Charlie's Girl,'" the photographer remembered. Diana, meanwhile, was said to be unpleased. As Edwards told the documentary makers, "She was horrified."
While these pictures made a stir, Diana was not the only princess to be captured in a transparent skirt. Years later, Princess Catherine found herself in the exact same position as her late mother-in-law. Wearing a lacy white dress designed by Alexander McQueen, Catherine attended the 2017 Royal Ascot in style. However, when backlit by the sun, the pale shade of Catherine's ensemble proved see-through — and photographers went wild. 
Diana got married in a malfunctioning wedding dress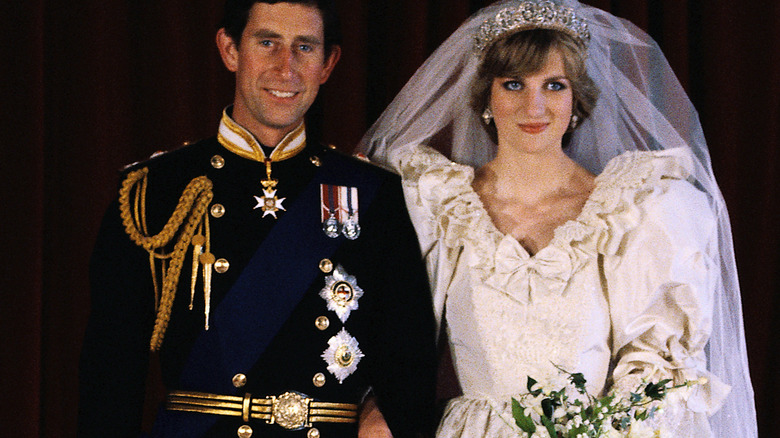 David Levenson/Getty Images
On July 29, 1981, Princess Diana wed the future King Charles of England. Wearing a billowing taffeta lace gown designed by Elizabeth and David Emanuel, she looked the very image of a fairy tale bride. However, the dress did not sit on Diana in the way that the designers intended. In the ITV documentary "Invitation to the Royal Wedding," Elizabeth Emanuel confessed to feeling "horrified" when she saw Diana wearing the gown. "We did know [the dress] would crease a bit, but, when I saw her arrive at St Paul's and we saw the creasing, I actually felt faint," the stylist divulged. Apparently, the gown's creators hadn't guessed just how much it would wrinkle, admitting "it was a lot more than we thought."
This royal wardrobe malfunction came after the Emanuels had spent weeks altering the gown to fit Diana's ever-changing figure. Speaking to People, Elizabeth Emanuel revealed that they had to craft five different bodices for the dress. Apparently, at the first fitting, Diana needed a 26 to a 27-inch waist. By the last one, she wore a bodice with a 23-inch waist. As Diana would later reveal in an interview for Andrew Morton's biography "Diana: Her True Story — In Her Own Words," this rapid change was likely due to her disordered eating. "The bulimia started the week after we got engaged," Diana shared.
When Sarah Ferguson flashed the crowds in Rome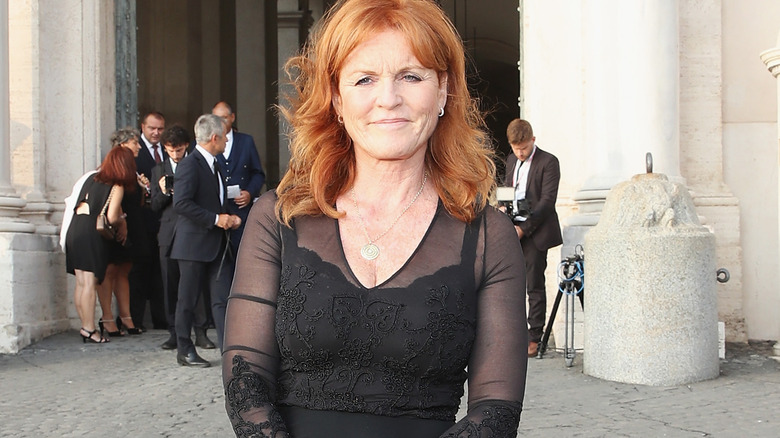 Jonathan Leibson/Getty Images
Sarah Ferguson, Duchess of York, is known for being a bit flashy, but a royal wardrobe malfunction in Rome found the Duchess actually flashing photographers. At a 2017 cocktail party hosted by Italian President Sergio Mattarella in Rome, the redhead was seen rubbing shoulders with movie stars like Susan Sarandon. On her way out of the festivities, the duchess failed to notice that the bottom of her dress skirt was tucked in her sleeve. She lifted her arm, and her skirt went up along with it. Cameras flashed, as Sarah's black underwear appeared for all to see. The embarrassing incident prompted the Daily Star to declare, "Fergie flashes her crown jewels."
Unfortunately, this was hardly the first time that Sarah found herself at the center of what the British royal family would almost certainly label "public indiscretions." In 1992, the duchess was photographed sunbathing topless in the south of France, accompanied by multi-millionaire, John Bryan. In an interview with the Daily Mail, Bryan recalled, "We [were] with the kids, having a great time. We used to play fun games, make-believe games. On this day we were playing Cinderella and I said, "Look, let's kiss Mummy's toes". It was part of the game." Bryan leaned forward and kissed Sarah's toes in what he described as a "beautiful family moment." The paparazzi captured the moment, humiliating the couple in front of the world.
Princess Catherine's pink dress became wind-blown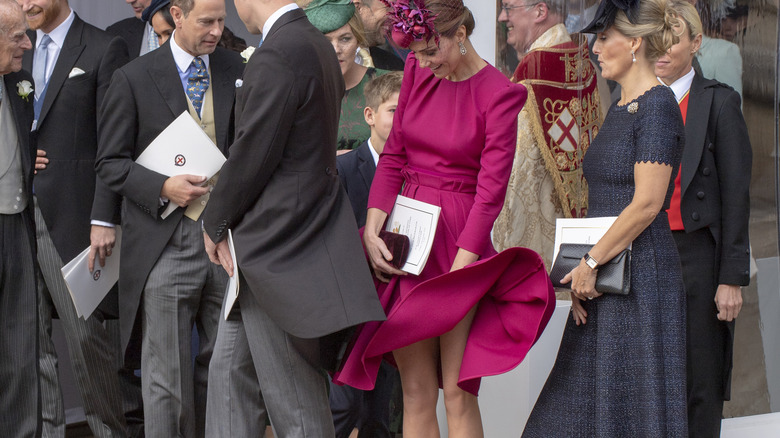 Wpa Pool/Getty Images
If royal nuptials are a hotbed for wardrobe malfunctions, Princess Eugenie's wedding to Jack Brooksbank was no exception. At the couple's 2018 ceremony, Princess Catherine had something of a Marilyn Monroe moment. Donning a hot pink Alexander McQueen dress, Catherine experienced a slight wardrobe issue when a huge gust of wind blew up her skirt. The moment was captured by the paparazzi, although Sophie, Duchess of Edinburgh swept in before disaster struck. The older royal helped Catherine pull down her billowing dress, preventing the photographers from getting a shot of her underwear.  
Interestingly, this kind of incident is uncommon among royal women, as they typically collaborate with designers to prevent wardrobe malfunctions. As PR expert Daena Borrowman told the Express, "There are dozens of protocols in place that stylists and dressers of the royals have to familiarize themselves with to prevent working royals from landing into embarrassing fashion faux pas." In a case such as this one, Borrowman claimed that Catherine could have avoided embarrassment by sewing weights into her skirt. Apparently, Queen Elizabeth III used this strategy to always maintain her sense of decency in public. "It has been said that the late queen passed down her tricks to Kate, as she too would have circular lead curtain weights sewn into all of her handmade outfits," Borrowman said.
Princess Beatrice showed her underwear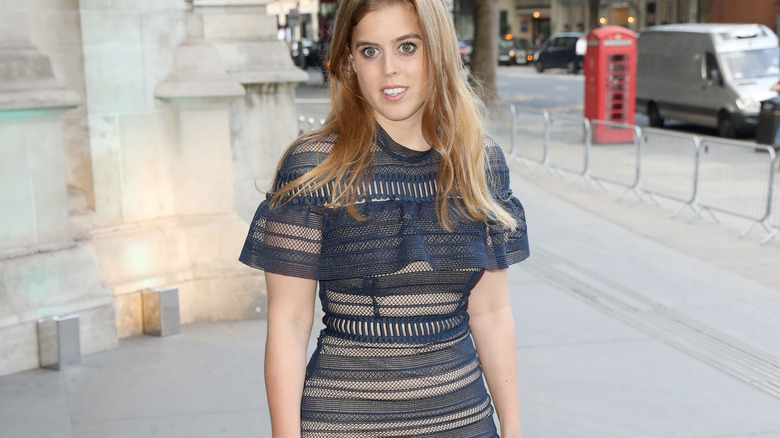 Chris Jackson/Getty Images
When Princess Beatrice selected her dress for the V&A summer party in 2017, she likely knew that her choice would be controversial. Her semi-sheer blue panel dress seemed to divulge a bit of skin, particularly around her shoulders and waist. However, while the dress itself was a tad revealing, Beatrice's royal wardrobe malfunction took things to a whole new level. In event photographs, the nude petticoat that Beatrice was wearing beneath the dress' see-through fabric got caught on the round of her hip. Unfortunately, this hiccup resulted in the revelation of the princess' underwear for all the paparazzi to see.
The mishap added to what some fashion experts call Beatrice's unfocused fashion choices. As image coach, Melissa Lund, told the Express, "Beatrice clearly likes fashion and is not afraid to stand out, but the devil is in the detail and she could look fantastic if she paid attention to the seemingly small details which actually make a huge difference." At the V&A party, Beatrice would have benefited from verifying that her clothes were all in the right place. And, according to the personal stylist, the princess could have taken things a step further by choosing pieces that flatter her gorgeous body shape. For example, Lund said that Beatrice's "clothes need to be fitted in order to showcase her curves." She could also "choose low necklines" to highlight her shoulders, chest, and neck.
Meghan Markle's zipper broke before her first walkabout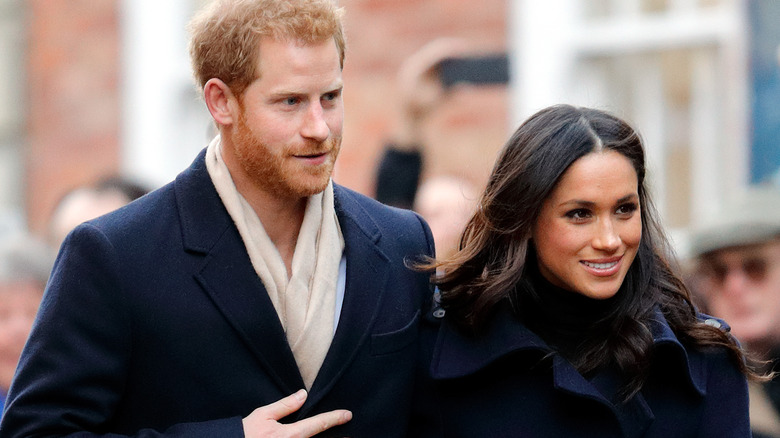 Max Mumby/indigo/Getty Images
On December 1, 2017, Meghan Markle proved that one can experience a royal wardrobe malfunction before even becoming a princess. At the time, Meghan was a title-less actress, primarily known for her role in "Suits." She was also, of course, Prince Harry's new fiancée; the couple had announced their engagement just days earlier. Nevertheless, despite her position as a commoner, Meghan was invited to Nottingham to participate in a walkabout with Harry. Speaking in the documentary series "Harry & Meghan," the now-Duchess of Sussex recalled, "I never saw pictures or videos of a walkabout. Like, what's a walkabout?"
As a way to compensate for her lack of royal knowledge, Meghan says that she tried to choose to perfect outfit. As the Duchess said in the documentary, "I was like, 'Should I wear these earrings? Are these a British designer? I just ordered these online. Is this good? Wait, my tag's on. Cut the tag." Unfortunately, in the middle of this struggle, Meghan's attire malfunctioned, and her zipper broke. Rather than allow further chaos to ensue, however, Harry came rushing to his fiancée's rescue. The duchess recounted, "And [Harry's] like, 'OK, babe, safety pin. Just safety pin it.'" Luckily, the prince's efforts paid off. The rest of the event unfurled without a hitch, and the paparazzi remained none the wiser. 
When Mike Tindall accidentally flashed Princess Anne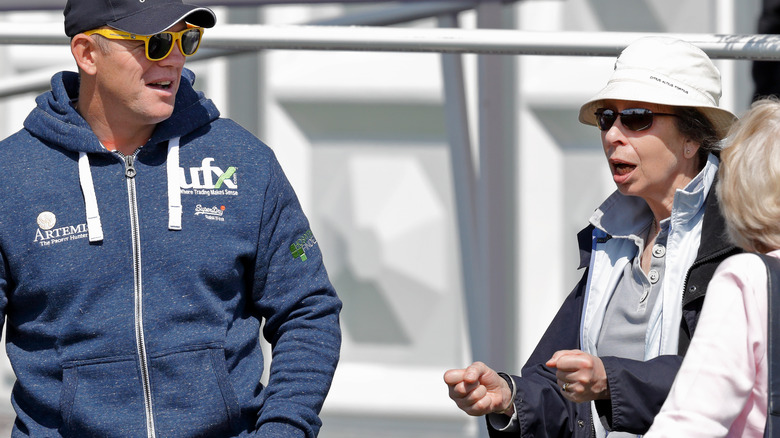 Max Mumby/indigo/Getty Images
While some royals try to avoid wardrobe malfunctions, the same cannot be said about Princess Anne's son-in-law, Mike Tindall. On an episode of "I'm a Celebrity, Get Me Out of Here" (via YouTube) the professional rugby player confessed that he has a habit of splitting his trousers: "My problem is with suits is with over-exaggerated dancing. At weddings, I rip a lot of suits and trousers and stuff. The old sl–t drop gets me every time." Apparently, Tindall's dance moves are so violent that, whenever he goes to parties, he has to bring a change of suit along with him. 
At one particular party, Tindall may have come to regret his time on the dance floor. As revealed on "I'm a Celebrity, Get Me Out of Here," the rugby player suffered such a major wardrobe malfunction that he accidentally flashed Anne. "I was dancing with my mother-in-law, and I did a sl–t drop in front of my mother-in-law, and ripped my trousers straight in front of her. And it happened to be that my boxers that I had on at that time said 'Nibble my nuts'." As if that weren't embarrassing enough, Anne went so far as to dialogue with the boxers, stating, "I'd rather not." Humiliated, Tindall scrambled away from the princess. 
Prince Philip accidentally opened his legs while wearing a kilt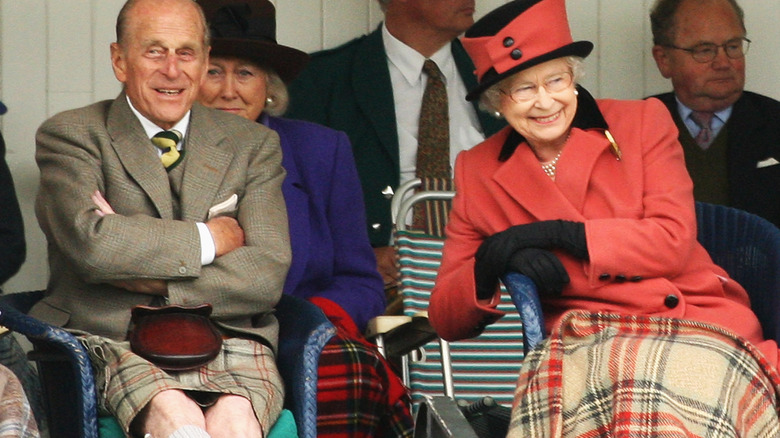 Chris Jackson/Getty Images
The late Prince Philip was not immune to the royal wardrobe malfunctions of the younger generation. On a 2012 trip to Scotland, Philip attended the Highland Games, and was sure to dress for the event. In typical Scottish fashion, Philip donned a checkered kilt. However, despite his apropos choice of attire, the former Duke of Edinburgh did not exactly blend in with the crowds. Instead, he leaned back into his chair, accidentally spread his legs, and suffered the consequences in the form of flashing cameras. The following day, tabloid headlines ripped the prince consort apart — the Daily Beast even published the headline: "Prince Philip Flashes in Kilt."
This incident must have been hugely embarrassing for Philip, who had a history of assisting others with their wardrobe mishaps. During an episode of the BBC's "Women's Hour," fashion expert Susannah Constantine divulged that Philip once helped her out of a major clothing disaster: "I was at a dinner at Windsor Castle, as one is, and sat between Prince Philip and, I think, Prince Edward, in a beautiful dress which my father had got me ... I didn't notice anything and Prince Philip turned towards me and kind of went towards my breasts ... And I realized that the straps had broken and my bosoms were on display to the entire room." Luckily, thanks to Philip's help, a butler came running to Constantine's rescue, offering her a safety pin. 
King Charles had holes in his socks
Chris Jackson/Getty Images
King Charles III has something of a reputation for being fastidious. In the documentary "Serving the Royals: Inside the Firm," former palace butler Paul Burrell claimed that Charles likes his staff to prepare everything for him a certain way. If Burrell is to be believed, not only does Charles like to have his bath plug facing a certain direction, but he also, "has his valets squeeze one inch of toothpaste onto his toothbrush every morning." However, all of this preparation did nothing to save Charles from a royal wardrobe malfunction on an official visit to Brick Lane Mosque in London.
During the visit, Charles followed the rules of the mosque and removed his shoes, showing the gaping hole in his sock to the world. According to at least one royal expert, Charles was likely very displeased with his mishap. Speaking to Fox News Digital, royal biographer, Christopher Andersen, noted that the king cares a lot about his appearance: "Charles has always prided himself on his keen sense of style and his impeccably tailored wardrobe of bespoke suits, custom-made shirts, and tasteful blazers." However, despite whatever embarrassment Charles suffered during this episode, Andersen opined that the wardrobe malfunction was positive. "In the end, for the king to be seen with a hole in his sock at a time of great financial hardship for most of his subjects is probably a good thing."