Ridge's Two Lives With Two Carolines On The Bold And The Beautiful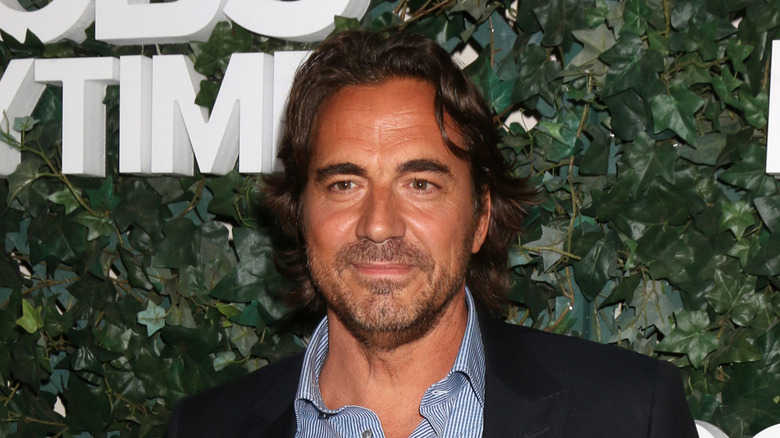 Joe Seer/Shutterstock
Serial womanizer Ridge Forrester is co-CEO of the fashion house Forrester Creations on "The Bold and the Beautiful." Ridge was first introduced to the show when it aired in 1987 and was played by Ronn Moss until 2012, and the role was recast with Thorsten Kaye. Ridge has had a string of spouses and romantic interests throughout the years, two of whom share the same name and are aunt and niece — the two Carolines.
Caroline Spencer Forrester, played by Joanna Johnson, appeared on the soap when it premiered as Ridge's first love interest. Unfortunately, this storyline would end in tragic circumstances as Caroline died of leukemia in 1990 at the young age of 28. Ridge later developed a romance with Caroline Spencer II, played by Linsey Godfrey, who was named after her late aunt. Caroline II also married Ridge, but their relationship ended in an amicable divorce in 2016. Here are the standout moments of Ridge's time with each of the two Carolines.
Ridge's first love and first heartbreak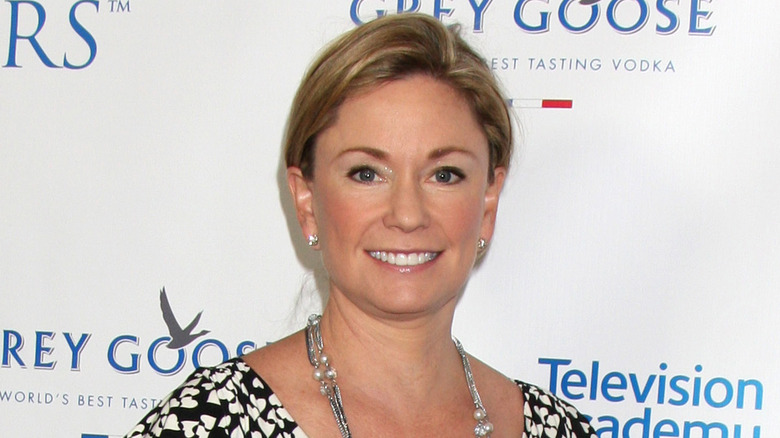 Kathy Hutchins/Shutterstock
Caroline Spencer was a publishing tycoon and daughter of Bill Spencer Sr. (Jim Storm). Her powerful father disapproved of her relationship with Ridge Forrester as he had heard rumors of the man's Lothario-like reputation, compelling him to hire a private investigator to probe into Ridge's affairs.
As their relationship evolved, Ridge proposed to Caroline, and she accepted without hesitation. However, their commitment was ultimately tested when Bill revealed to Caroline that his PI had photographic evidence of Ridge's infidelity. Despite this betrayal, Caroline intended to go through with the wedding, but she dramatically fainted as she made her way down the aisle. When Caroline regained consciousness in the hospital, Ridge expressed his unconditional love for her. Unfortunately, she decided it was best for them to separate and live independently.
In a later storyline, Ridge formed a relationship with Brooke Logan (Katherine Kelly Lang), while Caroline started dating Ridge's younger brother Thorne Forrester (then Clayton Norcross). While it was clear that Brooke and Thorne were in love with their respective partners, they were both concerned that Ridge and Caroline still had a deep affection for each other. Ridge later proposed to Brooke, but she rejected him and ended the relationship because she had discovered a letter from Ridge to Caroline, professing his love. Ridge and Caroline ended up reconciling, but devastating news was just around the corner. Caroline was diagnosed with terminal leukemia and passed away with Ridge by her side.
Ridge and his son battling over Caroline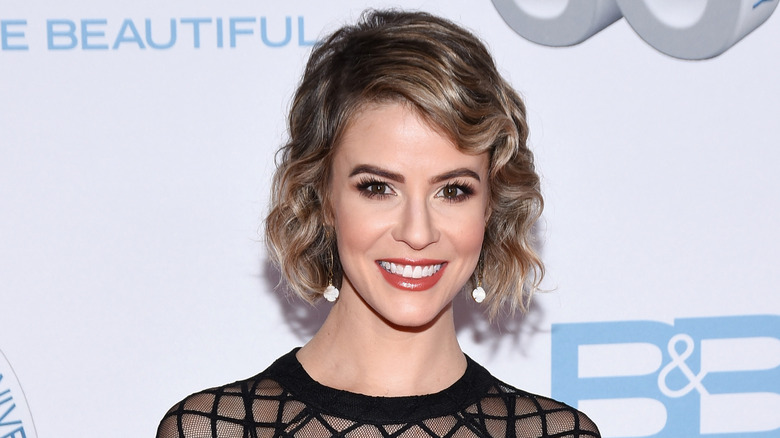 Tara Ziemba/Getty Images
After the first Caroline's death, Ridge continued to have numerous love interests, including her niece, Caroline Spencer II, who had begun working as a designer at Forrester Creations. Ridge and Caroline's professional relationship soon became romantic, much to the chagrin of Caroline's husband and Ridge's nemesis, Rick Forrester (Jacob Young). Rick saw no other choice than to divorce Caroline, and she promptly married Ridge.
One of the most dramatic storylines in the show centered on the love triangle between Ridge, Caroline, and Ridge's son Thomas Forrester (then Pierson Fode). When Thomas was hired to be a part of Ridge's design team, he and Caroline became close. One night, Thomas visited her at her apartment, and she was distraught that Ridge didn't want to have children with her. Caroline's inhibitions were lowered after mixing anxiety pills with alcohol, and she ended up sleeping with Thomas. 
Caroline became pregnant as a result and later gave birth to Douglas Forrester. Despite keeping up appearances as a happy couple, both Caroline and Ridge knew that Douglas wasn't his son because Ridge had undergone a vasectomy. Caroline eventually confessed to her husband that Thomas was Douglas' father, shocking him. After much tension between the three, Ridge decided it was better for the little boy to be raised by his biological parents and removed himself from the equation. Tragically, the little family was broken up just a few years later when Caroline II died of a severe blood clot in 2019 at just 32 years old.