How To Incorporate Aquaphor Into Your Skin Care Routine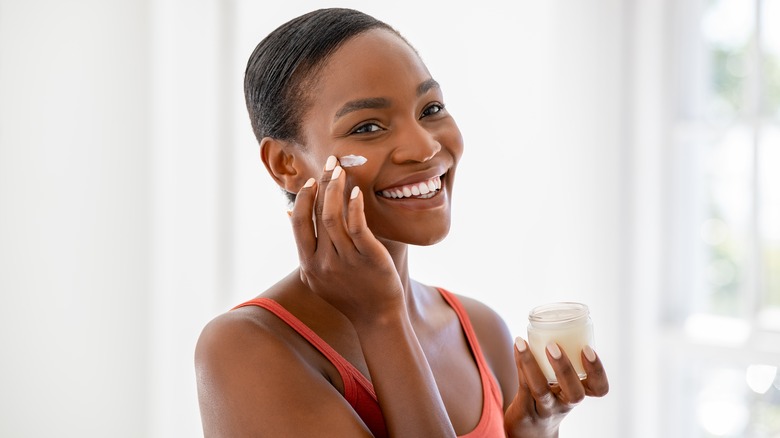 Ground Picture/Shutterstock
Some skincare products cost hundreds of dollars. But some of our favorites only cost a few bucks. Aquaphor is a skincare powerhouse that won't break the bank. Not only do we approve, but Hollywood's biggest stars use this drugstore stable. Nicole Kidman told Allure, "La Mer Crème is my go-to, but I also love Aquaphor. It costs nothing and it's amazing for dry skin, which I have. I put it on my face and it's very, very good." Beyoncé shared with Elle that Aquaphor is her beauty secret, "I go to bed looking totally greasy." If sleeping with a shiny face is how we wake up flawless, we have no complaints.
Even Meghan Markle had on Aquaphor during her big day. Daniel Martin, the Duchess' wedding day makeup artist, told E! News, "Before highlighters, you would do highlighting with Aquaphor. Aquaphor will give you that same texture, especially in a photo [when applied] on the high points of the face." It is no wonder this ointment is a coveted beauty product. And we have the know-how to incorporate it into your perfectly ordered skincare routine.
Why you should be using Aquaphor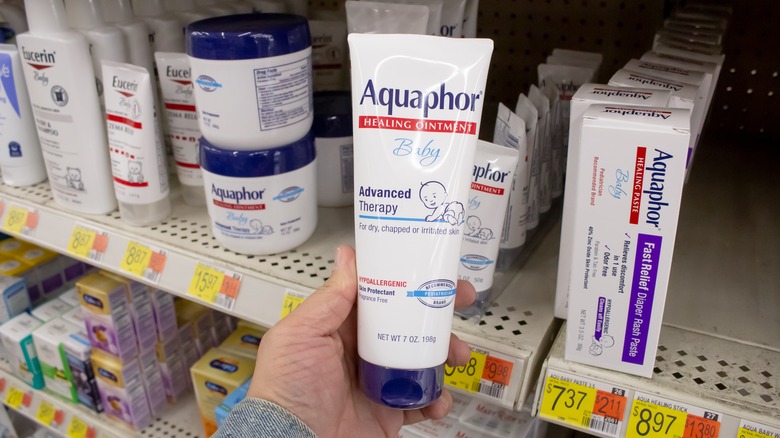 The Image Party/Shutterstock
The main ingredients of Aquaphor are glycerin and panthenol. They actively work to provide moisture and restore cells. Dr. Alexander Filbry, a scientist in the product development team, explains, "The water-free formula creates a semi-occlusive, protective barrier on the skin that regulates the rate of water vapor loss and helps skin to retain the moisture it needs" (via Eucerin). This thick ointment is an emollient that seals in hydration.
Aquaphor works on getting you that glass skin, but it can treat more than just your face. Dermatologist Brendan Camp tells Elle, "Aquaphor can be used to repair rough, dry skin, as a lip balm, cuticle softener, wound treatment, makeup remover, eyelid moisturizer, treatment for cracked skin on hands and feet, and as a way to reduce chafing during exercise." Talk about a versatile product. It's just like how there are many everyday uses for Vaseline. While you can directly replace your chapstick or cuticle oil with Aquaphor, fitting it into your skincare regime is slightly different.
Aquaphor should be the final step of your skincare routine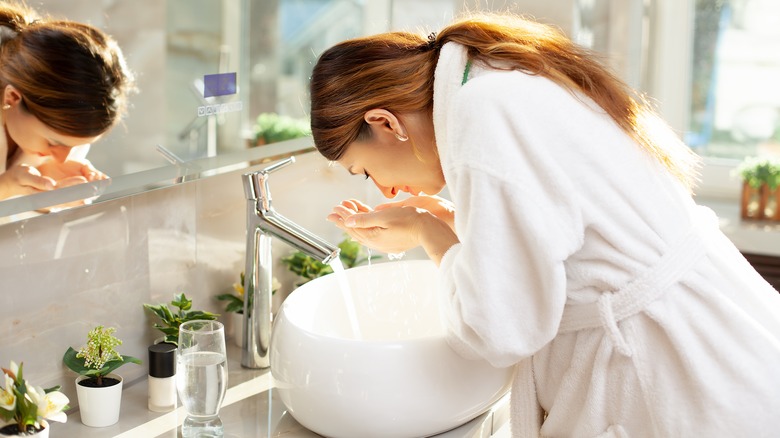 Anna Brusnicyna/Shutterstock
You can use Aquaphor as the last step in your skincare routine. It will seal in any hydrating serums like hyaluronic acid you've applied. It is similar to how you use an essence after cleansing to open your skin so it can absorb any acids or vitamins. Aquaphor comes at the finale to close your skin so all those active ingredients can stay in and work. Unlike a moisturizer that adds water to your skin, Aquaphor creates a barrier to retain water already present. It helps to lightly mist your skin before finishing off with the ointment.
Aquaphor can be used nightly; however, like with any new product, you should gradually introduce it to your skin. Start with one to two times a week before building it up to every night. Aquaphor is non-comedogenic, so it won't clog your pores. Therefore, it is suitable for those with oily or sensitive skin and prone to breakouts. However, if you have these skin types, you'll want to apply a light layer of this ointment. You can buy Aquaphor directly from its website or at your local pharmacy.