Red May Not Be The Most Alluring Color On You. Here's How To Find Your Romantic Color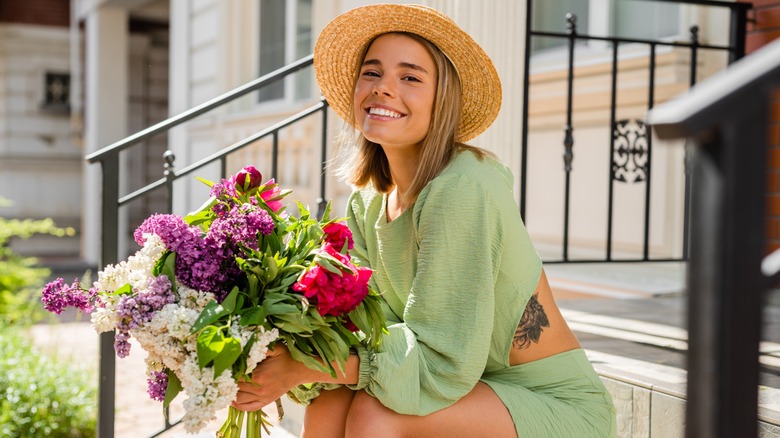 Maria Markevich/Shutterstock
Red roses, red lips, red hearts — red is all over when it comes to love and romance. The color even kickstarted TikTok's "red nail theory," which suggested that if you get your nail's done with the color red, people will find you more attractive. There's some scientific evidence that supports this association. In a study published by Frontiers Human Neuroscience, researchers wrote, "red seems to guide attention, specifically in emotionally-valenced circumstances ... " Red is great for capturing our focus as an onlooker. However, red might not necessarily be your best outfit color choice if you want to stand out.
While this color might be the first that comes to mind when you think about desire and passion, a few other factors go into attracting a partner. In a video posted by master color analyst and Youtuber Jen Thoden, she described your "romantic color" as a color that can make you appear more alluring. Thoden remarked, "Your romantic color is all about being and projecting engagement, friendly, sexy, feeling really pretty ..." To embody all of these wonderful things and be in prime-flirting mode, you'll want to think deeper about how the colors you wear complement your unique complexion and how they make you feel.
How color can enhance your confidence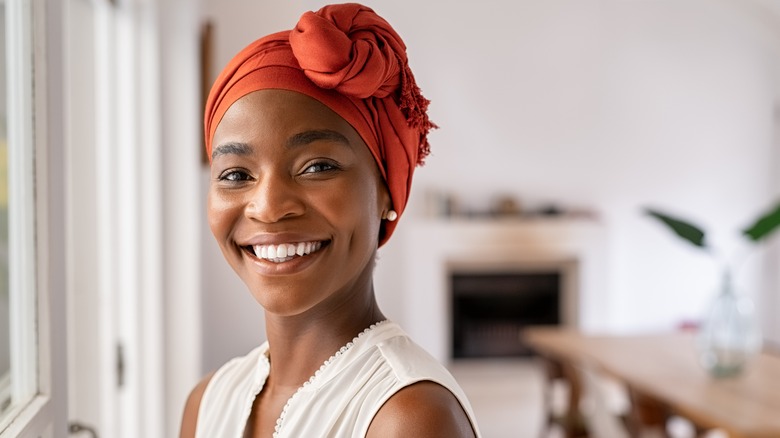 Ground Picture/ Shutterstock
Colors can have a powerful influence on how we feel. In fact, a whole branch of psychology is dedicated to the relationship between colors and our brain's reaction to them. This area of study is called "color psychology." In 2022, researchers in this field studied the associations people were most likely to tie to different colors. Their results were then published in the Journal of Environmental and Public Health. Color psychologists found that people tended to categorize pink, grey, and purple alongside traits like "sexy," "feminine," and "romantic." Meanwhile, black, blue, and green reminded people of more reserved characteristics, and red and yellow reminded people of more vivacious characteristics.
We all have ideas that we group colors into. So, if you want to bring out certain qualities in yourself to make you feel more self-assured or approachable, you might want to consider how colors affect you. For instance, before you go to the salon, think about what the best nail color would be to manifest confidence. If what you wear will remind you of your intentions, you'll be all the more likely to embody them. And, there's nothing more attractive than someone who feels good in their skin.
Choose a color that complements your complexion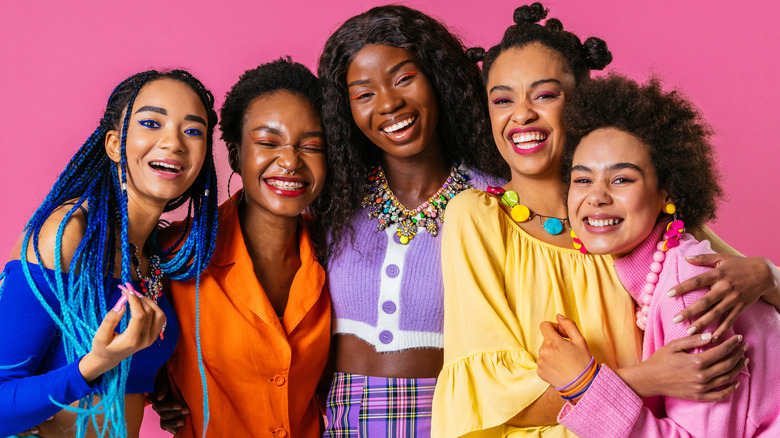 Diamond Dogs/ Getty Images
If you're panicked before a first date or a night out and have no clue what will make you look and feel your best, there are some basic guidelines you can follow to help you pick an outfit color scheme. Dina Scherer, an NYC wardrobe stylist, explained to Insider that if you have blue veins with a tint of green, your skin tone is on the warmer side. Scherer added that if your blue veins have a tint of purple, you have a cooler skin tone.
Celebrity stylist Philippe Uter and fashion stylist Britt Theodora told InStyle that if you have a warmer complexion, orange, yellow, gold, browns, greens, and reds are a good fit for you. If your skin is cooler, Uter remarked, "I usually love pastel colors to bring some softness to the silhouette." And according to Theodora, deep grays, blues, and violet are the perfect match for a cool complexion. If you follow these guidelines, you'll be sure to land on something that makes you feel fun, beautiful, and ready for romance.