Swaps To Make In Your Skincare Routine From Winter To Spring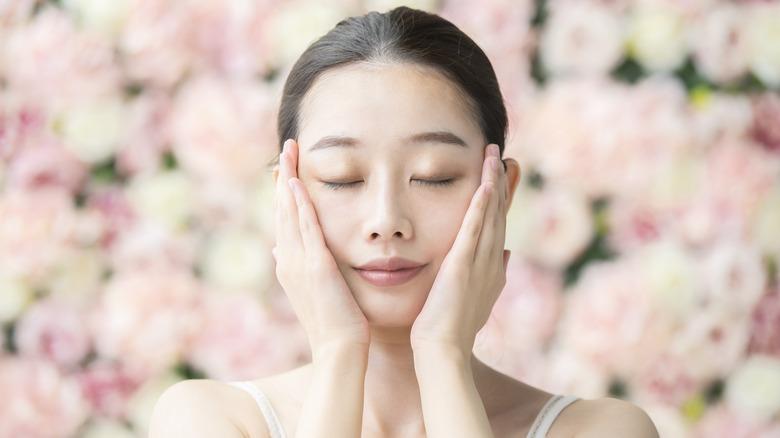 Maruco/Getty Images
Now that spring weather is upon us, it's time to think about transitioning our lives from the cold winter months into a more warm and sunny season. For many, this consists of doing things like spring cleaning their homes, putting away their comfy winter wardrobe in favor of brighter colors and lighter material, and adding touches of spring colors to their home decor.
As the days get longer and you begin to plan all of the outdoor activities you'll be able to do with winter behind you, it will also be important to remember that along with all the changes to your home and wardrobe, switching up your skincare routine for the new season should also be a priority. The cold winter weather can be hard on our skin, and most of us will welcome the warmer temperatures with open arms.
This doesn't mean that you'll need to say goodbye to all of your favorite products though. Instead, making a few simple swaps can really improve the look and health of your skin, while also allowing you to enjoy the warmer weather a bit more. So, as you head to the drugstore or your favorite makeup retailer, be sure to add these changes to your list of spring skincare staples.
Switch your moisturizer for a lighter feel on your skin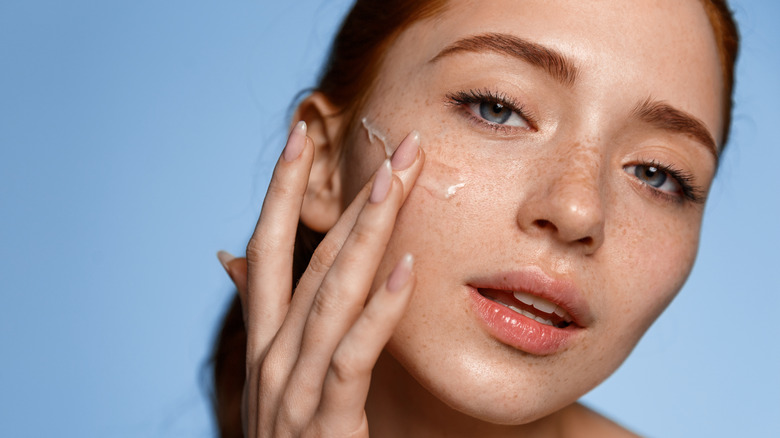 Lyubov Levitskaya/Shutterstock
One quick and easy swap that you'll want to make in your skincare routine as you head out of winter and into spring is with your moisturizer. In the winter months, we need thick and repairing moisturizers to help heal our skin and add moisture to our faces and bodies. However, in the spring, there is more moisture in the air, so our skin would be weighed down by a product that is too thick. "Our skin tends to hold more water in the spring and summer, so you won't need as much protection," dermatologist Patricia Wexler tells Vogue of the switch.
Instead of grabbing the heavy cream in the warmer months, try finding a new moisturizer that goes on thinner and leaves the skin less greasy. Something with hyaluronic acid can also be helpful. In addition, if you're always forgetting to put on your SPF before heading out of the door for the day, looking for a moisturizer that includes sunscreen may also be something that will allow your skin to stay glowing and healthy this spring.
Because of the warmer weather, staying hydrated by adding more water intake is another key factor in keeping your skin looking nourished in the spring months.
Cleansing and exfoliating should look different in the spring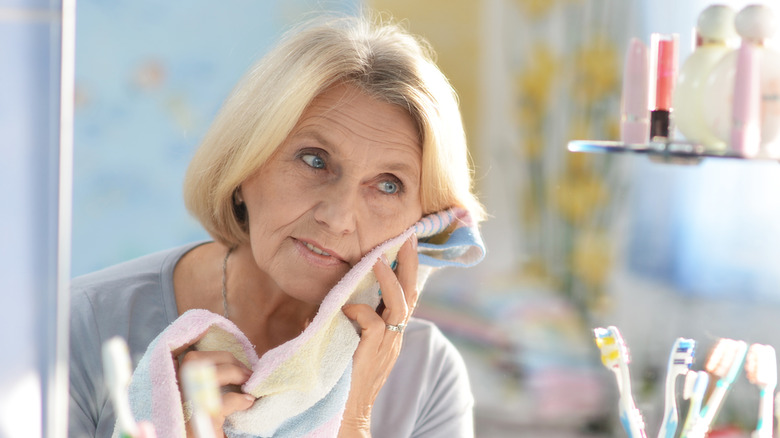 Ruslan Huzau/Shutterstock
The winter months have a tendency to dull the skin on our faces by damaging cells and leaving a buildup of all of our skincare products. As spring settles in, use that as your reminder to exfoliate your face and get rid of all of the dead cells that have piled up over the winter. Using exfoliating products or visiting a spa to get a peel could be beneficial during this time and leave you literally looking fresh-faced for the start of spring.
Meanwhile, swapping out your cleanser will also be an important factor in having glowing skin post-winter. The warmer weather can cause your skin to become more oily, so a hydrating cleanser likely isn't your best bet for the spring season. Instead, changing to a foam or gel cleanser during the warmer weather can be helpful for your epidermis, keeping it free of debris and buildup. "Consider a foaming cleanser or one that contains hydroxy acids to cleanse during warmer months," dermatologist Joshua Zeichner tells Well + Good. Dermatologist Dr. Jenny Liu also adds that using hydrating serums is a great way to ensure that you combat dry or oily skin and that your face looks firm and plump, per The Zoe Report.
Remember that the changing seasons mean different skincare needs, so find the products that work best for you and stick with them as the temperatures begin to rise.