Should You Scan Your Scalp? What To Know About The Latest Scalp Care Trend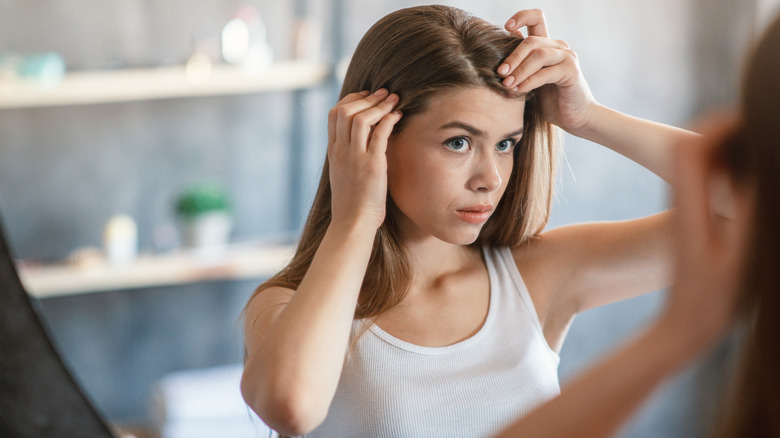 Prostock-studio/Getty Images
There are endless products on the market that target hair health and claim to make your locks stronger, shinier, and more voluminous, but there is one part of the hair most of us ignore. Your scalp's health is just as important as your hair's health and can even be the cause of certain hair concerns. Just like the skin, there are a variety of conditions that can affect the scalp's health, including dryness, oiliness, and sensitivity. The scalp needs TLC just like our skin and hair do, and one way you can check the health of your scalp is by getting a scan.
Per Images Hair Loss, a scalp scan is when a trichologist uses a magnified scope to check the condition of your scalp and skin and to view your hail follicles up close. Your trichologist will be able to check your scalp's health and check for any signs of bacteria or fungus, and ensure that your scalp has a healthy balance between good and bad bacteria. You may be wondering whether a scan is right for you.
When should you get a scalp scan?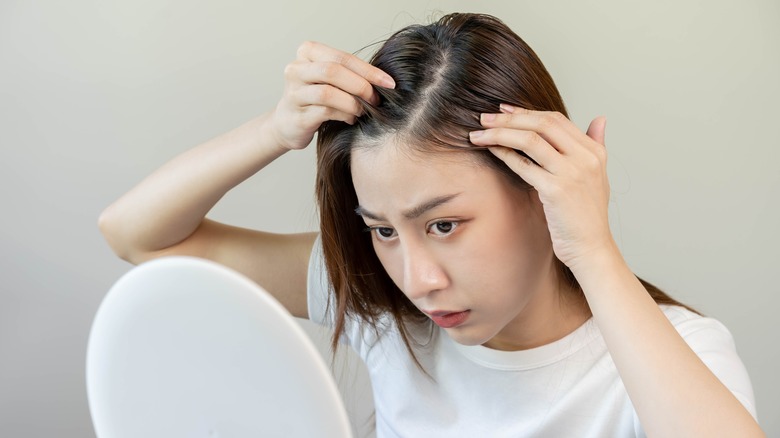 Kmpzzz/Shutterstock
If you notice that your scalp is itchy, irritated, or find your hair is growing out thinner and looks greasy even after washing it, it could be time to take a closer look at your scalp. The scalp is much more vulnerable to the effects of the environment than your skin.
Guy Parsons, a hairdresser and certified trichologist, tells Harper's Bazaar, "It is essential that the follicle and the scalp, at point of exit, are clean, clear, healthy and maintained; follicles that are full of sebum or blocked by dead skin, dandruff or infection will have an impact on the quality of hair growth." An unhealthy scalp can even block hair follicles completely from growing, resulting in hair loss or thinning hair. With a scan, you'll be in the know about your scalp's health and know where to start when it comes to remedying your scalp.
Ways you can improve your scalp's health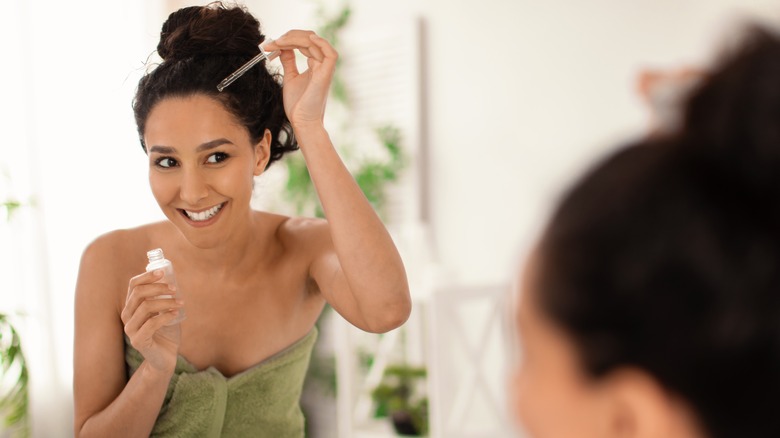 Prostock-studio/Shutterstock
There are some preventative measures you can take to keep your scalp healthy and to restore a balance between good and bad bacteria. If your scalp feels in need of treatment, incorporate a scalp serum into your haircare routine to combat dryness and soothe irritation. 
To help combat hair-splitting that's caused by aging of the scalp, we recommend the Dr. Sturm Anti-Aging Scalp Serum. This serum uses plant extracts and Pro-vitamin B5 to strengthen and nourish the scalp. You can also try the Dr. Sturm Anti-Hair Fall Scalp Serum if you're concerned about thinning hair or hair loss. The anti-hair fall scalp serum uses Camellia and Purslane extract to soothe the skin, prevent dry scalp, and keep the hair from splitting and breaking off. By giving your scalp some much-needed care, you can prevent blocked hair follicles and boost your hair growth to get healthy, voluminous, and shiny locks.