Celebrity Hairstylist Shares The No. 1 Way To Nourish Your Scalp – Exclusive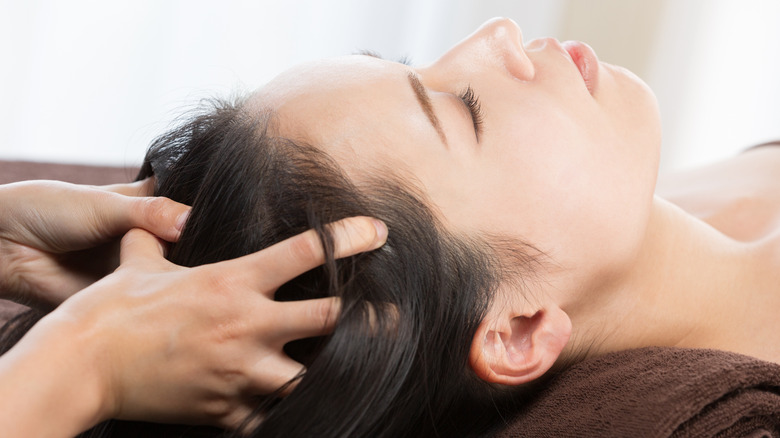 kei907/Shutterstock
Our hair is our crowning glory, and we invest significant time and money on shampoos, conditioners, and hair products for beautiful hair. However, most of us neglect our scalp and limit it to a few minutes of massaging, if even, while we shampoo before rinsing. The practice of hair oiling dates back almost 5,000 years in India, and perhaps that's one of the reasons many Indian women have long, thick, and luscious hair because they care for their hair from the root (via Vogue). The western world has focused more on the hair strands than the hair follicles, but scalp care is getting more attention nowadays. Some even say the skin on our head should also get some skincare love for scalp health.
In fact, it is recommended that you exfoliate your scalp the way you exfoliate the skin on your face and body. Trichologist Vincent De Marco told Byrdie, "By removing dead skin cells on the scalp, you're lowering the enzyme population that contributes to the natural shed rate." He added that exfoliating your scalp removes the dead cells and may help hair grow. Similarly, it's essential to nourish the scalp as well, which is why we spoke with Hollywood-based hairstylist Marco Pelusi, who previously told us how to keep your hair color looking fresh in the summer. Pelusi also spilled the tea on the biggest mistake people make after coloring their hair, too, so he's got our hair covered, and now, he's sharing how to take care of the roots and the scalp.
Marco Pelusi says your scalp needs love and attention too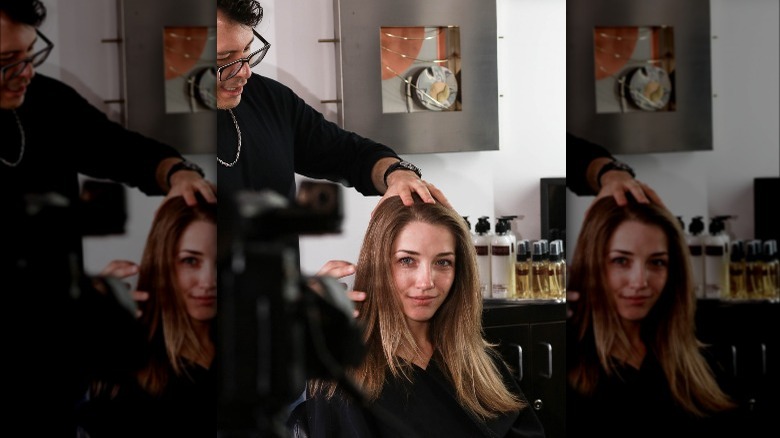 Marco Pelusi
Marco Pelusi is an award-winning celebrity hairstylist, who works in Hollywood at his Marco Pelusi Hair Studio, Inc. In regards to scalp care, Pelusi shared with The List, "Find a way that works for you to care for your scalp. We need to consistently bring much-needed circulation to the scalp." He added that you could get a good scalp massage at the salon. However, many don't practice this at home.
Pelusi also says that while a good scalp massage is necessary to nourish your hair at the roots, you need to pay attention to details. He told us, "You don't want to be too vigorous with over-exfoliating (over-cleansing). You want to allow some of your scalp's natural oils (sebum) to be present, to keep your scalp and hair lubricated." 
You must have heard of facials at the spa to rejuvenate your skin, but have you heard of the scalp facial? Pelusi also shared with The List, "Scalp facials are a great way to keep circulation flowing to the scalp." According to HelloGiggles, a scalp facial works to exfoliate and moisturize your scalp just like a regular facial would. If you're interested in this, he suggests you "ask your massage therapist to give you a scalp massage!" As he shares, "The scalp is an area that can be neglected. Often, our scalp is tight, and needs to be relaxed, so that proper circulation can occur." With all this in mind, it might not be a bad idea to give your scalp a little TLC.
Marco Pelusi tells us how to give yourself a scalp facial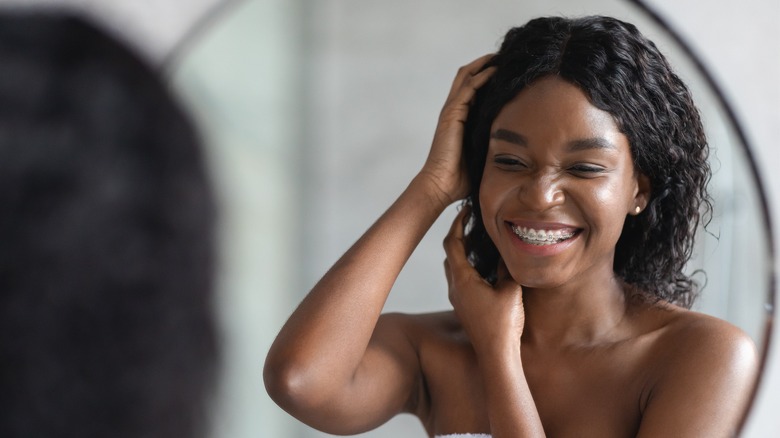 Prostock-studio/Shutterstock
Our hair grows from the scalp, so having a nourished and clean scalp is vital for hair growth and healthy-looking hair. Here, we're learning from Marco Pelusi how to give yourself a scalp massage because scalp health is key in maintaining overall hair health. Pelusi told The List, "At each shampoo, you want to massage your scalp, to increase and encourage scalp circulation. Studies show that scalp massage may help promote thicker hair growth. You can literally stimulate your scalp with your own hands during a shampoo." He added that this little ritual could benefit those with thinning hair — so take notes.
But can these massages only be done when you're taking a shower? Pelusi told us, "You can also give your scalp a massage at other times during your day, when you have a little spare time. If you've got extra time at home, you can gently massage your head without anything on it." Perhaps you can massage your scalp next time you're watching your favorite show on Netflix. Multitasking never seemed this appealing before.
You can always use oil to give yourself a scalp massage as well, like the ancient Ayurvedic technique in India, which they still practice. Lisa Nurczyk, Director of Education at Tricoci University of Beauty Culture, is a fan. Nurczyk told Nylon, "It keeps the scalp hydrated and prevents it from becoming dehydrated."