TJX May Be The Unsung Heaven Of Candle Shopping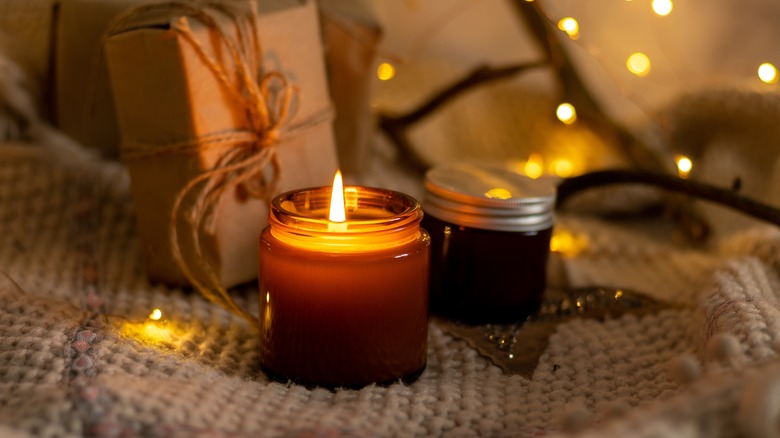 Real_life_photo/Shutterstock
When it comes to candle shopping, it often feels like there are endless varieties and you can never have enough. From the fresh linen scents you light to uplift the mood in the living room to the soft, vanilla candles you use for winding down at night, why would you limit yourself to only a few when there are so many options out there? Not to mention, candles make the best gifts when you don't know what else to buy.
Yet, perusing the Yankee Candle store or shopping for luxury candles online is a not-so-joyful experience. With the prices of everything skyrocketing, you start to question whether or not you really need another lavender rose candle for your bathroom. Thankfully, everybody's favorite off-price retailer carries all of your favorite candles for a lower price.
TJX stores, TJ Maxx, Marshalls, and HomeGoods, buy products from retailers that have been overstocked, allowing them to offer the items at a discounted price. Aside from the affordable designer pieces you can snag from their stores, this also means that you can purchase great candles for only a fraction of the original cost.
What kind of candles do they offer at TJX stores?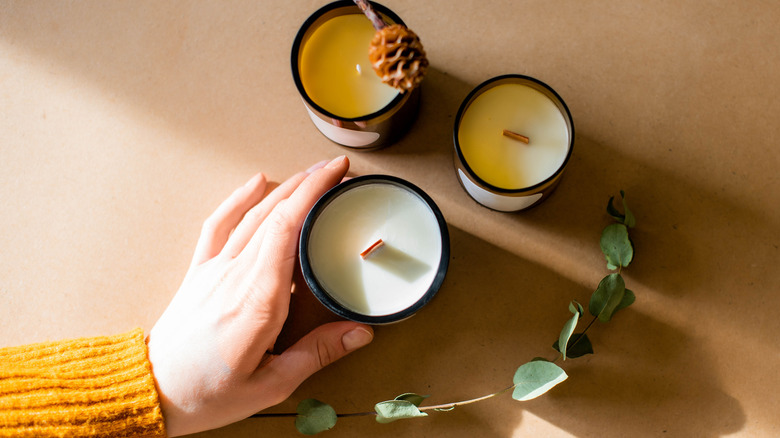 Norb_KM/Shutterstock
If you're a regular Maxxinista, then you'll know that you're not always going to find the exact same thing at one TJX store that you'll see at another. However, you'll tend to see the same candle brands at TJ Maxx, HomeGoods, or Marshalls. Sand and Fog, Woodwick, La Jolie Muse, and the occasional Yankee Candle or luxury find will dot the candle aisle in the home section.
For people that can't sprint off to their closest TJX store, each brand has a website where you can shop from a wide range of candles that each company carries. A rare find, Marshall's carries Oud Satin Mood from Maison Francis Kurkdjian, the perfumer who created Baccarat Rouge 540, the perfume that every TikTok influencer swears by.
TJ Maxx also has candles that are a few dollars off, such as this Orange and Bergamot Candle from La Jolie Muse. At only $12.99, this sweet citrus scent is $11 lower than the original price of the candle. They also carry a variety of Sand and Fog candles that are about $10 below the original price. Some notable scents are Strawberry Mimosa, a sweet, floral, and woody fragrance, and Laguna Beach, a best-selling candle reminiscent of sipping a fruity drink on a beach getaway.
Other items you should pick up at TJX stores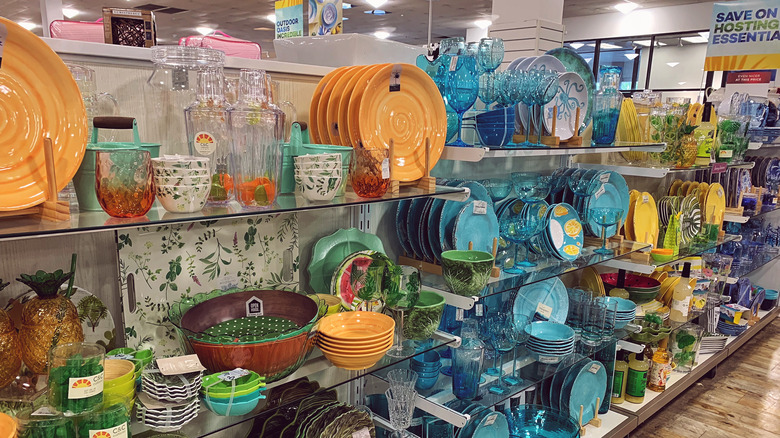 Anatoliy Tesouro/Shutterstock
Aside from the candles that populate the home section, TJX stores are a gold vault of items that you can use in your everyday life. Decorating your home can be both a mental and financial pain, but HomeGoods offers affordable options for finishing touches like throw pillows, artwork, and vases. The retailer carries this Tommy Bahama Arched Rattan Shade Floor Lamp for only $79.99. Standing at 65 inches tall, it's perfect for any living room or bedroom.
The luxury items that TJX stores carry can certainly be found in the TJ Maxx purse section. From Michael Kors to Moschino, they have an assortment of bags for every price range. Originally $99, this Badgley Mischka Juliet Weekender Bag is available on TJ Maxx's website for only $34.99.
When it comes to shopping at Marshalls, be prepared to stop by the beauty aisle. The store carries all kinds of niche and luxury perfumes, from Maison Margiela Replica to Bvlgari. One of the best steals is their selection of Creed and Bond No. 9 scents that the off-price store carries. This 3.3 oz bottle of Creed's popular scent Silver Mountain Water is being sold for only $249.99. They also carry Bond No. 9's sleeper hit Chez Bond, a fresh and bright aromatic scent.