The One Perfume That TikTok Influencers Swear By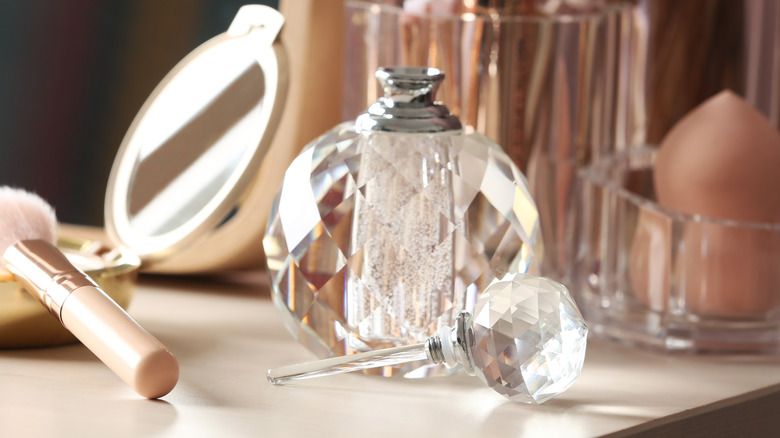 Shutterstock
We may receive a commission on purchases made from links.
Although TikTok is mostly known for dance choreography videos à la Addison Rae, there's another side to the platform that's especially for the fashion and beauty-minded. Scrolling past choreography to Big Yavo's "Rich" or Doja Cat's "Say So," you'll find a whole new world of product reviews that prove good things come in small (as in three minutes or less) packages. We're obsessed with this side of TikTok, where you can find everything from tutorials to get the perfect winged eyeliner to a mattress-cleaning hack that will make your cleaning routine so much easier. TikTok is genius for anyone looking for good hacks — who would've thought this applied for perfume, too?
As per InStyle, TikTok has proven to even the most unlikely converts that it knows its stuff when it comes to cheapie beauty hacks and every good dupe under the sun. For one, Isle of Paradise's Self Tanning Drops became a TikTok viral hit, with one user saying it gives a super "natural glow" and that it is a simply "amazing" product. Other items that have gotten major TikTok approval? The much-acclaimed Seasum leggings, touted for their "butt-lifting" capabilities (via ITK) and Coach's pillow Tabby shoulder bag, which one TikTok user says is the perfect "everyday bag" with its puffy, cotton candy appeal. 
But every now and then, one TikTok find blows all the others out of the water — and this time it's all about the "cloud-like" scent.
Ariana Grande's Cloud perfume is the best dupe money can buy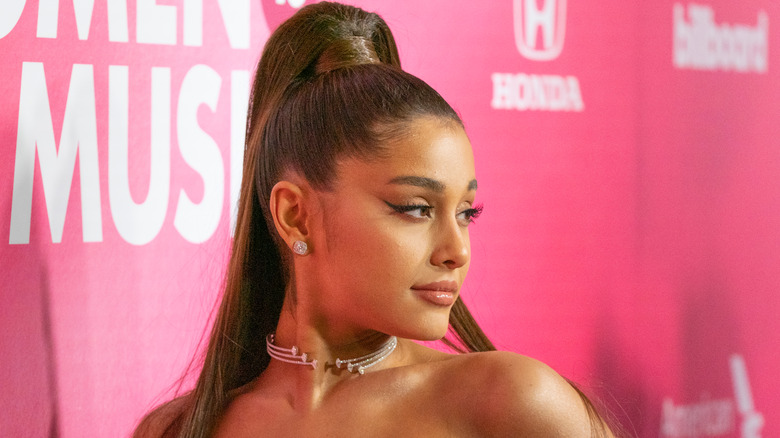 Shutterstock
So what is the TikTok-approved perfume in question? None other than the queen Ariana Grande's Cloud Eau de Parfum, a total steal at $40 on Amazon. But why the frenzy? As per InStyle, the whole reason behind the obsession is Cloud's identical similarities to the Maison Francis Kurkdjian Baccarat Rouge 540 Extrait, an iconic perfume that celebs and influencers alike can't stop spritzing in spite of its high price tag — $425 at Bloomingdale's. According to the perfumers' site, the legendary (and pricey!) fragrance is "a poetic alchemy," with "breezy jasmine facets, radiant saffron ... and the woody tons of freshly-cut cedar." Known as one of the most exclusive fragrances in the world (via Lucky Scent), this "bright and sleek" red-bottled perfume is incredible — and now with Grande's Cloud perfume, you can get a similar scent for less than one-tenth of the price.
As InStyle explains, once TikTokers got wind of Cloud and Baccarat Rouge 540's similarities, the platform went berserk. One user says that Cloud is "the closest dupe" to Baccarat she's ever smelled, and another explains that Cloud's scent is an "exact" replica that "smells identical" to the way-more-expensive version. Even the platform's resident scent expert @professorperfume says in a TikTok video that her "initial reaction" was that Baccarat Rouge 540 "smells exactly like" Cloud. The top notes are "indistinguishable," making Grande's fragrance a "fantastic dupe." 
Although InStyle maintains that these two perfumes aren't exactly the same, for $40 versus $425, we'll take it!