The Key To Preparing Your Hair For Warmer Days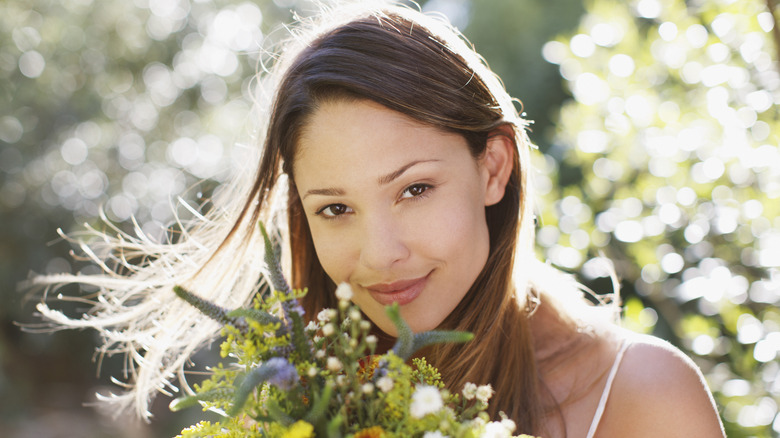 Tom Merton/Getty Images
As daylight gets longer and the flowers start to bloom, we happily transition from the cold, dark days of winter to the more enjoyable springtime season. We go outside more and soak up the sunny days we've been missing. Spring is also a time when many of us work to get ready for the summer, whether it's prepping our yard or even our skin for the summertime fun.
One area to give some much-needed attention to on our long to-do list is our hair. After all, though our fingers and toes have been wrapped up in gloves and boots all winter, our hair has usually been exposed to freezing temperatures, not to mention snow, sleet, and wind. In addition, we often go from harsh winter weather right into dry heat inside our homes and offices. All of that does a number on our delicate tresses.
Yet, with a little preparation, we can transform our locks into the silky and soft strands they should be with a few simple tips.
Repair and restore your hair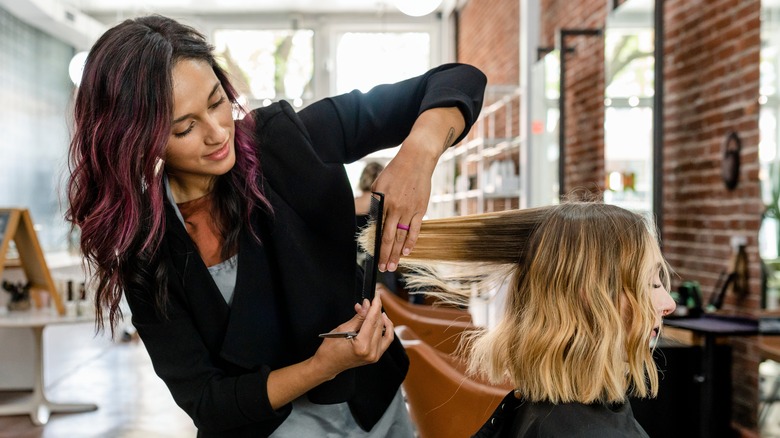 Rawpixel/Shutterstock
Though your hair is emerging from the stress of winter, it is also preparing for the hot summer, which is just around the corner. Now is a perfect time to repair damaged locks. Start with a trim to get rid of any dead ends and leave your hair in a healthier and stronger state. Then, go ahead and use a clarifying shampoo to remove any build-up and debris you may have remaining from haircare products.
If it's been a while since you've applied a deep conditioner, it's a good time to do so. A deep conditioner will nourish and repair dry ends while also giving them a healthy shine. It will also help to reduce the frizz caused by the overwhelming humidity found in the rainy spring and the sultry summer. You can also use humidity control products to stamp out frizz and prevent stray flyaways.
Protect against allergies and humidity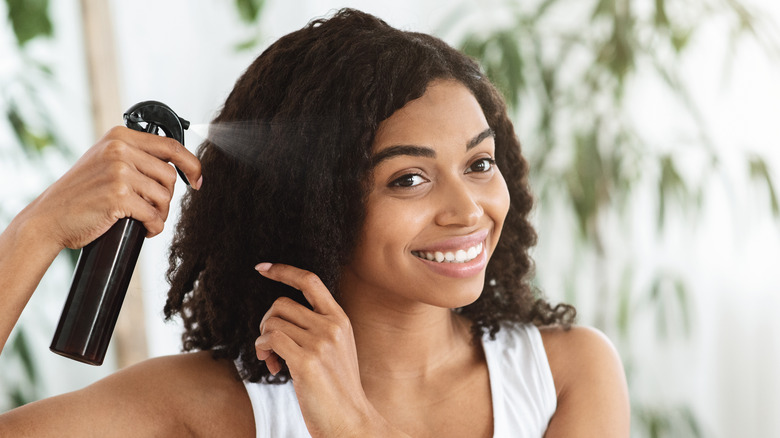 Prostock-studio/Shutterstock
While certainly beautiful, spring is also a time when seasonal allergies peak. With this in mind, you should wear sunglasses whenever outside and then clean off when you come in. This is one of the best ways to not traipse pollen particles into your home, especially your bed. "Always take a shower, wash your hair, and change your clothing," says allergist Dr. Andrew Kim (via Web MD). However, all of this washing can take a toll on your shine.
Use a lightweight hair oil to restore luster to your ends. Celebrity hairstylist Ro Morgan tells Vogue that hair oils can restore by "replenishing hair with vitamins and minerals that may have been lost during the shampoo process, [increasing] hydration, adding shine, and preventing breakage and frizz." Finally, remember to protect your hair from too much sun by using good hair sunscreen or wearing a hat. Also, stay out of direct sunlight during the hottest parts of the day.