The Heartwarming Family Reason Brant Daugherty Loves Being A Hallmark Star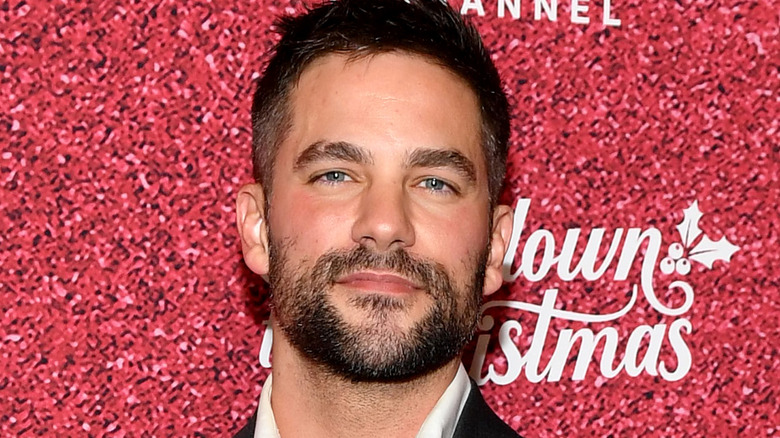 Noam Galai/Getty Images
Plenty of actors have been migrating over to the beloved Hallmark Channel and laying down their roots. Judging by how many appear in the endearing films again and again, we think it's safe to say that working with Hallmark seems like something of a dream job (especially for these Hallmark stars who make the most money).
Speaking of familiar faces that you're used to seeing on the channel, Brant Daugherty has become something of a staple when it comes to Hallmark movies. We all know Daugherty as one of the stars of the hit series "Pretty Little Liars," where he played everyone's favorite intellectual rich boy Noel Kahn. He's gone on to perform in the hit soap opera "Days of Our Lives" and Lifetime's "Army Wives," just to name a few of his acting achievements.
All those years of playing bonafide heartthrobs have prepared him well for his latest venture in acting as the romantic lead in many Hallmark movies. Seeing him in such lighthearted roles is quite a change in pace from his past roles, but the actor is loving the switch-up. The reason why Daugherty is enjoying his current Hallmark stardom will absolutely melt your heart.
It all comes down to his son
In March 2021, Brant Daugherty and his wife Kim welcomed their first baby boy, Wilder, to the world. It was a moment of a lifetime for the couple, something that they dreamed about since they first became serious. "When we were first dating and thinking about being exclusive, we had a talk about what we wanted for the future," Brant Daugherty told People during an interview. "Marriage and kids were high on the list." So when that moment finally arrived, the couple was beyond ecstatic.
It's clear that the former "Dancing With The Stars" contestant adores his family and loves being a father to his son. As his son grows older, the actor revealed that he's becoming more conscious of what he decides to put out into the world. If you're wondering what that means in regard to which of his movies he will allow little Wilder to see, it needs to be something with a good message and appropriate for his age. Lucky for dad, that's what Hallmark movies are all about.
Speaking with US Weekly, Daugherty confided that he loves the direction that the channel is trending toward and he "agrees with everything they've been doing." He added that it will be special to share them with his son, saying, "These are movies that I'm very comfortable with him watching."
Daugherty loves Hallmark as a company
It's a sentiment that seems to be shared by many of your favorite Hallmark actors. They told US Weekly the working conditions are great, the scripts are interesting, and actors get to produce work they can be proud of. Many actors come back for more, and it's always a treat to see them time and time again in our favorite cozy, made-for-TV movies.
Brant Daugherty shares the same sentiment. During an interview with TV Insider, the "Army Wives" alum explained why he adores working with Hallmark, calling it a "great company" and citing his interest in their encouraging messages as another reason why he's enjoyed working with them. In an unexpected turn of events, Daugherty's son was born during the filming of his movie "The Baker's Son," so we're sure his memory of working on this Hallmark movie, in particular, has become an extra special one. We hope to see Daugherty in many more uplifting Hallmark movies to come.