How Jake Foy Uses His Musical Roots On Hallmark's New Series Ride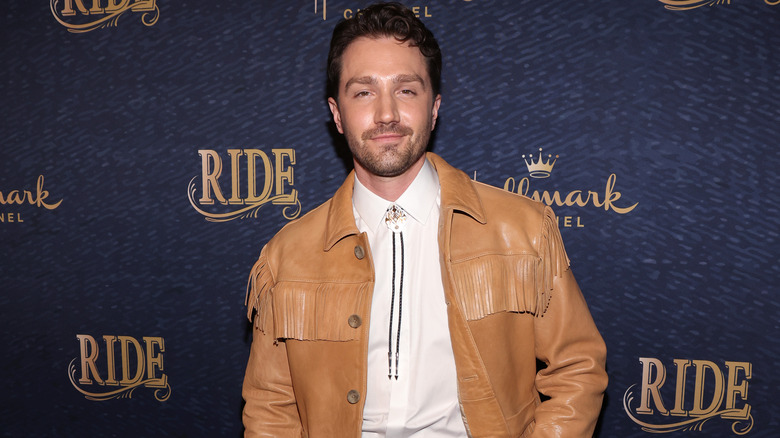 David Livingston/Getty Images
In the last few years, Hallmark has become must-watch television. Its new series "Ride" is an adventure on the McMurray ranch, which is facing financial hardship after a family tragedy. Between surviving the dangers of bull riding and taking care of each other and their land, the family is tough-skinned. Jake Foy plays Tuff McMurray, a supportive brother and the ranch's foreman, running day-to-day operations while balancing a romance with a new guy and uncovering a mystery surrounding a close family friend. 
The actors required training for their roles in "Ride," and Foy was eager to learn horseback riding skills. He told Monsters and Critics, "I think I've waited my whole life to get an opportunity to get on a horse; it just so happened to come with this work." Off screen, Foy is also a multi-talented actor who has exciting new projects on the horizon alongside his role in "Ride." 
Jake Foy can relate to his character's journey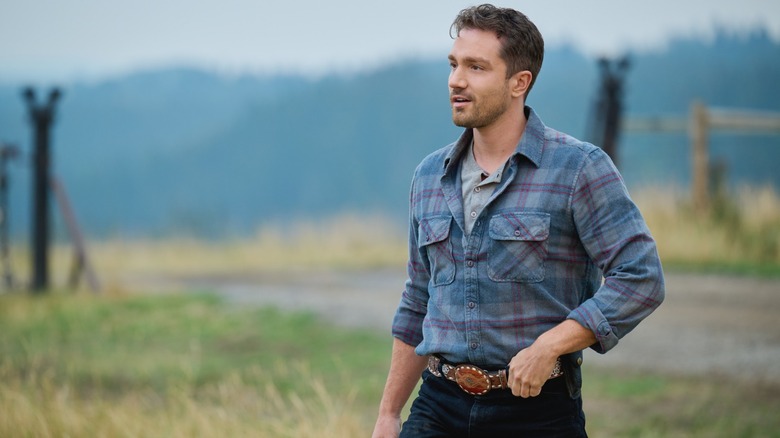 Hallmark
In an interview with Digital Journal, Jake Foy shared that he was thrilled to provide a new take on the familiar archetype of a cowboy. He told the outlet, "What is exciting for me is that this is a character that brings some new representation to western stories." His character's strength is a given, and his sexuality is not his story's point of contention. The showrunner for "Ride," Sherri Cooper-Landsman, shared with Deadline, "What's so great is that Tuff tries to be tough and he feels like his role in this family is to be the bull fighter, but not just in the ring. I think it's a perfect name for him."
Foy shared with Digital Journey about Tuff, "His character is not rooted in victimhood at all." He explained, "Tuff is bravely himself, courageous and loyal, and those are traits that I value as an individual, and it is nice to bring to life another queer character who puts family, love, and loyalty first." Beyond his admiration for Tuff, the actor also identifies with his emotional life. He told Monsters and Critics, "We both oddly wear our hearts on our sleeves and are thoughtlessly or endlessly loyal to a fault." Both the actor and his character also enjoy one favorite past time.  
His character is the frontman of his own band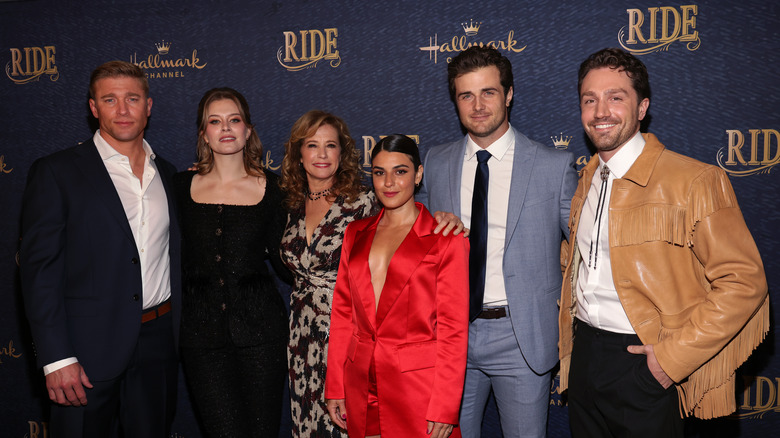 David Livingston/Getty Images
What else does Jake Foy have in common with his character Tuff McMurray? The actor told Monsters and Critics, "Our upbringings are really different." But, he added, "[C]ountry music was something that I grew up with. [...] I come from a musical theater background, so a love of music is something we certainly share." Tuff's love of music is on full display in the show, since he's the lead singer of a band and croons original songs. When Tuff sings in "Ride," Foy told Digital Journal, "If it's Tuff singing, it's Jake's voice, that's a promise." 
As for Foy's professional life, the actor made his screenwriting debut with a short musical film called "More Together." And though "Ride" has only released a few episodes, hopefully fans have more of Foy's musical performances to look forward to. As the actor shared with Monsters and Critics, "Tuff [is] finding his voice through country music. Everybody on the show is working to tell their story their way."