Avoid The Awkward Stages Of Growing Out A Bob With These Tips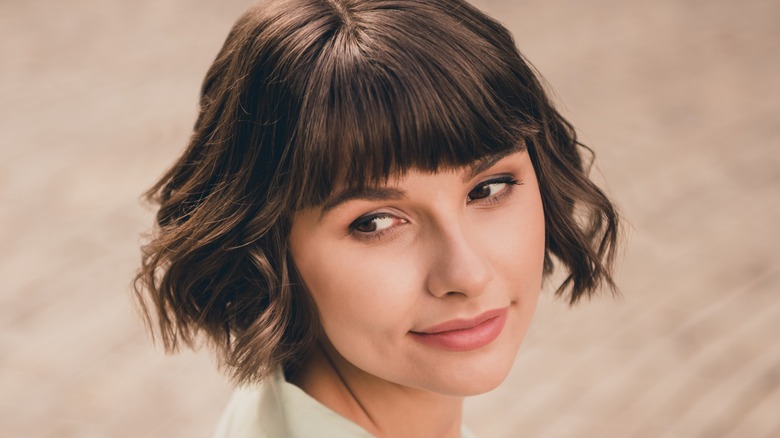 Roman Samborskyi/Shutterstock
Growing out a low haircut is never a pleasant experience for anyone, especially if you had to cut your hair super short because of a bleaching accident, heat damage, or any other emergency reason. You can attest to how gruesome it is waiting for what seems like an eternity for it to grow back. If you're used to rocking a longer cut, you might even start to feel insecure about the way you look and opt for hats, scarves, or beanies to hide your hair from the world.
If you cut your hair low to a bob, it probably looked gorgeous for the first couple of months. However, as your hair starts to grow out, you might start panicking in the mirror, thinking you look like Angelica's doll, Cynthia, from the "Rugrats." Oftentimes, we are our biggest critics and you don't look as terrifying to the general public as you think you do. However, that doesn't mean there isn't a way out. You can certainly navigate the awkward phase of your cut by trying out some fun tips.
Hair extensions and regular trims will ease your hair growth process
Feeling ridiculous comes with the territory when growing out a bob. You don't have to bury your head in the sand like a frightened ostrich. According to hairstylist and founder of Rogue House salon Jamielynn De Leon via Bustle, one way you can bypass this awkward stage is through a process called hair-dusting.
This is a fancy term for trimming your hair little by little as it grows so that the ends that stick out can be controlled without you losing too much hair in the process. She asserts that this method is great because it "keeps split ends from causing breakage."
Extension expert Priscilla Valles chipped in to add extensions to the mix, which is a suitable choice for people who are used to having more inches. She also notes that extensions give you more options when it comes to features like color and texture without having to damage your hair.
Taking proper care of your hair will aid growth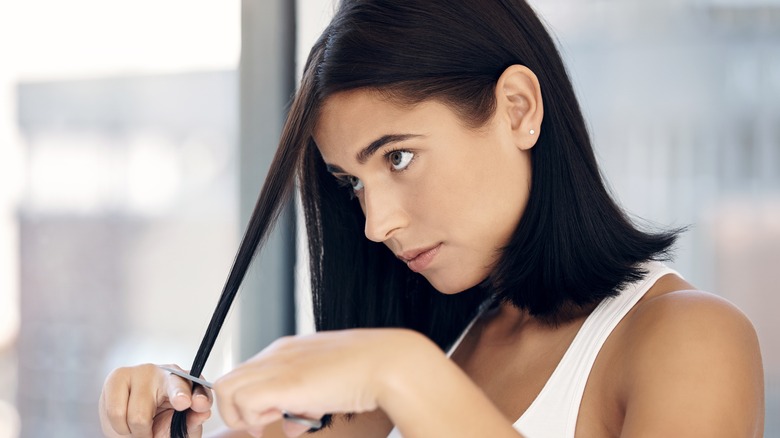 PeopleImages.com - Yuri A/Shutterstock
Hair experts Jamielynn De Leon and Priscilla Valles both heavily agree that one of the best ways to overcome the less-than-fabulous phase is by taking good care of your hair. This means regular shampoos and conditioning treatments to ensure your strands are healthy and hydrated. Your hair and follicles need nourishment to thrive. De Leon and Valles also recommend hair supplements that can actually help your hair grow. These supplements usually contain growth-promoting vitamins and minerals like biotin and iron.
Length retention is very important here. If you have more afro-textured hair, then it may be more prone to breakage. That means protective styling should be your norm. The less you manipulate your hair, the better chance you have of it not breaking off at the ends and getting split. You should be able to decide the best protective hairstyle for your Black hair texture depending on the tightness of your curls.