Supplements That Could Actually Help Your Hair Grow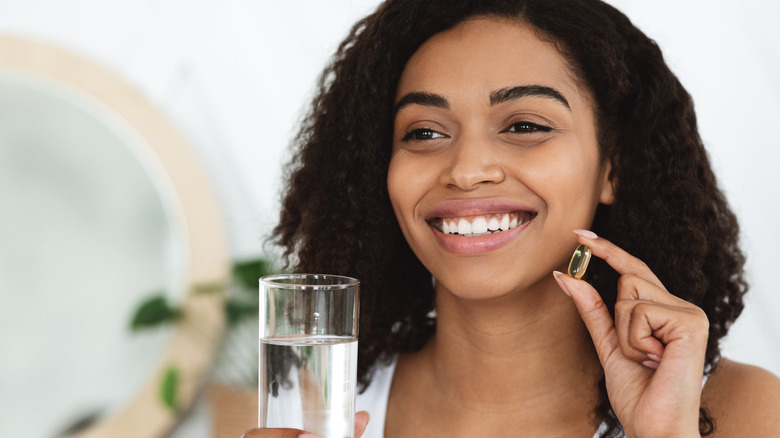 Shutterstock
We may receive a commission on purchases made from links.
Do you find that it takes your hair months to grow just a few inches? It might be time to call in the reinforcements. For those who want to have thicker or longer hair, supplements, in addition to getting regular trims and using other products that nourish hair, can be incredibly effective. "Hair thrives on protein, iron, zinc, and vitamin B12, which support hair structure and growth and moisturize the scalp, among other functions. If you are not getting enough nutrients from your diet, supplements can increase low levels," Dr. Dendy Engelman, a board-certified dermatologic surgeon, told Prevention.
According to Dr. Engelman, one of the best hair supplements is made by Nutrofol. "This uses highly concentrated botanicals to address every stage of the growth cycle," Dr. Engelman told Prevention. "It has excellent clinical studies to support its efficacy. I recommend it daily to my patients." Women who struggle specifically with thinning should Nutrofol a try. Looking for a quick fix for thinning hair? Elle Magazine recommends purchasing OUAI's Thinning Hair Supplement, which contains biotin, silica, ashwagandha, and amino acids that reduce breakage and reinstate hair growth after just 90 days of use.
If you're not a fan of swallowing pills, Marie Claire recommends trying the Liquid Multi-Vitamin Supplement by DL.MD. The liquid supplement is a hair, skin, and nail strengthener, as well as an energy booster.
Start taking supplements that stop hair thinning in its tracks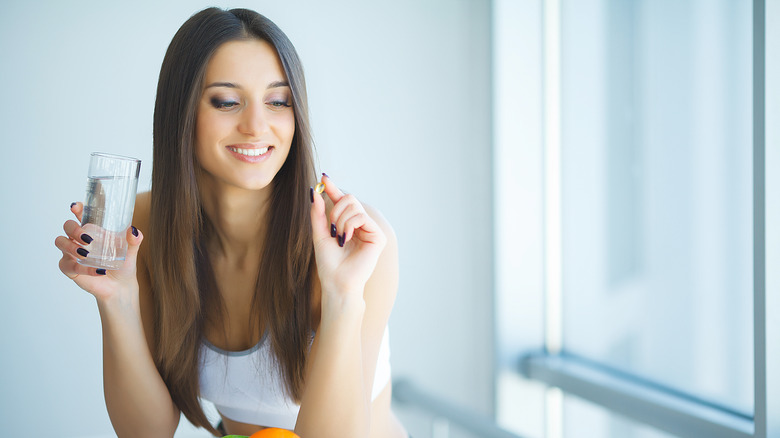 Shutterstock
As dermatologist Mona Gohara, MD, told Women's Health Magazine, our hair naturally thins over time. "At a certain point, our hair begins to thin," Dr. Gohara told Women's Health Magazine. "This can happen early (during the teen years or twenties for some), but mostly occurs in our late thirties." One of the best products designed to prevent hair loss and increase growth over the long run is Mielle Organics' Healthy Hair Adult Vitamins with Biotin. These multivitamins come packed with a blend of herbs, amino acids, and minerals that help you maintain those lovely locks, per Elle Magazine.
One of the best ways to promote the growth of your hair is to keep your scalp healthy. The Hair and Scalp Health Supplements from Keranique were specifically crafted with follicle-strengthening biotin and B vitamins to promote a healthy scalp, according to Marie Claire.
Those looking to increase the strength of their hair while still sticking to a budget should invest in the biotin supplement made by Nature's Bounty. At around $9 for 120 soft gels, this pick by Nature's Bounty is a great investment as it is a triple threat that supports the growth of your hair, skin, and nails.