The Beginner's Guide To Applying Lip Liner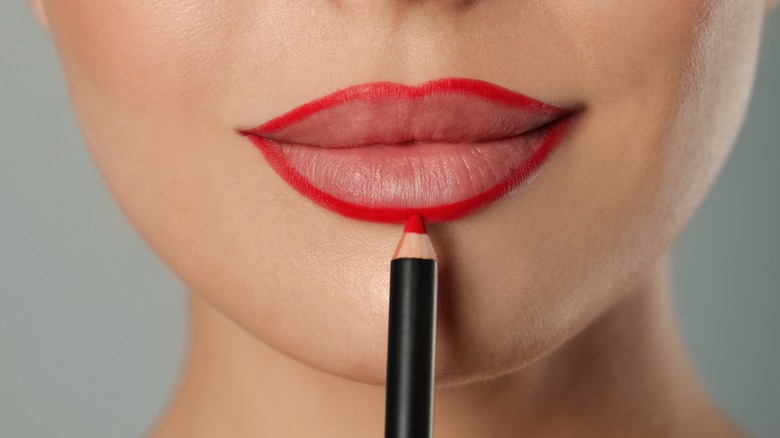 New Africa/Shutterstock
If you're a lipstick or lip gloss lover, then you know that lip liner can be your friend. Lip liner is a pencil-like product that can define, accentuate, or fill your lips. Although not everyone uses them, lip liners have plenty to offer. They can make applying your lipstick easier and prevent the color from bleeding. Most importantly, the formula of your lipstick doesn't matter. Lip liner can be used on liquid lipstick, matte lipstick, and more. One popular trend that has recently gained traction on social media and the red carpet is the 90s-inspired dark lip liner paired with clear gloss.
You don't even have to wear it with lipstick or lip gloss; you can wear lip liner on its own. Nevertheless, lip liner can be likened to primer. Similarly to what a primer does for foundation, lip liner is essential in making the most out of your lipstick and lip color. Lip liner ensures that your lipstick will stay put and increase its longevity. If lip liner is new to you, there are some things to keep in mind. Depending on the look you are going for, there are different techniques to apply lip liner. In just a few steps, you'll be lining your lips with ease and precision. 
Prep your lips before going in with a lip liner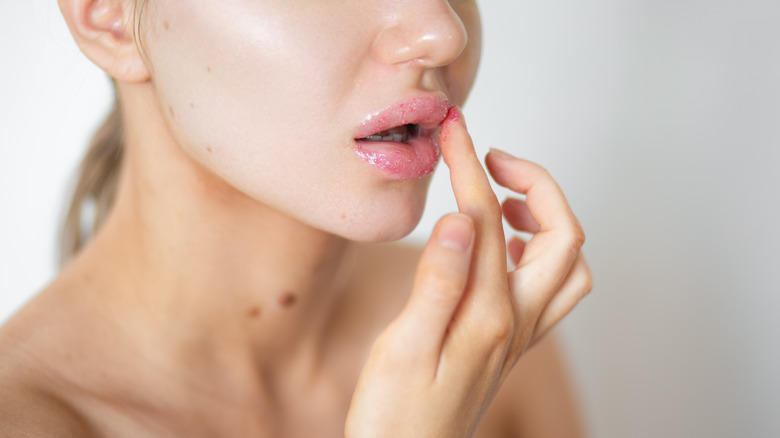 Rimdeika/Shutterstock
Makeup artist Robin Black expressed her appreciation of lip liners to Allure. She said, "I am a huge fan of lip liner. It's one of the unsung heroes of the beauty world." Black added, "Whether I want to fill in and completely change a lip shape or just add a bit of color on for a subtle look, I reach for lip liner." However, before you apply lip liner, make sure that your lips are properly prepped. Wear a lip mask for extra hydration the night before you wear lipstick. Alternatively, skip this step and exfoliate your lips with a lip scrub.
Next, apply Lip balm and choose a lip liner. You can either opt for a lip liner close to your natural lip color or one that matches your lipstick; it truly depends on what you're going for. If you want the former, the color match doesn't have to be perfect, but you should be similar to your skin tone. For the latter, purchasing a lip kit with matching lipstick and lip liner does all the work for you.
Whatever the case, ensure that your lip liner is not too sharp or dull to make applying it as smooth as possible. Once you've prepped your lips and chosen your lip liner, there is one last thing to do; look at your lips and their shape.
Tips and techniques on how to apply lip liner
Your lip shape can make it easier to decide what your lip liner can do for you. For example, you may have fuller lips and want a natural look to play up your cupid's bow. Or perhaps, you have thin lips and want a poutier look. If you're going to accentuate your lip's natural shape and cupid's bow, create an "X" shape at the top of the cupid's bow, then softy trace the top lip. For the bottom lip, start lining from the center and trace the shape of your lip. In a TikTok, user @michellearevaloe demonstrates.
For a poutier lip, overlining is vital. Makeup artist Yuki Hayashi explained to Vogue, "Always follow the natural shape and even the top and bottom shape first, then blend out the edges to give the effect of fuller lips." Make sure to focus on the areas where you want more definition, including the cupid's bow and the center of the bottom lip. Filling in the center of your lip can provide added plumpness to the lip.
Regardless of the technique you use, you'll want to fill in the rest of the lips with lipstick and blend it with either your finger or a lipstick brush. You can use concealer to clean up the edges, and if you need a clever lip liner hack to keep your look fresh, apply translucent powder to your lips before lining your lips with lip liner.