What Rachel Boston Loves Most About Being A Hallmark Star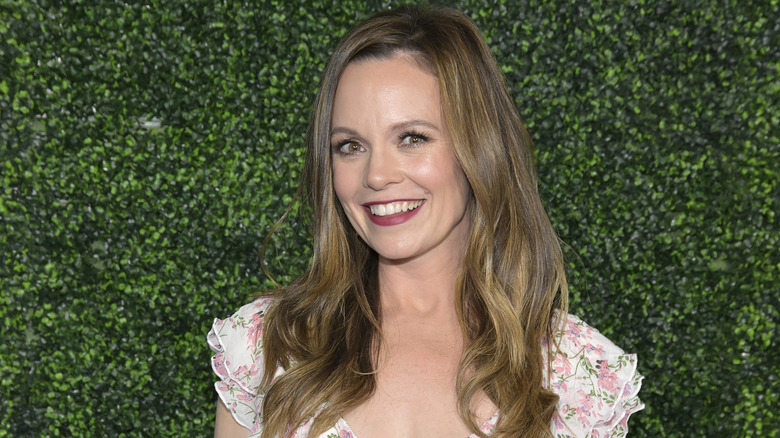 Michael Tullberg/Getty Images
Hallmark was once known just for its greeting cards, and then its occasional dramatic movies. Now, the Hallmark Channel has become must-watch television. In 2022 alone, the network averaged nearly 1 million viewers, and it commands the biggest audience of any cable entertainment network from September to December, according to CNBC. No mystery there: The channel's famed Christmas movies have become as much a part of the holiday season as gingerbread lattes. You can also enjoy movies themed to the other three seasons, along with popular series such as "Ride" and "When Calls the Heart." In recent years, the network has worked on inclusivity by featuring characters of color, a gay couple, and a few Hanukkah movies in the holiday mix. (We're still waiting for "Romance at Ramadan" and "A Prince for Diwali," however.)
The channel has also attracted a repertory company of sorts. But there are plenty of other performers who are content to return again and again to star in Hallmark romances. To some, it might seem a trifle monotonous: Why keep making movies with the same predictable plot lines and inevitable happy endings? However, Rachel Boston is one of the actors who is delighted to have found a home with the network.
Rachel Boston says the Hallmark gang feels like family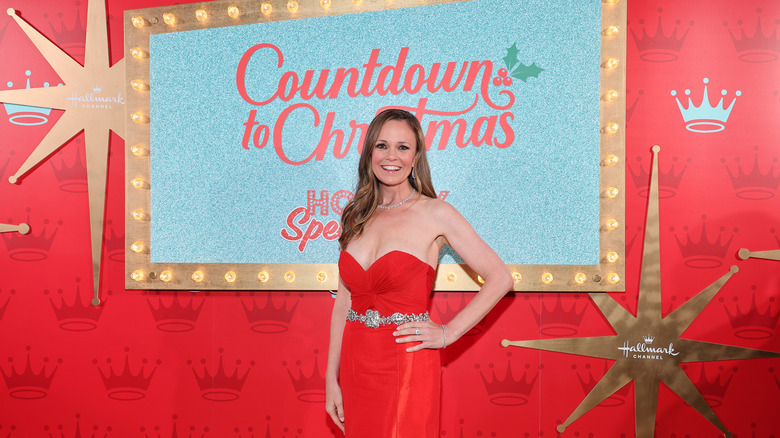 Mike Coppola/Getty Images
In recent years, some Hallmark Channel regulars have parted ways with the network. Most notably, Candace Cameron Bure hopped over to Great American Family, a network she felt aligned more closely to her personal beliefs. Other Hallmark alums on GAF include Danica McKellar, Jen Lilley, Trevor Donovan, and Jesse Metcalfe.  But fear not, Hallmark loyalists: There are still plenty of performers who are sticking with the network. For instance, Jonathan Bennett has publicly refused to leave Hallmark; the openly gay actor applauds the channel's commitment to producing movies with LGBTQ+ themes. 
Rachel Boston isn't going anywhere, either. The star of such holiday favorites as "The Last Bridesmaid" and "A Christmas Cookie Catastrophe" has said the "family feel" and the "heart and spirit" of the Hallmark crew and actors is what keeps her coming back to make more movies with them. "People come out for each other in challenging times in life and in the most comfortable times in life," she told Us Weekly in 2022. "And I think that's what we really need in our world and that's what I've seen in my experience at Hallmark."
There was a family feel in more ways than one when Boston made Hallmark's "Check Inn to Christmas" in 2019: Her grandmother, who was 101(!) at the time, made an appearance in the movie. "It was absolutely incredible to have her on set," Boston told FanFest.
Rachel Boston praises Hallmark's support of new moms
The film and TV industry has a rep of discriminating against expectant and new moms. Actors such as Jade Anouka and Hunter Tylo have claimed they were fired from jobs or lost out on roles because they were pregnant. In Rachel Boston's case, however, it seems the Hallmark Channel had her back. In 2021, she wed chef Tolya Ashe, and the couple welcomed their first child, Grace, in early 2022. Just months later, Boston went back to work, starring as a divorced mom in the Hallmark movie "Dating the Delaneys." The producers allowed Boston to bring Grace to the set, along with Boston's mom as babysitter.
In an interview with Media Village, Boston raved, "I was so thankful to have my first role as a mom be on Hallmark. [I would go] to my trailer, and there's my mom and my little baby — that was beautiful." She had nothing but praise for the network: "Working with such a great group, and with Hallmark, who were so supportive of me as a mother going back to work. It was wonderful."
What's next for the busy actress-mom? With any luck, there'll be another Hallmark Christmas movie in her future, and we can only hope for a cameo by little Grace. Perhaps Boston's favorite Hallmark Christmas trope will figure in there, too; as she confessed to Us Weekly, she's a fan of "the near-miss kiss" where couples unexpectedly find themselves embracing.