The Trendy Garment You Should Never Wear With Leggings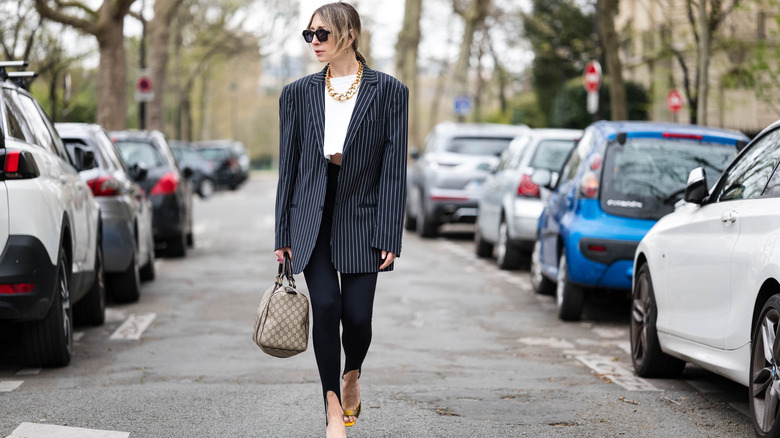 Edward Berthelot/Getty Images
What do Janelle Monáe and John Mayer have in common? They're both big fans of yoga pants (or at least that's what their song lyrics suggest). This stretchy garment took the world by storm at the end of the 20th Century and into the 2000s, becoming a streetwear staple for everyone from Hollywood A-listers to suburbanites. After observing a growing interest in yoga among American women, Lululemon marketed the first ever "yoga pant" in 1998, officially ushering in the era of spandex (via Bloomberg).
Today, athleisure has grown into a billion-dollar industry, especially in the wake of COVID-19. "Yoga pants have been on the rise ever since the pandemic," Alex Rivera, a stylist at Stitch Fix, told Byrdie, adding, "As life returns to 'normal,' athleisure continues to be a trend-forward style that can be paired with high and low fashion." And really, why zip up your pants when you're working from home? 
However, although yoga pants might not be outdated, the term certainly is. In the midst of a Y2K fashion resurgence, Gen-Z is calling this decades-old garment by a different name: flared leggings. As you put together an outfit, take inspiration from it-girls like Emma Chamberlain, Emily Ratajkowski, and Rihanna — they have the leggings look down to a science. Most importantly, be careful about what you wear underneath. After all, it's usually best to avoid a VPL (visible panty line).
Bodysuits can lead to that dreaded VPL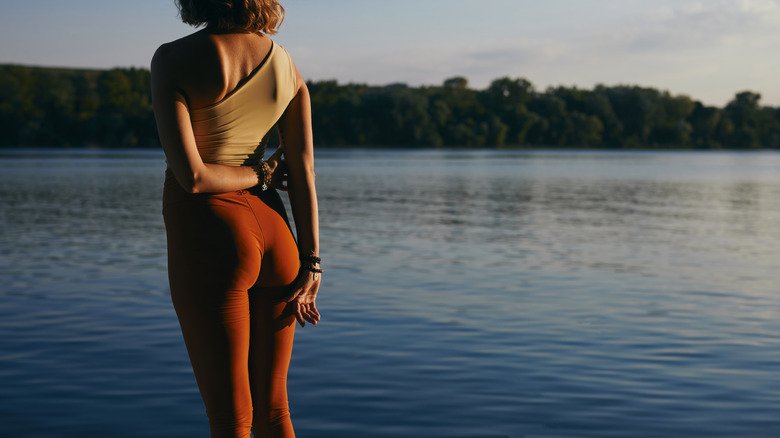 Millann/Getty Images
After scrounging up 10-year-old yoga pants from the back of your closet or ordering a brand new pair of so-called "flared leggings" from Lululemon, take your underwear into consideration. For starters, a form-fitting bodysuit underneath tight spandex leggings will lead to a VPL, a sure-fire way to disrupt an otherwise sleek fit. To combat this all-to-common conundrum, steer clear of bodysuits entirely — they may be trending, but they're difficult to style smoothly under tight pants. To achieve the same look without the uncomfortable seams, opt for a one-piece jumpsuit like this style from Athleta. Not only will it support you during low-impact workouts, but you can also layer other items on top for a modern streetwear ensemble.
In general, seamless underwear that will help you beat panty lines is the way to go when it comes to leggings and yoga pants. Buying in the wrong size or wearing a cut that isn't right for your body are common underwear mistakes. Indents, itchiness, and a lack of support all mean it's time for a change.
Certain tops pair better with form-fitting pants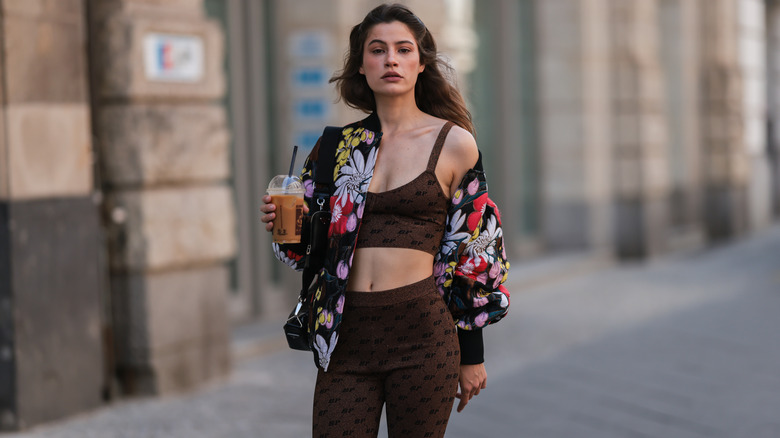 Jeremy Moeller/Getty Images
Bodysuits might look great when paired with wide-legged jeans and high-rise maxi skirts, but they're far from ideal when it comes to leggings. Instead, match your trendy workout bottoms with a bra top. As the underwear-as-outerwear trend continues to populate high fashion runways, it's becoming increasingly normalized to see A-listers and regular folk alike rocking skin-baring looks.
Alternatively, adapt your leggings for the office. "[The flared legging] also works hard in a modern wardrobe as it can also be paired back to a knit and a blazer for those who want to look chic but still prioritize comfort," Carolyn Jang, the founder and creative director of Nylora activewear, outlines for The Zoe Report. While you're at it, invest in other wardrobe staples like an oversized white button-down and even chunky loafers, both of which can work well with form-fitting yoga pants. During the colder months, wear your favorite pair of leggings underneath a summer maxi or tunic dress. Not only do these pants make warm-weather clothing accessible year-round no matter your distance from the equator, but an airy maxi also eliminates the risk of a VPL. It's a win-win.