How To Transition Your Wardrobe From Your 20s To Your 30s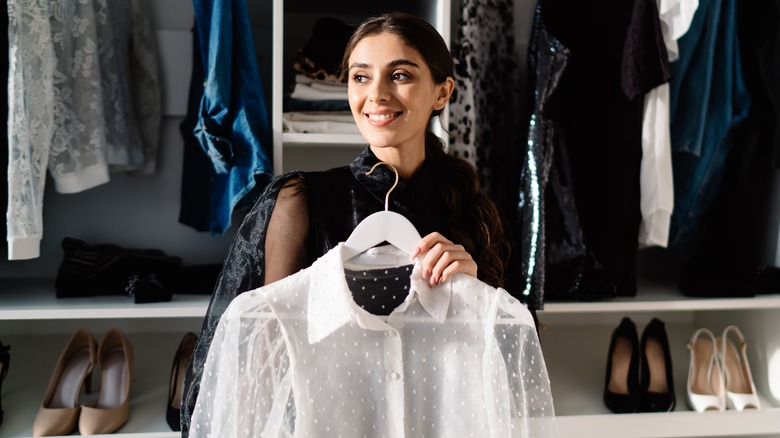 GaudiLab/Shutterstock
Aging is inevitable, as are the changes that come along with it. When you're young, you may feel lost about many things and at the same time feel like you know it all. Style is oftentimes a part of this equation, as it evolves with you.
Whatever the reason, revamping your personal style from time to time can be beneficial for your self-image. As you age, your body may change, your skin might not be as low-maintenance as it used to be, and your style may no longer reflect who you feel you are inside.
An especially vulnerable period is when you transition from your 20s into your 30s. It can feel pretty scary, as there are so many societal expectations to fulfill. Style-wise, you may start to feel like you're obligated to look more mature to match your age. If you're starting to question your existing wardrobe after you've turned 30, make sure the change is something you truly feel comfortable with. Regardless, updating your wardrobe with age is bound to happen.
The importance of personal style as you age
Personal style is a very important tool for expressing how one feels about themselves and the world. As one gets older, that will, for sure, change. Entering your 30s comes with its own challenges, and your style doesn't have to be one of them.
Knowing your fashion likes and dislikes is extremely important when figuring out what you want to bring with you into your new decade of life. Amy Smilovic, the designer behind the luxury brand Tibi, explained to Coveteur why it's so crucial. "Being able to express visually who you are to yourself and to others is a great feeling. It's frustrating to be misinterpreted, and it's frustrating to not feel the way you want to feel."
Stylist and fashion concierge Jennifer Nisan spoke with Today about finding your style as you age noting, "As we enter our 30s, we tend to be more aware of who we are, and our clothing should represent just that." When you know what you want to embody in your 30s, you can start working on your wardrobe. Schedule a closet cleanout to get rid of whatever pieces no longer resonate. If you don't want to break the bank by buying new clothes, try to learn how to shop your closet. Utilizing what you've already got and styling it in a new way could do the trick!
Don't miss out on the wardrobe essentials
Wardrobe essentials are the key pieces in any outfit, no matter how extravagant or simple the look itself may be. Transitioning your wardrobe into a more adult aesthetic can be as simple as getting a few staple pieces. Think classic blazers, T-shirts, and jeans. You should also add some leather boots and a medium-sized bag that can carry all your necessities to the list, and don't forget your outerwear, which will mostly depend on the climate you live in. If you live in a colder environment, a long coat should make the cut, while a leather jacket will work for a warmer climate.
No matter your personal style, these pieces can be incorporated into your wardrobe, can be dressed up or down, and will make your daily getting dressed routine much easier. When looking for your staples, focus on the quality and fit of the garments. It's much better to have fewer clothes that will last you longer than the other way around. Also, don't be afraid to splurge a little bit. Gillian McHattie, a Stitch Fix stylist, advised Today that we should "Invest in pieces that will last over time, fit your body well and most importantly, make you feel like your most confident self as you tackle this exciting decade." 
However, don't forget to think outside of the box. It's never too late to completely change your style, so don't hesitate to experiment. Age is, in fact, still just a number.